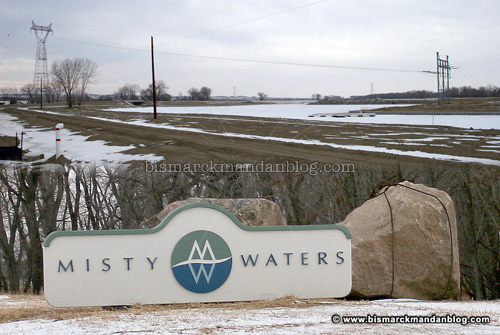 You're looking at a wide angle of a new neighborhood being built along the Missouri River, north of Bismarck. It's called Misty Waters. This new inlet and neighborhood are being built immediately north of the Burnt Creek boat dock. Like the trendy Marina Bay and Southport areas, a spot in this new neighborhood will likely come with a hefty price tag.
The only difference here is the lovely view of the Heskett Station power plant right across the river. "So what," you may say, "I'll get a lot on the east side of the lake." Well, hopefully that blocks the noise. Yes, that power plant makes some pretty good racket. I doubt they'll turn it off at 9 pm for you.
For some reason, people are financing themselves silly to get a house along the river. If the huge payments aren't daunting enough, maybe the noise will be a deterrent. I think, however, there are plenty of people willing to sacrifice to have that coveted spot along the water. Make sure the mortage company throws in a box of ear plugs.
This reminds me of nonsense we went through in Brainerd, Minnesota in the late 90s. People bought land bordering Brainerd International Raceway at a cheap price because of all the noise on the other side of the trees. Then they all gathered forces and got a noise ordinance passed against the track! All of a sudden machines such as our motorcycles were subject to noise restrictions even a stock motorcycle couldn't pass. It was ridiculous, and we were only shut down for a year or two. In any case, if the power plant is too loud for people on the Bismarck side of the river, they wouldn't have any such recourse...no matter how fashionable the neighborhood.
[ add comment ]
( 1 view ) |
permalink
|
Click a dot to rate this entry:





( 3 / 57 )
---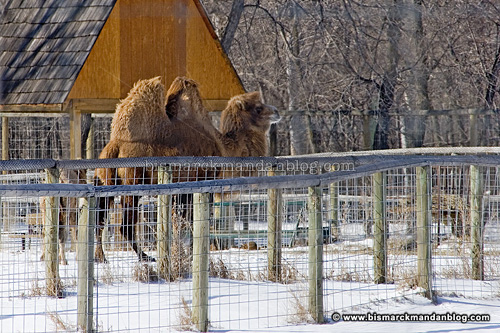 Well, not exactly. But this camel and baby (baby's obscured by the fence) look a little out of place in the snow. They're quite hairy though, so probably very comfortable. When one thinks of camels, it's instinctive to think of the desert. When one thinks of North Dakota, they think of snow. But nobody said the two can't coexist happily, as we see here.
[ add comment ]
( 3 views ) |
permalink
|
Click a dot to rate this entry:





( 2.9 / 51 )
---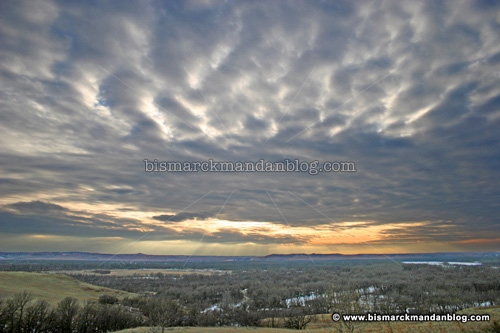 I didn't realize it had been three weeks to the day since I posted a sunset picture. I was lucky to get one tonight because the snow moved in just as the sun was approaching the horizon. Coincidentally there were also some nice clouds overhead as the pressure wave pushed its way through.
This is a rough time for a photographer as everything's so drab and brown. The dramatic shadows of the lower sun are neat but not much of a consolation. Hopefully we get some heavy snow that will stick around for a while! It would be nice to post some sunsets reflecting off fields of white.
[ 1 comment ]
( 30 views ) |
permalink
|
Click a dot to rate this entry:





( 2.9 / 746 )
---
John Hoff.
He's a guy who came to Grand Forks, somehow won a local government seat, then proceeded to act like such a jackass that they threw him out. He landed back in Minnesota, where he now puts his pen to work making North Dakota seem like a vast wasteland of despair.
You can read this stupidity here.
Now we've got this, a post on
rakemag.com
that sums up North Dakota as a place where only the trapped remain, attempts at productivity and happiness are futile, and the wise escape to Minnesota. Drivel.
I would agree that small towns and outmigration are a problem, but I have yet to personally talk to anyone genuinely unhappy about living in North Dakota. Making feigned complaints about the winters are almost a sport here. Sure, our high school kids want to attend a "big city" college after graduation, but what about the numbers that return back once it's time to raise a family?
I don't know why some Minnesotans seem to have a chip on their shoulder about our state. It seems to be a dandy place to hunt and fish, though, because they're sure screaming about having to pay non-resident fees for that. But it's not even the sportsmen writing articles like this. It's just another sort of elitist, looking for perceived angst somewhere that they can use in order to spew nonsense in the name of insight.
So, go ahead and
read the article here.
After that, if you still want to live in "hell with the fires out," I'll see you out on the streets sometime. I'll be the one with a smile on my face. I love North Dakota.
I couldn't resist the term "hate speech." I know, it's a liberal term for anything that might imply a sense of right and wrong, or just something they don't like or declare as "intolerant." I, unlike liberals, still recognize the right of people in this country to say whatever they'd like. It shows us who the writer is, and where they come from. In this case, it also illustrates that they have no idea what they're talking about. --Thanks to my friend Shari G for the heads-up on the Rake Mag article.
[ 3 comments ]
( 69 views ) |
permalink
|
Click a dot to rate this entry:





( 3 / 655 )
---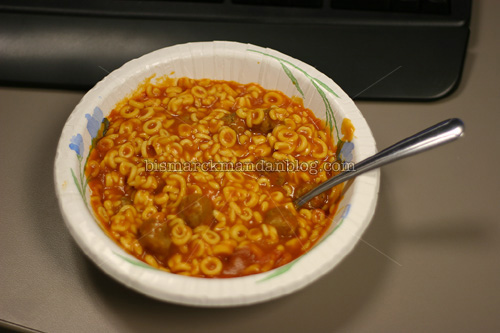 I'm taking a few minutes to eat here at work, with a bowl of my favorite canned pseudo-food. Saying grace before dinner, it occurred to me again that we really live like kings here in the Bismarck-Mandan area. The least among us has got life infinitely better than the majority of the people in this world. We make fun of "pseudo food" like this stuff; yet it's more nutrition than many people might see in a week. It's
certainly
more sodium! :-)
And perhaps it's just the theme of the day...while shoveling generic Cap'n Crunch into my head this morning, it occurred to me that there are millions, perhaps billions, of people out there who are so undernourished that their teeth probably couldn't even handle Cap'n Crunch.
I think of Philippians 4:11 in the Bible: "Not that I speak in respect of want: for I have learned, in whatsoever state I am, therewith to be content." Or Titus 6:8 as well: "And having food and raiment let us be therewith content." We as Americans are very prosperous. I don't consider that an accident, either. But it should occur to us daily to be thankful for, and good stewards of, all that we have. In today's society, and with technology advancing as fast as it is, it's very difficult to be content. But we should always be thankful...and not to Chef Boy Ar Dee.
[ add comment ]
( 2 views ) |
permalink
|
Click a dot to rate this entry:





( 3 / 583 )
---
<<First
<Back
| 331 | 332 | 333 | 334 | 335 | 336 | 337 | 338 | 339 | 340 |
Next>
Last>>