There was a temporary reprieve when Horizon Middle School was built, taking some of the heat off the intersection at Avenue C. That was a nightmare at the beginning and end of every school day. But this street really needs to be wider, and there should be a stoplight at that particular intersection.
This is where the area residents come in. Nobody wants a stoplight on their corner, and these people are no exception. Nobody wants a four-lane road in their front yard, and they've been very good at keeping one from being built. But there is always the greater good. And in this case, it's about time something gets done.
The residents in this area have the unfortunate circumstance of being on a major artery through town. One could argue that this was forseeable. In any case, the fact of the matter is that something needs to be done, and it's going to stink for somebody. It's time we override the protests of the few citizens along this short stretch of road and update this street to better cope with the needs.
Before anyone accuses me of being insensitive to the rights of these property owners, allow me to point out that the street I live on has recently become a superhighway of sorts as well. A new connecting street was put in a few years ago which funnels a ton of traffic past my house, and my street is narrow like Washington. And it's horrible. But you know what? The traffic isn't about to stop. I know what they're going to. It's a fact of life and civic growth.
You can voice your opinion on this project at meetings being held in the former Hughes Middle School building, coincidentally in that very area of town. You can find more details on the meetings here.
You can also fill out a brief survey. Judging by the questions on this survey, the approach they will be taking to renovating this area is to firmly and sweetly kiss the butts of all the residents of this small stretch of road. They're talking about decorations, special pavements, historical markers, the works. I love this town, but this idea is ridiculous! And they're likely trying this approach because history is what these residents try to hide behind when they rally to oppose any sort of modernization of the street in their area.
I invite you to fill out this survey.
You can find it here.
And I especially invite you to attend the meetings and voice your opinion there. I just took the survey, however, and got an error when trying to submit. Hopefully yours works.
You can find the entire schedule of meetings
here.
[ add comment ]
( 2 views ) |
permalink
|
Click a dot to rate this entry:





( 3 / 571 )
---
There is no traffic signal where 2nd Street meets the Expressway. As I waited to turn left on Expy and head up 2nd to the golden arches, people in the oncoming lane stopped short of the intersection to allow me through. What a city :-)
When I got home tonight my wife mentioned that the Sam Goody store in Kirkwood Mall is going out of business and has marked their inventory down by 30-50%. I've already made my semi-annual trip to the mall (see my JC Penneys post below somewhere) but this might be worth an unscheduled one.
[ add comment ]
( 3 views ) |
permalink
|
Click a dot to rate this entry:





( 3 / 546 )
---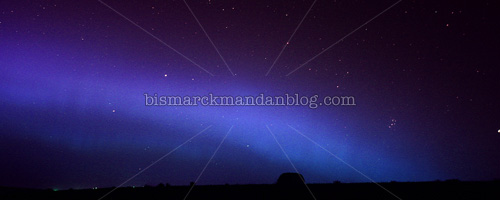 This is what it
should have
looked like this weekend. All the variables looked as though they'd line up. The sky was clear. No bright moon to mess up the sky. Somewhat unsettled atmosphere. Clint out standing in the field (no puns, please) with his camera equipment. The
POES statistical plot
showed a strong possibility of visible Northern Lights in this area. Sadly, nothing showed.
Not to mention that it was pretty darn COLD and windy, but it's worth a try...right? If I may whine for a brief instant, I'll take the opportunity to point out that my purchase of camera equipment capable of astrophotography
coincides directly with the Solar Minimum.
I've seen auroras so bright I could read by them, but it doesn't look like any of those will show up for another couple of years at least. But when they do, I'll be there. And the evidence will be posted here.
The photo above, by the way, I took near Hawktree last fall. They were originally their typical turquoise green but I changed the hue to blue in Photoshop because this image in its original size is the background for my computer monitors. In the original one can clearly make out the round hay bale in the foreground. I also have one with a BIG owl perched on that bale, but this one turned out better.
[ add comment ]
( 2 views ) |
permalink
|
Click a dot to rate this entry:





( 3.8 / 1227 )
---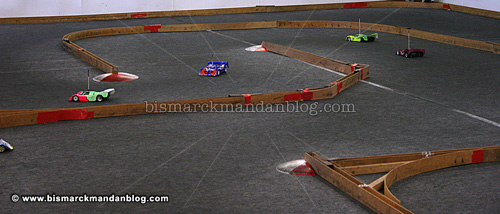 These guys are on the platform controlling little electric cars that absolutely FLY around the carpeted track. The track surface itself is a special carpet that doesn't have any loose fibers to clog the motors of the cars. The guy down on the end is Jeff, the owner of the shop, who's announcing the running order while running the computerized timing and scoring. These cars have tiny radio transponders on them so that the computer can keep track of lap times and order of each car.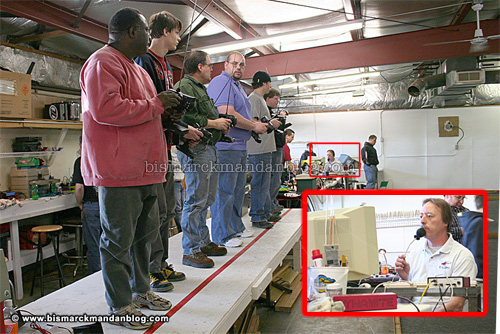 These cars are VERY high-tech, with carbon fiber chassis parts and intricate suspensions. There are workbenches in this room where the racers work on their cars, charge their batteries, that kind of thing. Spectators are welcome, and the racers are friendly about answering questions in between races.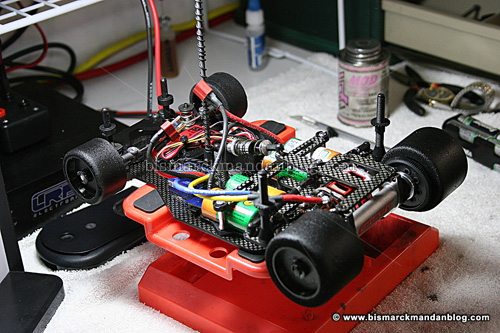 There will be another race on March 18th at Wheels, Wings and Hobbies -- on the Strip in Mandan. They're also putting on a big event called the Prairie Knights Classic (I'll give you three guesses which casino it's being held at) on April 1st and 2nd. If you're looking for a really fun hobby or just want to watch some unique local racing, head out to WWNH any time. They also have a web page at
wwnh.net.
[ add comment ]
( 3 views ) |
permalink
|
Click a dot to rate this entry:





( 3 / 552 )
---
First off, I've had a CWP since the 1980s, when I both worked in law enforcement and transported large deposits for the business my family owned at the time. No two licenses have ever looked the same in that period. This one is no exception, it looks like a cross between my ND driver's license and my SCUBA certification card.
Second, in the past the license type has been listed as "Firearm." Now it is listed as "Firearm and Dangerous Weapon." Prior to that I don't know if the license was only valid for firearms and not valid for other types of weapons. Now it lists "dangerous weapons" too, so that's more inclusive. I guess now I can carry my keen intellect legally. :-)
One thing that many people may not know is that ND has reciprocity with many other states when it comes to concealed weapons permits. A North Dakota permit allows you to carry a weapon in Alabama, Vermont, Montana, Kentucky, Alaska, South Dakota, Arizona, Indiana, Utah, Idaho, North Carolina, Texas, Utah, Tennessee (handguns only), Michigan, and New Hampshire. Florida is included too, but I don't believe they require a permit...that's how the law used to be.
To get a CWP one must get a perfect score on the written test. The test doesn't ask how to operate a weapon properly; it asks detailed (and tricky) questions about justification of actions by North Dakota law pertaining to use of force. You are allowed to look at the law during the test, but you must clearly understand the questions and the laws to pass.
Minnesota residents voted a while back to allow themselves to carry concealed weapons. However, being a liberal state, there was some backlash. While the law itself withstood the surge of opposition, Minnesota does not give the right to anyone with a permit from another state. They were issuing their own non-resident permits for a while, but I believe that may have been put on hold as well.
Some indignant soul at the Bismarck Tribune once took it upon themselves to declare that the right to carry a weapon was an awful thing, and because it's public information, they collected a list of everyone in the area who has a concealed weapons permit and published the list of names. I'm not sure exactly what that proved, except the tone of the Tribune.
In any case, it's a right we possess, and I encourage anyone who is interested to take the test. It's always good to know the law pertaining to your defense of yourself and of others, even if you don't walk around with a gun all the time. I sure don't.
[ add comment ]
( 2 views ) |
permalink
|
Click a dot to rate this entry:





( 3 / 555 )
---
<<First
<Back
| 332 | 333 | 334 | 335 | 336 | 337 | 338 | 339 | 340 | 341 |
Next>
Last>>