First off: I'm like a lot of guys...I'd buy more dress clothes if 1) I only knew what the heck I was doing, and 2) I had any idea what my size is and how to buy stuff that fits nice. I was in luck Sunday. An older gentleman there by the name of Dick came up to me and started out by helping me find my shirt size. This guy helped me out as if I was at a custom tailor. So we ventured over to the suits after finding my proper shirt size.
I've been meaning to get another suit (I love suits) and they were 50% off yesterday. So with Dick's help I tried on a few, he explained how they should fit in the shoulders, waist, and sleeves, and we found one that worked perfectly. He spent all the time necessary to make sure both my wife and I understood what we were trying to achieve in fitting a suit. All the while he was very professional, courteous, and great conversation.
At one point another customer came up with a question. He explained that he was fitting a suit and couldn't help them right away, apologized, and found another employee to help them. Talk about feeling like I was being attended to - again, as if I were at a custom tailor. I forgot I was in a department store.
Employees seem to be treated as a disposable commodity these days, especially since many of them seem incapable of proper customer service. A gentleman like this suit salesman at JC Penney stands out as one in thousands, perhaps even more rare than that. I am going to buy
all
my dress clothes from JC Penney in the future, as long as a guy like Dick works there to help me out.
So, if you're like most guys - willing to dress up, but uncertain about (even intimidated by) shopping for dress clothes,
go to JC Penney and see this man.
You'll be glad you did.
Aside: I value good customer service and professionalism in general more than most, or at least I make a bigger deal about it. When I have a positive experience at an establishment, I make sure that someone in charge knows about it. They need to; most of the time the only people who seek out a manager are the angry ones. Employees who go above and beyond deserve recognition, and I am always more than happy to give it.
[ add comment ]
( 4 views ) |
permalink
|
Click a dot to rate this entry:





( 3 / 570 )
---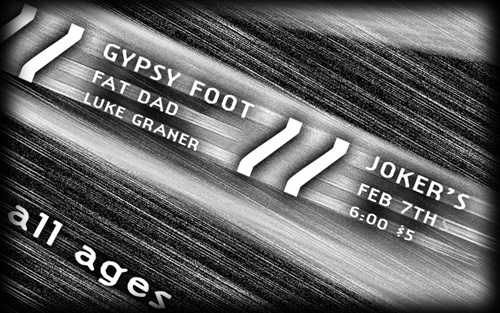 My friend Luke will play with Gypsy Foot and Fat Dad at "Jokers" tomorrow night, February 7th. Not only will these guys play their favorites, but they'll also probably do some really wild impromptu collaborative stuff as well. You simply must check it out.
Jokers is on the corner of Collins Avenue and First Street in Mandan. This is an all-ages show, which means no drinking/smoking. That will provide a decent atmosphere to hear some talented local musicians.
Luke Graner can be found online
here.
Updated URL - has other local bands as well.
[ add comment ]
( 5 views ) |
permalink
|
Click a dot to rate this entry:





( 2.9 / 593 )
---
The signal will be processed and broadcast in mono. It will be spit out through an old water-cooled UHF transmitter so old that tubes for it aren't even in existence any more. Then, if you're like me, your off-air signal is riddled with multipath - the ghosting which occurs as the result of the signal bouncing off a big building like the Civic Center or the State Capitol.
Unless, of course...you've got satellite! While all the people in Bismarck who bought HDTV sets for the Super Bowl are watching either the analog signal or the upconverted "digital" signal (which is simply a digitally transmitted version of their mono analog feed) I'll be watching in 5.1 surround sound with a digital picture. Pass the Doritos!
[ add comment ]
( 5 views ) |
permalink
|
Click a dot to rate this entry:





( 3 / 555 )
---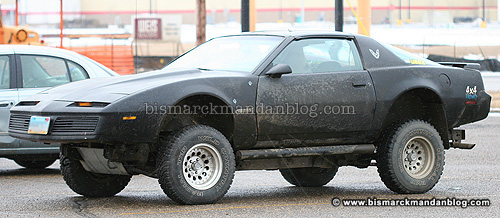 What's a guy to do if he's got 1) a spare S-10 chassis and 2) a spare Pontiac Firebird body lying around? Well, I think the answer is as obvious as peanut butter 'n' chocolate.
Unfortunately I didn't get a chance to hang around and talk to the owner/creator of this beast. I think the conversation would have been insightful. I recognize the S-10 running gear because of the skidplates (I have a set on my truck, they're standard) and the tastefully applied "Vortec" sticker on the front quarter.
What I'd really like to know is: is this the same fella who has a 4x4 Cadillac Fleetwood, presumably on a Chevy Suburban chassis, complete with nerf bars? Or the 4x4 Mercedes SL sedan? Inquiring minds want to know. They'd also probably like to know what possesses a man to do such a thing...wrong or right, these vehicles sure do stand out. Especially during a winter snow emergency.
[ add comment ]
( 4 views ) |
permalink
|
Click a dot to rate this entry:





( 2.9 / 602 )
---
First let me take you back to the 1980's (I love to do that, after all). Woolworth's was in that part of the mall, there was a Pied Piper arcade outside its mall entrance, it was grand. Then they went out of business. The Dayton-Hudson Corporation moved their Dayton's store in, but they purchased the building before they did. That building is NOT part of Kirkwood Mall, per se. So they still own it even though they closed the Dayton's / Marshall Field's store last year. So why not make use of it?
The Dayton's / Marshall Field's building is going to be torn down, thus the safety fence. A new, larger Target building will be put in its place. Much of the parking area that won't be covered up by the new building will be torn up and repaved. And this is all set to be done by October-November of this year.
Scheels Sports is rumored to be moved into the Target store, giving them some much-needed square footage in a single location. They've gradually absorbed all of the space in their current area of the mall, including the former McDonald's across the hall and the former Shades Nightclub. So what's going to replace all that square footage? Good question. Kirkwood already has some empty slots, although not as many as Gateway. But they had better start recruiting!
The ownership of the Dayton's part of the mall was relayed to me by hearsay a long time ago from a couple of different sources, including Dayton's internal security personnel. I used to catch shoplifters for a living, and it's a small professional community. You'd be surprised how many hidden compartments there were in that building! Pretty much any part of the store was visible by security personnel at any time.
The other thing of note in the Kirkwood parking lot? The portable substation. That's that semi trailer with the big bottle-looking transformers on it. It's there because the existing transformer
blew up
last year, plunging much of the city into darkness. Until a new substation is built, it's up to the portable to handle power delivery to that area.
I have video of the explosion
which I'll upload shortly.
[ add comment ]
( 17 views ) |
permalink
|
Click a dot to rate this entry:





( 3.1 / 589 )
---
<<First
<Back
| 334 | 335 | 336 | 337 | 338 | 339 | 340 | 341 | 342 | 343 |
Next>
Last>>