The signal will be processed and broadcast in mono. It will be spit out through an old water-cooled UHF transmitter so old that tubes for it aren't even in existence any more. Then, if you're like me, your off-air signal is riddled with multipath - the ghosting which occurs as the result of the signal bouncing off a big building like the Civic Center or the State Capitol.
Unless, of course...you've got satellite! While all the people in Bismarck who bought HDTV sets for the Super Bowl are watching either the analog signal or the upconverted "digital" signal (which is simply a digitally transmitted version of their mono analog feed) I'll be watching in 5.1 surround sound with a digital picture. Pass the Doritos!
[ add comment ]
( 5 views ) |
permalink
|
Click a dot to rate this entry:





( 3 / 555 )
---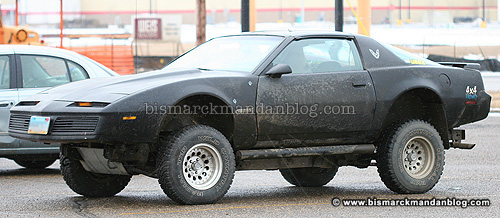 What's a guy to do if he's got 1) a spare S-10 chassis and 2) a spare Pontiac Firebird body lying around? Well, I think the answer is as obvious as peanut butter 'n' chocolate.
Unfortunately I didn't get a chance to hang around and talk to the owner/creator of this beast. I think the conversation would have been insightful. I recognize the S-10 running gear because of the skidplates (I have a set on my truck, they're standard) and the tastefully applied "Vortec" sticker on the front quarter.
What I'd really like to know is: is this the same fella who has a 4x4 Cadillac Fleetwood, presumably on a Chevy Suburban chassis, complete with nerf bars? Or the 4x4 Mercedes SL sedan? Inquiring minds want to know. They'd also probably like to know what possesses a man to do such a thing...wrong or right, these vehicles sure do stand out. Especially during a winter snow emergency.
[ add comment ]
( 4 views ) |
permalink
|
Click a dot to rate this entry:





( 2.9 / 602 )
---
First let me take you back to the 1980's (I love to do that, after all). Woolworth's was in that part of the mall, there was a Pied Piper arcade outside its mall entrance, it was grand. Then they went out of business. The Dayton-Hudson Corporation moved their Dayton's store in, but they purchased the building before they did. That building is NOT part of Kirkwood Mall, per se. So they still own it even though they closed the Dayton's / Marshall Field's store last year. So why not make use of it?
The Dayton's / Marshall Field's building is going to be torn down, thus the safety fence. A new, larger Target building will be put in its place. Much of the parking area that won't be covered up by the new building will be torn up and repaved. And this is all set to be done by October-November of this year.
Scheels Sports is rumored to be moved into the Target store, giving them some much-needed square footage in a single location. They've gradually absorbed all of the space in their current area of the mall, including the former McDonald's across the hall and the former Shades Nightclub. So what's going to replace all that square footage? Good question. Kirkwood already has some empty slots, although not as many as Gateway. But they had better start recruiting!
The ownership of the Dayton's part of the mall was relayed to me by hearsay a long time ago from a couple of different sources, including Dayton's internal security personnel. I used to catch shoplifters for a living, and it's a small professional community. You'd be surprised how many hidden compartments there were in that building! Pretty much any part of the store was visible by security personnel at any time.
The other thing of note in the Kirkwood parking lot? The portable substation. That's that semi trailer with the big bottle-looking transformers on it. It's there because the existing transformer
blew up
last year, plunging much of the city into darkness. Until a new substation is built, it's up to the portable to handle power delivery to that area.
I have video of the explosion
which I'll upload shortly.
[ add comment ]
( 17 views ) |
permalink
|
Click a dot to rate this entry:





( 3.1 / 589 )
---
If it's on the Internet, it must be true...
I just got a copy of an email showing an albino deer with a touching story about it nearly getting hit by a car near Stanley. It was rescued and turned over to a game warden. Well, the first thing I do when I find something in my email is
verify it.
Turns out that this cute little guy is
all over
the net. He's been found in Texas, Michigan, parts unknown, and now North Dakota! Always by the same loving family, although they seem to change their names slightly here and there. Shifty characters.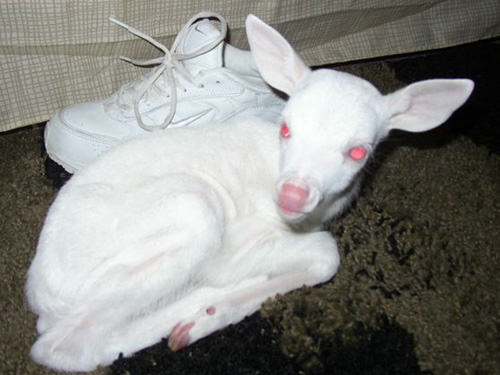 You can go to either
snopes.com
or just
Google it
to find out the truth.
So...the next time you find out about a million dollar offer from Bill Gates, or hear about a tax on emails, or get an inbox full of pictures too good to be true...check them out. Especially before forwarding them to your entire address book. Time spent checking your facts instead is a lot better than time spent trying to get your credibility back. Ask the New York Times.
[ add comment ]
( 3 views ) |
permalink
|
Click a dot to rate this entry:





( 3 / 552 )
---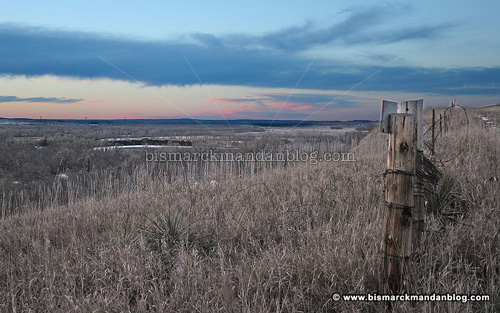 It's been a little while since I posted a nice sunset. If you only knew how much mud I had to get on my truck to get this shot! Thank goodness to big tires, skidplates, and four wheel drive. This particular vantage point won't be around long, with all the development going on in north Bismarck.
Stunning is the contrast between the bleak colorless ground and the vibrant cloud-streaked sky. Of course, if we were playing by the rules, those dead stalks and leaves would be covered under a pillowy blanket of white. But not today.
My friend Tony, who's traveled all over the world and to pretty much every state, still claims North Dakota sunsets as his favorite. He's in Alaska with his new wife now, so that's quite a complement to our state. We might not have Alaska's mountains (or bears) but we sure do know how to put on a good show when it comes to sunsets and thunderstorms!
[ add comment ]
( 3 views ) |
permalink
|
Click a dot to rate this entry:





( 3 / 533 )
---
<<First
<Back
| 334 | 335 | 336 | 337 | 338 | 339 | 340 | 341 | 342 | 343 |
Next>
Last>>