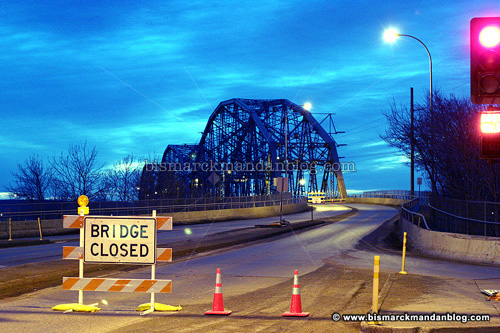 This was the scene Wednesday evening as all traffic, motor vehicle and pedestrian, was stopped on the Memorial Bridge. A week or two ago, a crack was discovered in one of the concrete/stone/steel pylons...a crack eighteen inches deep by some reports. I don't know exactly what they discovered today...but if an eighteen inch crack isn't serious enough to close the bridge, they found something that is!
For many who remember the bridge's unique steel decking, this bridge is special. It was a real trip riding motorcycle over this bridge, with the gridwork tugging the wheels side to side while giving a perfect view of the water beneath. Then, when the bridge needed extensive repair work, someone thought up the unique solution of piling another couple dozen tons of concrete on top of that deck. I mean, if the bridge is suffering structurally, wouldn't the natural response be to increase the load on it?
This is an awkward situation, since the bids for the bridge's replacement should have already been awarded. But nobody submitted a bid when the process opened last November. Presumably the concrete shortage in the Katrina aftermath and the volatility of steel due to demand and tariffs make bidding a job like this a pretty risky proposition. Other reasons I've heard is that major construction firms that do this sort of work are just too darn busy.
I videotaped the ceremony where they announced the new design and had a bunch of muckety-mucks shaking hands with Senator Conrad on the Mandan side of the river. This was last summer. The new design will be very nice, with memorials constructed for the veterans. After all, the existing bridge is dedicated to them. They won't be forgotten when it is replaced.
So now what? How much money will it cost to nurse this thing along until construction can begin on a new bridge? When does the DOT say it's not worth it, and abort repairs in preparation for replacement? Hopefully the details will be released to keep us in the know.
[ add comment ]
( 2 views ) |
permalink
|
Click a dot to rate this entry:





( 3 / 476 )
---
This post was going to be titled "I had a far better Valentine's Day than the Texas Roadhouse." They had a water main break and struggled all day to get it fixed. But fortunately the restaurant was able to open at around 4:00 pm (I heard they'd planned to be open by 3:00 before the catastrophe) and are cranking out the chow like normal.
Valentine's Day is the second biggest day in the food service industry; as I recall, Mother's Day is the biggest. So the Roadhouse would have really been in the hurtlocker had they been forced to sit out the first Valentine's Day since the restaurant's opening. I bet someone is breathing a HUGE sigh of relief tonight!
[ add comment ]
( 2 views ) |
permalink
|
Click a dot to rate this entry:





( 3 / 501 )
---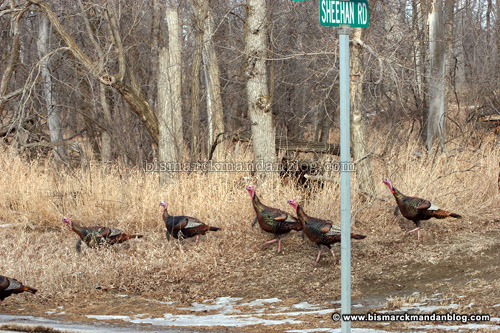 Seen on South Washington. These guys seem pretty nonchalant about traffic nearby. Hopefully they don't get pasted as they confidently strut across the road.
There's another big group of these birds on Highway 1806 just south of Mandan. A friend of mine flies helicopters for the army, and says it's bizarre when they fly the Missouri River bottoms at night with their night vision goggles, and the trees are FULL of turkeys. Sounds like a South Park episode I saw once...
[ add comment ]
( 2 views ) |
permalink
|
Click a dot to rate this entry:





( 2.9 / 510 )
---
You can view the agenda by clicking here (PDF document).
Looks like something is going to happen to the old Hardee's building on south 3rd. I can't believe it's sat this long, or that they couldn't make a Hardee's restaurant viable there. In any case, this is a better use of Renaissance money than the remodelling of the Bismarck Tribune building! According to North Dakota Century Code, the Renaissance Zone project includes " residential and commercial properties that need to be revitalized and redeveloped to attract businesses and residents."
So I'd like to know how remodelling a newspaper owned by an out of state company is going to revitalize or attract anything. They're not even in the downtown area. But that money's come and gone. Hopefully something better will be done with the project on south 3rd. In any case, if you're curious, attend or watch the City Commission meeting tonight.
[ add comment ]
( 4 views ) |
permalink
|
Click a dot to rate this entry:





( 3 / 530 )
---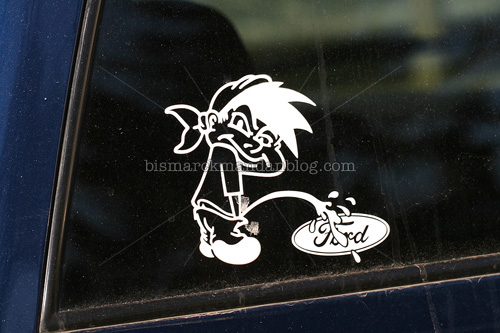 I'm all for brand loyalty...but who's the idiot who came up with this sticker? They must be a rich idiot by now; I see these things all over the place. Many of them use the character Calvin of Calvin & Hobbes fame, without license I'm sure. Then you just pick the logo of your least favorite car/truck/whatever and voila'! Instant jackass!
Wake up, people!
You're putting a picture of someone URINATING on your vehicle for all to see.
Hasn't that occurred to you? Are you really too crass to care? How do you suppose the world sees you? It makes me wonder what kind of person would put something like this on their car. Does it just not sink in? Do they think this kind of humor is funny? Do they show their own kids and laugh?
I couldn't agree more with this guy's sentiment towards Fords. But there's such a thing as common decency, and I think a depiction of someone peeing is far over the line as far as decency's concerned.
[ 1 comment ]
( 24 views ) |
permalink
|
Click a dot to rate this entry:





( 3 / 556 )
---
<<First
<Back
| 334 | 335 | 336 | 337 | 338 | 339 | 340 | 341 | 342 | 343 |
Next>
Last>>