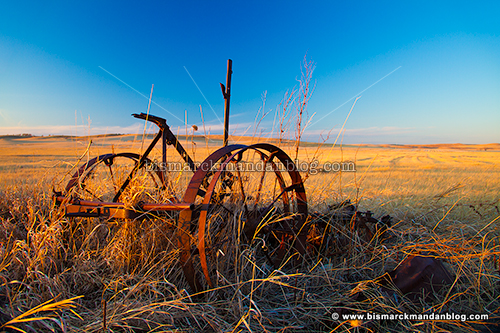 I love old pieces of equipment like the one pictured above. I was out on a photography mission, one in which I came back empty-handed, but I spotted this little gem beside the road during my travels. As it turns out, I caught it just as the sun was starting to splash its pre-sunrise color across an otherwise dreary landscape.
My photographic mantra is that any photo trip is a success if I come back with even one image that I like. That holds true for trips like this one, where I was looking for a very specific shot but couldn't find the location...I came back with a few different shots that I really like, so I don't really mind that they weren't the one I was looking for.
The photo I originally sought evaded me, but only because I got a late start. The sun sets pretty early right now, even though the days are steadily growing longer. Next time, I'll head out earlier and hopefully get lucky, stumbling upon the photo I'm chasing!
[ add comment ]
( 7 views ) |
permalink
|
Click a dot to rate this entry:





( 3.2 / 121 )
---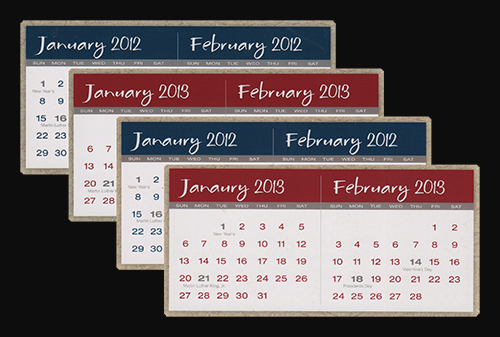 I really appreciate when local print shops do certain things such as in 2011, when Image Printing made those posters with the American flag on them and distributed them around town. One other thing they do, and this is a good business tool as well, is distribute free office calendars as a promotional item. They're very handy, high quality, and should be appreciated as a valuable gift.
I was taking down my calendar from last year (although I discovered it had 2012 on the back) to replace it with a new one, when I spotted something interesting: at the bottom of 2011 it also had smaller boxes containing Janaury and February 2012, for those of us who don't change our calendars on time! Wait, what? Janaury?
Yes, mine had January misspelled on it. I checked the back to see if the same quirk existed on the 2012 side (with little January and February 2013's on it), and it did! As a proofreader I found that noteworthy, so I checked other calendars in the building which hadn't yet been replaced. As it turns out, I've got the only one with the error. Hmmmmm...that's odd.
In addition to the giant poster-sized calendar, I also had an 8.5x11 version. That had the misspelling of January as well...yet I couldn't find another calendar with the same typo anywhere! Weird.
I'm one of those people who could look at a printed page and have any typo errors leap off the page at me almost instantly, as if I was looking at one of those 3D computer-generated posters. As a result, I find it appropriate that I seem to have the one calendar with this particular feature.
Before any conspiracy theories abound, I'd like to point out that this calendar was hung three months before I moved into the office where it was hanging. I don't believe in fate, but if I did I would surmise that perhaps this calendar and I were meant to find each other!
[ add comment ]
( 5 views ) |
permalink
|
Click a dot to rate this entry:





( 3 / 150 )
---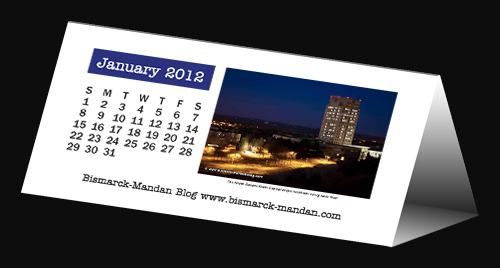 For this month's printable self-standing desk calendar, I chose a photo of the North Dakota state capitol for the second month in a row. This time, instead of red and green windows to form a Christmas tree, the digits of the new year are displayed. I love tradition.
Click here to download a printable calendar in PDF format.
If you have Adobe Acrobat Reader installed, you're good to go. It may take a little bit for the program to load, but the file should download reasonably quickly. Click on the icon below to download the free Adobe Reader if necessary.

When you print the PDF, fold along the lines and tape or staple at the bottom. You will then have a free-standing desk calendar with a reminder of the joyful celebration of the new year at one of Bismarck's most prominent landmarks.
[ add comment ]
( 6 views ) |
permalink
|
Click a dot to rate this entry:





( 3.1 / 109 )
---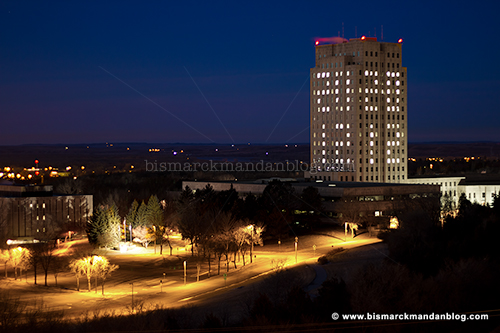 I had lots of fun family time this weekend instead of roaming with the camera, but I did want to sneak in a quick 2012 shot. Since I began this blog site in January 2006 I have always found a way to nab a quick shot of the capitol with its windows declaring the new year. During that time I've just about shot every available angle of the thing, but I was able to grab something a little different this time around.
I did go out after midnight, chuckling at all the other like-minded souls roaming the capitol grounds with their cameras, but I found the experience lacking this time around. The reason for that is the clear sky; it doesn't reflect any light on the capitol, so in order to properly expose the windows one must underexpose the building even more than I'd like. That almost gives the 2012 an appearance of floating in midair. Here's where my "technical creativity" kicked in: I figured I'd let the sun help me out.
I packed up my gear this morning before sunrise, got into position, and waited for the sun to give me just enough scattered light in the atmosphere and on the capitol tower without competing with the 2012 in the windows. It was a fine balance, and I actually set an intervalometer to sit and take shots every 30 seconds so I could catch the right window of time, and that was that.
The shot above has the windows lit with the new year, the tower and town are visible, the sky is a nice blue, and it looks like everything worked as planned. Also important is that I think, out of all the people who photographed the building, I have a very unique photo.
Happy New Year!
[ 1 comment ]
( 9 views ) |
permalink
|
Click a dot to rate this entry:





( 3.1 / 155 )
---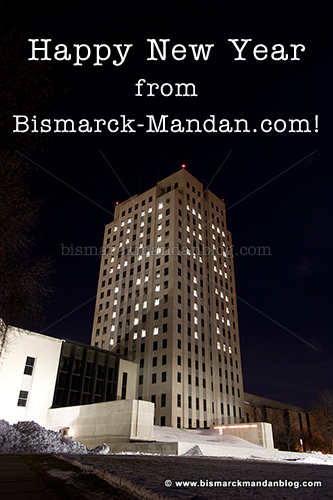 Busy. That would describe my 2011 in as concise a way possible, yet in as verbose a manner as necessary. The photo above? I had to Photoshop the windows in last year's photo because I didn't get the time to take a real one...yet.
I don't believe in New Year's resolutions; however, I do hope to make better use of my time in the future. That should allow more opportunities for what's important: faith, family, fotography, motorcycles... :)
Happy New Year!
[ add comment ]
( 7 views ) |
permalink
|
Click a dot to rate this entry:





( 2.9 / 110 )
---
<<First
<Back
| 42 | 43 | 44 | 45 | 46 | 47 | 48 | 49 | 50 | 51 |
Next>
Last>>