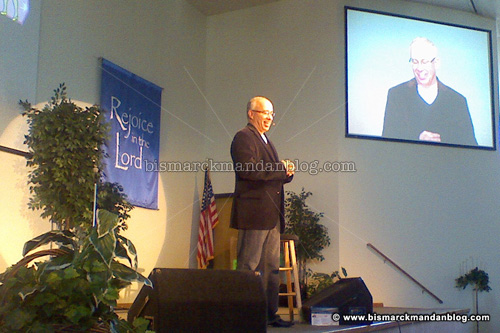 My wife and I were among hundreds of couples who attended the
Laugh Your Way to a Better Marriage
presentation this weekend at Bismarck Community Church. Presenter Mark Gungor is a really neat guy, and I learned a lot about myself and my wife this weekend. I think she learned a lot about me, too! I highly recommend seeing this presentation on DVD if you get the chance. If you have the opportunity to see it in person, even better. You'll be glad you did.
One of the things we found really interesting was the
Flag Page Test
, which they did with a sample couple from the audience. As with many couples, they tested as somewhat opposites. After bringing them up on stage and showing us their scores, he asked them a variety of questions and had them pegged right on with each question. The goal is to help you understand your spouse better by finding out what matters most to them, then finding out how best to satisfy their needs. It's really cool.
Two things I really agree with from this weekend: One is that the feminization of our culture (especially the churches) is doing the men of our nation a horrible disservice. Another is that a strong marriage isn't about changing who we are, but about realizing how to best give our spouse the type of love and affirmation they need. That starts by figuring out just what in the world that type is, as I described above.
There were so many gold nuggets in the two days of presentation, I can't list them all. I do know that we will be buying
his book by the same name
, which goes into greater detail and gives specific citations of the studies that he mentions in his presentation.
Stacy and I had originally scheduled a "date night" for this Friday, with our friends taking the toddlers for a sleepover. Then we found out about the Laugh Your Way presentation and decided to attend as part of our date. My wife's persistence paid off in being a lucky caller to KNDR to win a pair of tickets, which left money in our Date Fund to spring for a nice meal at the Walrus and some swag at the event. It was all time and money well spent. Even a healthy marriage needs maintenance, and we intend our marriage to last. Part of that, by the way, is my decision to
not
take my ubiquitous camera along on our dates, thus the less-than-stellar cellular phone picture above.
[ add comment ]
( 26 views ) |
permalink
|
Click a dot to rate this entry:





( 2.4 / 527 )
---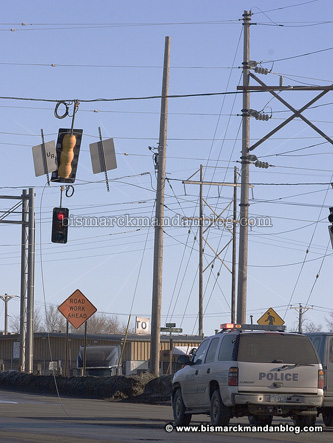 One casualty of the beating many fixtures took from today's wind is the cable strung across the east end of The Strip in Mandan. This poor police officer was parked nearby with his flashers going when I came to Mandan, and he was parked there when I returned to Bismarck. I know it's important to make sure nobody ran into the fallen cable and pulled the whole works down, but I'm sure he was plenty bored! Poor guy.
[ add comment ]
( 8 views ) |
permalink
|
Click a dot to rate this entry:





( 3 / 376 )
---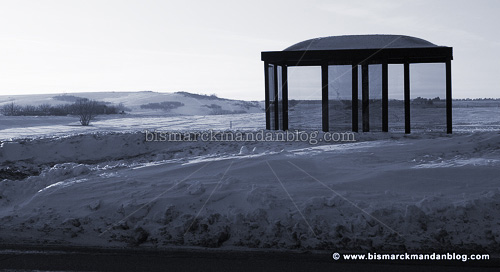 Is it any wonder why we're still not into mass transportation around here? :) This bus stop sits near the Fort Lincoln Elementary School south of my beloved Mandan. It may look like a bus stop in the middle of nowhere (at least I hope it does, I tried to make it do so) but is actually on a city street, with much of the land behind it already platted for development. Many of the streets were actually paved just before winter blew in last year. Mandan, she's a-growing!
[ 1 comment ]
( 28 views ) |
permalink
|
Click a dot to rate this entry:





( 2.8 / 311 )
---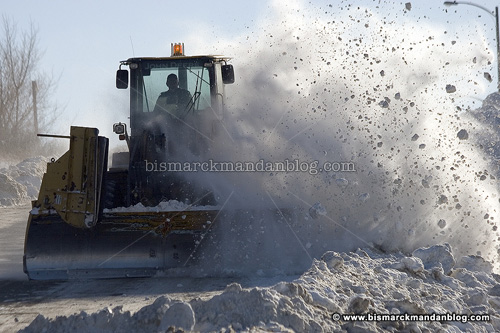 With as much snow as we've had lately, there are no doubt some frustrated folks who think the city's doing a less than spectacular job of keeping the streets clear. I've had a little bout of that myself, such as a couple of weekends ago when I had to help push/dig out a stuck police car before leaving my driveway, but I understand that they've got an overwhelming task on their hands. I figure we should cut 'em a little slack.
I do have a happy story to tell you about an encounter with a snow plow (well, payloader with a blade and snow gate) a week or so ago. I have a sidewalk across my boulevard that I never use, so I don't shovel it. This night, however, my mom was over to babysit and I didn't want her having to deal with the deep snow. As a result, I was out with my spade and grain shovel, dutifully chopping at the snow berm pushed up by recent plow passes.
I'm a "letter of the law" kind of guy when I get belligerent, and the snow on either side of the walk I'd cleared was quite high. Therefore, once I got to the end of the sidewalk and past the curb, I started pitching the snow forward instead of to the side. After all, I was not putting snow from private property onto public; rather, I was just rearranging the snow already on the street. At least, that's how I saw it.
The aforementioned snow removal operator pulled up in front of me, saw what I was doing, and came to a stop. I actually expected a window or door to open and some sort of scolding to come my way; after all, it was about the time that the radio stations were airing reports of citizens being cited for throwing snow into alleys or onto roads. I couldn't have been more surprised with what happened next.
The operator backed up, dropped his (or her) blade, and pushed the snow I'd just chiseled my way through. He cleared the area in front of my sidewalk and part of my boulevard, and cut a nice clear path along the curb for much of my yard. He angled his loader in such a way that it pushed the snow out of the way and up onto the boulevard. In a matter of seconds, and with one single swipe, he'd done more than I could have with my silly little spade.
It was dark and the loader had plenty of lights on it, so I couldn't see into the cab. But as the loader backed up from pushing the snow out of the way, I threw the operator a friendly wave and salute. They then continued on their way up the street. It didn't cost them even a full minute of their time, but it saved me a lot more than that. I'm going to remember this encounter the next time I get frustrated with snow on my street or alley. Apparently there are some pretty nice folks operating those machines, even if they can't get to everybody's neighborhood as quickly as we'd like.
[ 3 comments ]
( 94 views ) |
permalink
|
Click a dot to rate this entry:





( 3 / 391 )
---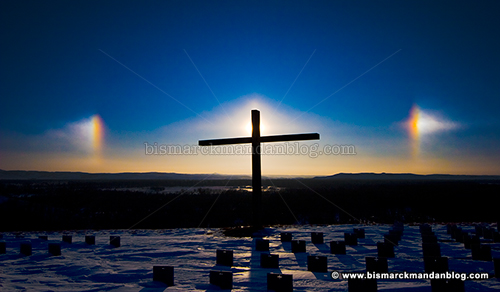 I can guarantee you won't see THIS shot anywhere else. Nobody else would be stupid enough to trudge down U-Mary hill in waist-deep crusted snow! But that's what you've got me for, eh?
I've been experiencing some cabin fever lately; I haven't been able to go out with my camera much this year at all. Thankfully, when I say "this year" it's only mid-January! But I did get a plethora of awesome shots this afternoon, having left the office at noon to enjoy some Taco del Mar with a friend and taking the rest of the week off. Unfortunately, when I say "rest of the week" it's already Friday afternoon!
There were amazing sundogs today (or parhelion, to be technical) that I'm sure were witnessed by all. The reason was a combination of clear skies, fierce winds, and plenty of snow to kick up in the air. Those ice crystals form the oddly-shaped rainbows on either side of the sun, giving the government a convenient scapegoat for UFO reports!
[ 2 comments ]
( 64 views ) |
permalink
|
Click a dot to rate this entry:





( 2.9 / 456 )
---
<<First
<Back
| 159 | 160 | 161 | 162 | 163 | 164 | 165 | 166 | 167 | 168 |
Next>
Last>>