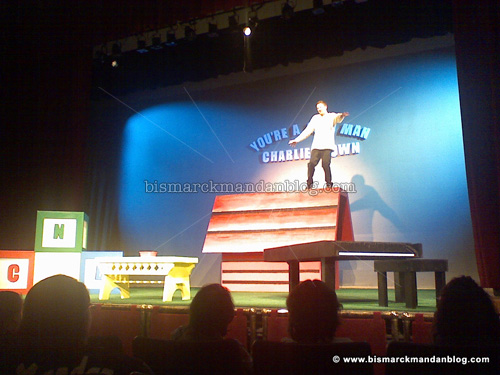 My lovely wife and I had a date night last night, and attended Mandan High School's production of "You're a Good Man, Charlie Brown." I didn't know much about this little musical (apparently
licensed from Tams-Witmark, Inc.
), but I certainly appreciate how hard it must be to portray such iconic characters! I didn't take my camera, since this was a date, thus the poor-quality cellphone shot of Snoopy above.
I'm a big Peanuts fan, with a collection of books and memorabilia going back longer than I've been alive. I think some of my oldest Peanuts books are from the mid-1960s. I've got the cartoons on DVD, the shirts, the toys, the books ABOUT the cartoons, and even a 35 year old Snoopy jack-in-the-box that my little brother got as a kid. Uncle PJ played with it in the 70s, and now my little PJ plays with it in the 00's. Having said all that, someone like me could be very hard to please with a musical like this...or very easy.
At first I wondered what the play was trying to accomplish. It's obvious that they do a lot of little interstitial "strips" plucked from the annals of Peanuts history. These are performed in series between the main musical performances. On the one hand, I think they were well done; however, on the other hand, I think one might have to be a true Peanuts fan to really appreciate them. Again, I think that's part of the mixed blessing of portraying Peanuts characters on stage. I must say, however, that I had bonded with these kids a short while into the play.
If I had to highlight a performance, it would clearly be Nick Leingang as Snoopy. Nick had the unusual task of taking the world's most popular dog and, while NOT wearing any sort of dog costume, walking us through some of our fondest insights into Snoopy and his fertile canine imagination. He did so with energy and flair, and the best compliment I can give is that I felt like I was watching Snoopy. Tough praise to earn from a devoted Peanuts fan of over thirty years! Judging by the energetic applause at the end of the "Suppertime" scene, I get the impression that other folks agreed.
Other bright performances in this play are Jonathan Wanner as Linus and Vanessa Stumpf as Lucy. Linus has always been my favorite Peanuts character, Lucy not so much, but I really liked the way each of these actors portrayed their character. Nice work!
You can catch this performance two more times this weekend: tonight at 7:30 and Sunday afternoon at 2:30. I recommend heading over and enjoying this performance. TIckets are $7 for adults. Get there early and get a good seat!
[ add comment ]
( 13 views ) |
permalink
|
Click a dot to rate this entry:





( 3 / 382 )
---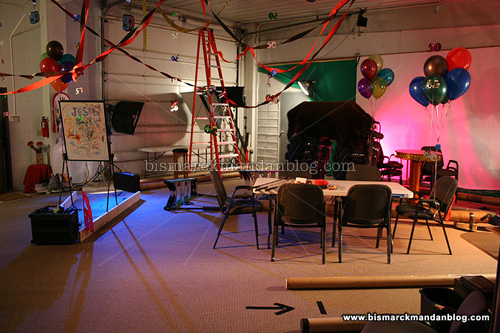 The fun continued at work today. My boss's birthday is today, and he was supposed to on a golf trip as part of the celebration. Sadly, circumstances came up that prevented the trip...but his trusty crew wasn't about to let that lessen the joy of the day! One of our studios became an indoor miniature golf course for the occasion.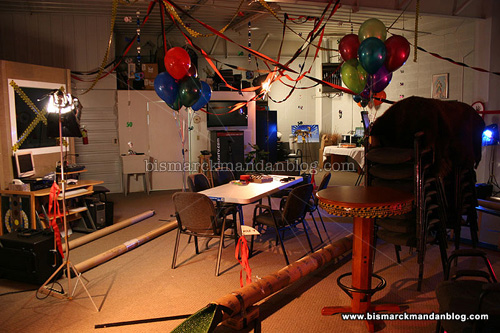 In addition to making good use of our party supplies budget, a few of the guys took tubes, chairs, light stands, and even actual mini-golf supplies to make a six-hole, par six (!) course on the floor of Studio A. I don't know who came up with that Par 1 designation...this thing was TOUGH!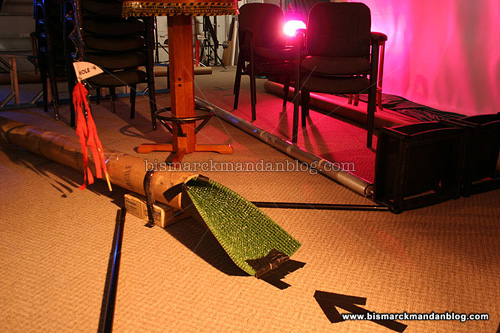 The studio guys lined up the course, one of the graphic artists made flags and score cards, while another was in charge of streamers, party poppers, and other assorted party favors. Oh yes...there were kazoos. Randy from the Walrus Restaurant brought a bunch of his fine pastas and bread, and we keep a well-stocked refrigerator in back for beverage duty. I recommend the Mountain Dew, it helps wash down that sugary birthday cake very nicely! I had a little bit of salad to help make things healthy.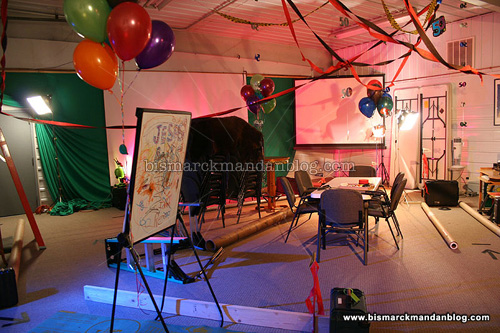 It was actually a little darker and more colorful than this photo implies, which means that of course I dialed up some Frank Sinatra on the iPod for the occasion. We have speakers in the back with an iPod plug-in so we can set the right ambience in the studio, and the Chairman of the Board seemed perfect for today.
So what do you do when its thirty below and the office has a bona fide reason for a party? This is how we do it! We love our boss and did our best to provide an alternative to those sunny greens. Happy Birthday!
[ 1 comment ]
( 30 views ) |
permalink
|
Click a dot to rate this entry:





( 2.9 / 287 )
---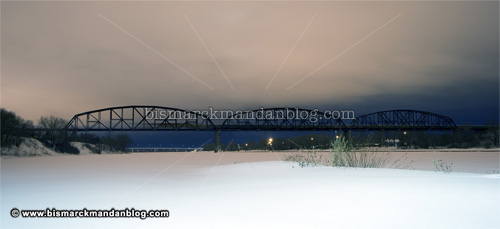 Last night's clouds were a blessing and a curse, photographically. After ten full days without removing my camera from its bag, a new record as far as I can tell, I ventured out for some night snow shots. I'd seen a photo online that a guy took by moonlight, holding the shutter open for 120 seconds and catching some really neat effects. Sadly, although we have the full moon required for such a shot, it was obscured by those low, hazy clouds.
I used what I had; the clouds acted as a perfect "bounce" to reflect the lights of the city. I hoofed it out to the end of the boat dock by Merriwether's, set up my tripod, and was overjoyed to hear the drone of a train whistle across the river. I set up just in time to do a long exposure of the train crossing the bridge - you can see how it's streaked. The new Memorial Bridge is tucked underneath the east span of the historic NP railroad bridge, and the deep blue night sky on the horizon is sandwiched between a snowy white Missouri River and the wispy haze of the low-flying clouds. Not bad.
[ add comment ]
( 9 views ) |
permalink
|
Click a dot to rate this entry:





( 3 / 269 )
---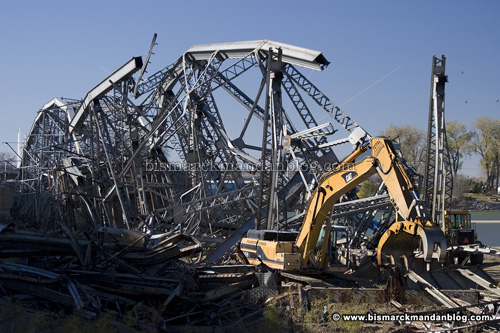 I'm curious. That's one reason I started doing this website: to post the answers to some of the wacky questions I pondered about Bismarck, Mandan, and life in general. Naturally I had a few left over from the Memorial Bridge destruction & construction, which were graciously answered over the weekend by DOT spokesman and fellow KFYR veteran Mike Kopp.
The first one: what in the world happened to all that steel from the old bridge (pictured above)? The answer:
"The steel became the property of the contractor, who is in the process of recycling it."
I'm guessing that's a pretty good deal for them; steel prices have risen steadily in the past few years, from my understanding.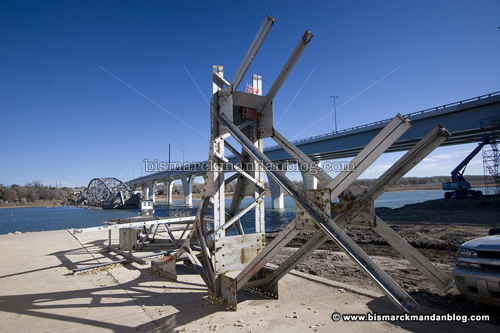 The second one was a combination question: I see a big open slab on the west memorial; is that where a section of the original bridge is going to go, and will there be a similar or identical memorial area on the east side, now that the old footings and stuff are gone? The answer:
"A section of the old bridge from the west end will be placed in the Mandan riverside park to be developed. A section of the old bridge from the east end will be placed in the Bismarck riverside park under the bridge to be developed."
The third one, and I don't have a photo to back this one up that I can remember: I noticed that the lights under the bridge were only on for a short time, and not all of them were working. Are they off until the bugs can be worked out, or is it a seasonal thing? The answer:
"Tests are being performed on the pier lights to determine the best effective radiance."
I can't wait until they're on for good. They look VERY nice.
Those are the only questions I could think of pertaining to the Memorial Bridge. It will be very weird starting our first year with the new one. All traces of the old one have gone. We have the new riverside parks to look forward to, however. I can't wait until it's warm enough to enjoy them!
[ add comment ]
( 20 views ) |
permalink
|
Click a dot to rate this entry:





( 3.1 / 239 )
---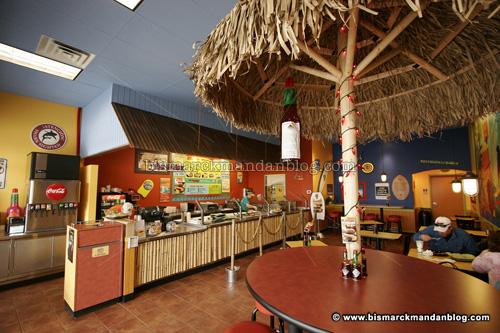 Oh, man. I can still feel the burn of the habanero sauce I pigged out on yesterday, when our office had a Taco Del Mar taco bar delivered. I'm chided on occasion by my friends because our office always has food handy. I know they're just jealous. Doesn't every office have lunch catered from time to time? I suppose that's just one more way in which I'm blessed at work.
I first wrote about Taco del Mar in
March, 2007
. A friend of mine asked me to meet him for lunch there, and I hadn't even heard about the place. I'm glad he invited me, because it's now my favorite spot for lunch!
Not only are the owners super nice folks, but the food and service at Taco del Mar are fantastic. They have an enchilada sauce I love so much I'm at a loss for words. The atmosphere at the south store, next to the Dairy Queen by the south Wal-Mart, is really cool in a surf shop sort of way. I haven't eaten at the north store, part of the Conoco on State Street and I-94, because I always make a short bee-line for the south one!
Ask your boss if he appreciates you. If he answers in the affirmative, encourage him to show it with an office lunch from Taco del Mar! If he says no to either, then stop at Taco del Mar on your way to Job Service during your lunch hour! They're quick as well as courteous!
[ 4 comments ]
( 73 views ) |
permalink
|
Click a dot to rate this entry:





( 3.1 / 229 )
---
<<First
<Back
| 161 | 162 | 163 | 164 | 165 | 166 | 167 | 168 | 169 | 170 |
Next>
Last>>