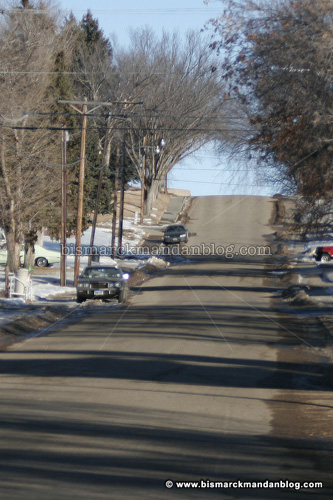 If you grew up in Mandan, you're likely no stranger to what the kids have affectionately termed "Thrill Hill." I have no idea how long it's been named such, but it already sported that moniker over twenty years ago when I first got my license. Whoa. I just realized I've been driving for over two decades! That must mean I'm................old.
Okay, I'm back. This innocent looking street holds a real "whee" at the end, so it's no surprise that people discovered it and treat it like an amusement ride. It'll put your heart in your throat right quick! This street is a long upward slope, but it drops off pretty good on the other side.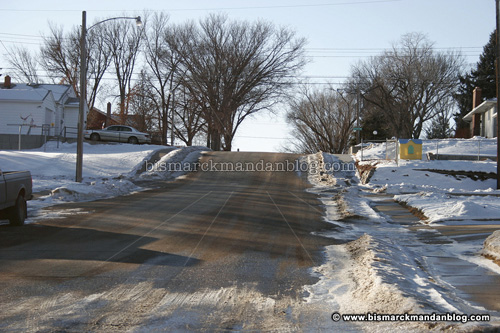 Photographs simply cannot do the backside of this hill justice. Believe me, I tried several angles. The crest of the hill is really nothing remarkable...if you're not sure you're on the real Thrill Hill, you'll think you missed it! Just as that thought crosses your mind, the road drops out from under you. Whee.
The bottom of this photo has snow on the roadway, otherwise you'd see hundreds of scrapes as cars hit the dip at the end of the block. Whether it's for drainage or speed control I don't know; but apparently people are still hitting it with some gusto. Just as the road falling away will bring your heart into your stomach, piling into this dip will drop it back into place!
This post is kinda for the "insiders" who know where Thrill Hill is. You see, I'm not going to tell you...that would be encouraging you to try it, and quite frankly it's dangerous. While it's fun even at legal speeds, for some reason no mere mortal can resist going much faster. I like my readers, I'm certainly not going to send them to their doom! I need you folks.
Before I got my license, I was a passenger in a car that flew (quite literally) over this hill at speeds that would probably have cost the driver his license. Later on in life, my friend Tony and I explored it on our motorcycles and scared ourselves silly - there's not much keeping motorcycles from going airborne, we discovered - and I haven't done anything reckless on it in many, many years. I guess now I think like an adult, a dad, and a homeowner.
So if you want to find it, you're on your own. If you've got your own Thrill Hill stories, I'd love to hear about them.
[ 4 comments ]
( 323 views ) |
permalink
|
Click a dot to rate this entry:





( 3 / 597 )
---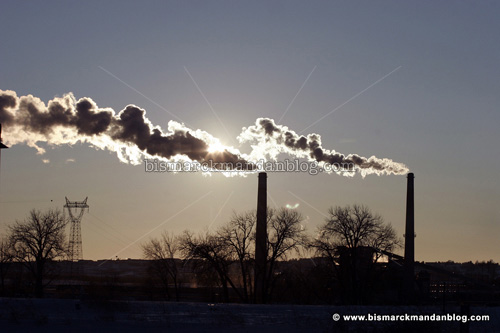 The sun caught the exhaust from the Heskett Station power plant just right as I was driving by the other day. They were offline for quite a while last year for updates and maintenance, but they appear to be chugging away as usual nowadays!
With plants like the power station and the refinery downstream pushing warm water into the Missouri River, it's no surprise that parts of the river don't even freeze over. In fact, there are flocks of geese that simply don't migrate; they just stay near the refinery and enjoy the open water year-round. I'm sure that's why the big Tesoro sign at the entry to the refinery has a goose on it.
Power plants are really cool. I've seen the inside of a few, but not Heskett. Time to make some inquiries...
[ 2 comments ]
( 256 views ) |
permalink
|
Click a dot to rate this entry:





( 3 / 570 )
---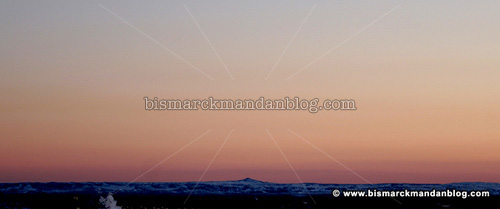 Do you ever try to picture our city through the eyes of a first time visitor? I do, because it really helps pick out features that we see every day but somehow fail to notice.
It should be obvious from the nature of my photography that I'm big on landscapes and other such features. That's why I was actually startled at the view from State Street and Divide Avenue yesterday. While sitting at a stoplight wondering why the punk in the Civic next to me thought I was interested in a race, I glanced out over the south horizon. We've got hills dotted with snow, the sky was red with the waning sunset...it almost had a southwestern feel to it! Yet there I was, right in the middle of my home town, facing a view of it that I'd never given much consideration.
This area of North Dakota is hardly the smooth expanse of endless prairie that it's thought to be; we have hills, rocks, valleys, and other features that somehow seem to escape mention. I've found a few such places recently and have had a ton of fun poking around therein. It just goes to show that there's plenty about our home that we don't know, it's only a matter of changing your perspective.
[ 1 comment ]
( 29 views ) |
permalink
|
Click a dot to rate this entry:





( 2.9 / 644 )
---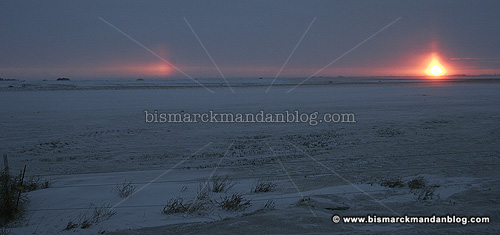 After a breakfast meeting with some of the guys from church, I saw the sun starting to poke up over the horizon. What the heck, I might as well head east a bit and see what it does! This morning it had to blaze through a layer of clouds and lots of blowing snow, but that made it possible to spot a really bright sundog to the north. The cloud cover made it impossible to spot a corresponding
parhelion
to the south.
[ 1 comment ]
( 37 views ) |
permalink
|
Click a dot to rate this entry:





( 3 / 567 )
---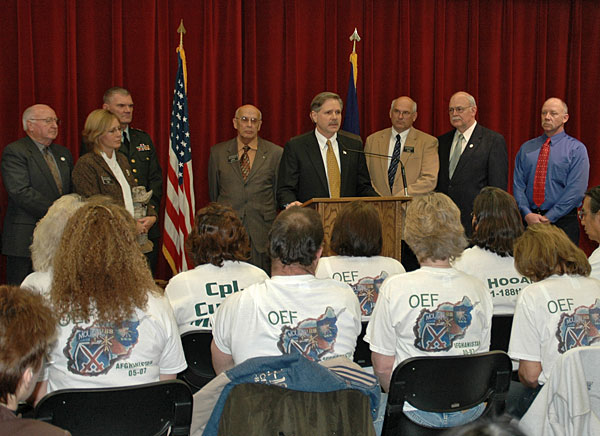 This was a bittersweet day for the families of fallen soldiers in North Dakota. Some of those giving testimony in favor of House Bill 1040, which prohibits protesting near funerals or related activities, have had to endure some pretty nasty circumstances. That's what sadly made this bill, now law, necessary.
As I'm sure everybody knows, a group from Westboro Baptist Church (which is not a Baptist church, they just claim it) was up here to protest funerals in North Dakota. I don't recall them having the guts to set foot on sovereign tribal land, however...hopefully they didn't. These people claim a weird mixture of twisted and perverted Old and New Testament theologies with rancid hate and come up with the tactic of protesting funerals across the country. What they don't tell you is that they're also licensed attornies just waiting for some outraged patriot to lay a hand on them. Thankfully we haven't had any such cases here, although it does require a lot of personal restraint.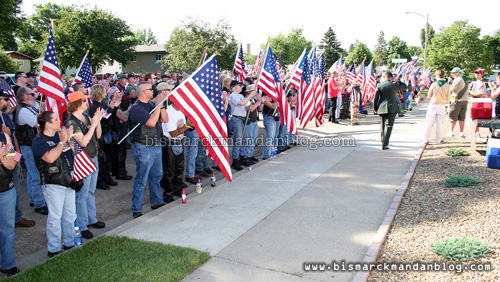 That's where the
Patriot Guard riders
come in. While this picture from last June doesn't convey how many people actually stand in attendance for the Patriot Guard, at least it shows that the families of fallen soldiers do not stand alone. It just goes to show that patriots can band together and honor our nation's soldiers and their loved ones with actions, not just words.
So now, with this bill becoming law, protests like the ones I've decribed and stood to block are illegal. Will that make them stop? I sure hope so. Regardless, I'm sure the Patriot Guard riders will still stand in attendance to honor and pay respect to fallen soldiers and their loved ones whenever they're called to do so.
The photo above is part of the ND state gallery. I'm holed up at home with a sore throat - fever - chills - headache kind of thing today. In fact, I slept from 7am to 7pm! Photos owned by the government are public domain, as far as I know...if they complain, I'll take it down. But I don't think I'm engaging in anything dishonest by using their photo. I'm sure Governor Hoeven and the others involved in this law's passing are happy to get the word out. Now I'm going back to bed - my head's in Mississippi (kudos if you get that music reference)
Past Patriot Guard posts on BismarckMandanBlog.com:
Honoring Curtis:
click here
Honoring Travis:
click here
[ add comment ]
( 4 views ) |
permalink
|
Click a dot to rate this entry:





( 3 / 564 )
---
<<First
<Back
| 259 | 260 | 261 | 262 | 263 | 264 | 265 | 266 | 267 | 268 |
Next>
Last>>