Wikipedia
, it's a piece of information traveling from one mind to another, with an analogy of "language as a virus." That pretty well describes the "Four Things" phenomenon.
So, here are my answers to the list that's going around:
Four jobs you've had in your life:
1. Ski patrol at a famous ski resort
2. Undercover shoplifting investigator
3. TV news technical director
4. Law enforcement
Four movies you could watch over and over:
1. Real Genius
2. Oh Brother, Where Art Thou?
3. Paulie
4. Top Gun
Four Places You've Lived:
1. Montana
2. North Dakota
(that's all I've got...various places around each state)
Four TV shows you love to watch:
1. Boston Legal
2. 24
3. Seinfeld
4. Miami Vice
Four Places you've been on vacation:
1. Deals Gap, NC
2. Disney World
3. Glacier Park
4. Brainerd International Raceway
Four blogs you visit daily:
1.
Tween
2.
XPLSVtv
3.
FARK.com
4. Any of the fine blogs (mostly ND) listed on the panel to the right
Four of your favorite foods:
1. Italian Sausage Pizziola Pasta at "The Walrus" in Bismarck
2. A&B Pizza - italian sausage with black olives
3. Applebee's boneless buffalo wings - heavy on the sauce
4. Bourbon Street Steak
Four places I'd rather be:
1. Bed
2. Racing my motorcycles
3. SCUBA diving in warm caribbean water
4. Snowboarding the top of Challenger
Four albums I can't live without:
1. Vince Guaraldi: "Charlie Brown Christmas"
2. Tangerine Dream: "Pergamon"
3. Seal: self-titled
4. B-52's: "Naked on the Moon"
Four vehicles I've owned:
1. Nine motorcycles, several at the moment
2. Chevy Astro van with a stick shift
3. Chevy Luv pickup with a tendency to get airborne
4. Snowboard "Mavis"
Four people to be "tagged" who have to complete this:
(Consider yourself "tagged" if you're reading this.)
[ add comment ]
( 5 views ) |
permalink
|
Click a dot to rate this entry:





( 3 / 121 )
---
least
as far back as the 1970's. It's a route along a set of narrow, windy gravel county roads west of Mandan. I'm told that stoners used to drive this route and do their thing; I can't attest to that. In fact, I never even heard it called "Around the World" until a few years ago.
My first encounter was actually part of a mountain biking trip. In the early 1990s during the Bike Route store's heyday there were lots of neat organized rides. One such destination was at a big chunk of beautiful land called "The World" by local bikers. I'd heard about the place but never been there. So I threw my bike in my truck and followed some guys out there.
As it turns out, "The World" is land that had been owned by my best friend until about 1987! It's a beautiful parcel with a valley below, a big cedar A-frame house facing the southwest...and open to mountain bikers! It was a fun realization...and incredible biking. And while nobody could tell me why it was called "The World," I think we can connect the dots here.
But "Around the World" still hadn't occurred to me. What is it? Well, it's basically a dirt road that takes you from Highway 10, about 10 miles west of Mandan, to Highway 6, about 5 miles
south
of Mandan. Head west on Highway 10. When you reach County Road 83 at the top of a hill, take a left and off you go. Be careful, though. The road is narrow in places, windy with blind corners, and has some steep dropoffs too. Oncoming traffic is NOT easy to see in many parts of this road.

It seems like you're on your way to the Black Hills, but it's really not that far of a drive. You will know you're on the right track when you pass this, the Sweet Briar school. Yes, I believe it's still in use. It was in the 1980's.
Follow the road for quite a while until it curves west. At this point it technically becomes County Road 138. At this point you're Mandan bound again. There are several intersections, but don't be tempted to turn on any of them or it could be a long day. If you see a sign indicating County Road 83 again, don't take it. Stay on the road you're on.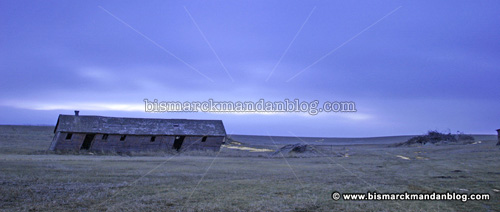 You'll pass this abandoned farmstead. Every time I see one of these I have to stop and take a picture, even at night like this one. (The benefits of a good camera - shots in low light that look good.) This one was taken just after sunset on a cloudy evening, thus the color.
A short while later due east and ta da! -- County Road 138 intersects Highway 6 right beside the Mandan Airport. You'll see the rotating white/green beacon as you approach. Then just hop Highway 6 back into town, and you're driven Around the World!
[ add comment ]
( 11 views ) |
permalink
|
Click a dot to rate this entry:





( 3 / 761 )
---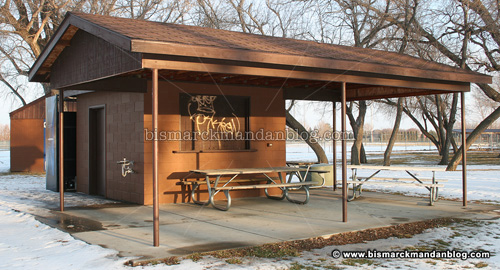 During a recent walk along the path I made this discovery. Some real tough guys descended on Sertoma Park to prove themselves with a can of spray paint recently. In a daring feat of epic proportions, they painted the hidden side of a remote park building, probably not in broad daylight. It's amazing to think of the courage it must have taken to commit such an act!
I am not proficient when it comes to reading "gangsta" but out of this I get a crown, an unintelligble character and "PS Krew." Well, PS must stand for Pusillanimous* Spraypainters or something. In any case, what's the point? You've painted it where nobody's even gonna see it till Spring.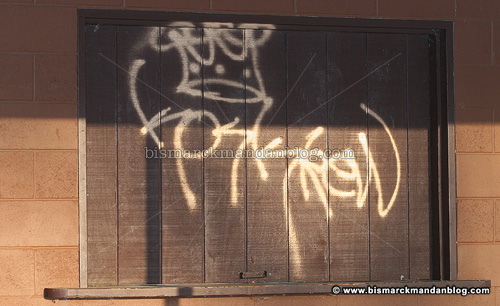 I think that if someone's so insecure that they need to spray paint their name somewhere, they should have the sack to do it somewhere out in the open. What kind of chicken goes and paints places where they're guaranteed not to be caught? Who's the tough guy in that equation? Give me a break.
So, if you're looking at tagging around Bismarck or Mandan, do us a favor. Show a little initiative and do it where there's constant traffic. Take some risks...and pay the penalty when you're caught. Otherwise, just huff the contents of your spray can and save us all the inconvenience. Cowards.
*pusillanimous = "contemptibly timid"
[ add comment ]
( 24 views ) |
permalink
|
Click a dot to rate this entry:





( 3 / 819 )
---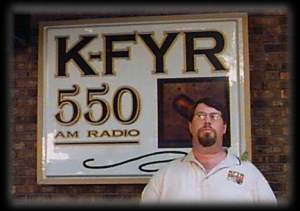 Tim Cook is no longer at KFYR-AM 550 Radio. It's a shame, I really liked his local talk show in the evenings, but that's the way it goes. I don't know if it was due to ratings or something else, just that I'll miss hearing the show and the guests. In an age of canned radio, KFYR stood out with a local talk show in the evenings. Maybe they'll try to resurrect that format down the line, who knows?
I talked to a DJ friend of mine a short while ago, and she said it's great that she can pre-record the bits where she talks between the songs, get her whole day recorded in a couple of hours, and be home giving her little kids a bath while she's on the air. But how good is that for us, the listeners? What happens during severe weather or local emergency? Any radio station that does choose to do local stuff, and not pre-record their DJs into a computer and stuff 'em in a playlist, deserves our support. Otherwise all the local stuff will go the way of Dakota Prime Time. That will do area listeners a huge disservice.
For the record, KFYR's not automated during primetime. I don't know how things are operating these days in local radio, but when I left the broadcasting busines one person would oversee several stations. If we ever had an emergency such as the ammonia spill in Minot, there's no way one guy could get the word out on all stations in a manner consistent with a broadcaster's duty of public service.
KFYR-AM is still the state's EAS (Emergency Alert System) leader from what I recall, which pretty much means they can never go fully automated. I suggest they use that to an advantage, and do something better than have a guy playing tired Eagles songs during primetime.
[ add comment ]
( 10 views ) |
permalink
|
Click a dot to rate this entry:





( 3.1 / 756 )
---
After going to "Chronicles of Narnia" tonight, though, I remembered why I rarely go to a movie theater any more. I certainly will NOT pay $7.50 (x2) to see a movie that doesn't have lots of guns and cars and spaceships. If it doesn't have fantastic effects, I'll rent it later. In this case, the effects warranted the big screen. We had a double date lined up, so off we went.
First off, I'm pretty spoiled by the 5.1 surround setup I have at home. I play video games with it, I watch satellite with it, and look forward to watching local stations with it. (So far, KFYR's audio only comes out the center channel and KXMB's has got wicked phase problems, but I digress...) So to watch a movie like Narnia, with its wild battle scenes and grand soundtrack, and have no surround speakers working...well, that's kinda empty. We got by without it, but it would have been better even for the dialogue to have speakers nearby that worked.
But the reason I fired up the laptop for this little rant is the people behind me. They brought two small children with them that were loud, climbed up and down the aisle, pounded on the back of our seats, the works. It was ridiculous. And that's no fault of the theater, but it just reinforced in my mind how I don't have to put up with that crap in my living room. Fortunately they left about 2/3 of the way into the movie, just about the time I was about to stand up and ask the parents to do something about their kids. Who brings 2-3 year olds to a movie, anyway?
So as we drove home and I mulled over the evening in my head, I figured that we paid around $30 for a movie with crappy audio and brats pounding my seat. Let's just say a guy goes to one movie a month...take that $360 and you're 1/3 of the way to an entry level DLP system for home. All of a sudden you've got all the comfort and a reasonably big theater experience!
Now that your average customer is a lot more demanding for high-fidelity sound and picture quality, and the electronics companies are able to provide him with it at an affordable price, it's gonna be pretty difficult to be a movie theater owner down the road. I wish companies like the Grand Theaters the best of luck, but they're gonna really have to keep it up trying to make the experience special (and worth the money).
[ add comment ]
( 10 views ) |
permalink
|
Click a dot to rate this entry:





( 2.9 / 811 )
---
<<First
<Back
| 334 | 335 | 336 | 337 | 338 | 339 | 340 | 341 | 342 | 343 |
Next>
Last>>