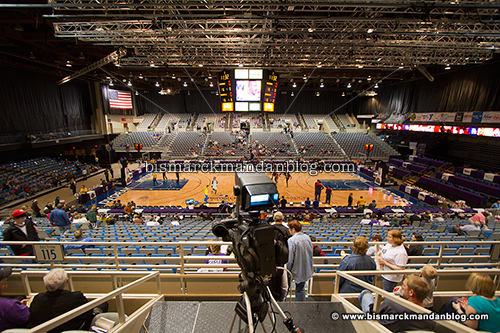 Well, I guess that's that. I just got done working the video crew for the last Dakota Wizards game ever. It was a little surreal, given the team's long and proud history in the Bismarck-Mandan area. They lost a close one today to the Bakersfield Jam with a score of 93-91, and just like that - it was over.
The game play was good, so don't let the title of this post lead you to believe that the Wizards went quietly. Once the last buzzer sounded, though, it didn't take long for the lights to go down and the place to empty for the last time as home to an NBA game.
Many sports franchises have come and gone here in Bismarck. Anyone remember the Dakota Rattlers baseball team? The Bismarck Blaze or Roughriders indoor football squads? For a small town with seemingly fickle interests, the Dakota Wizards have been a unique success story in professional sports here in North Dakota. They succeeded where teams in other cities slowly faded away. The crowd involvement activities during breaks in game play were fun and energetic, sponsors seemed to be always present, and the Wizards managed to rack up a few league championship titles as well.
That's what made it so odd when, once today's game concluded, things just shut down as usual. While Kevin Rice's number was retired during a brief ceremony at halftime, there wasn't any sort of fanfare celebrating the history of Dakota Wizards basketball here in the capital city. Bummer. It was a great run while it lasted.
We still have Bobcats hockey to ease our craving for local sporting events, of course. Otherwise I guess we'll have to wait and see what the next big thing is, and if it can enjoy the success and longevity of the Dakota Wizards.
[ 2 comments ]
( 51 views ) |
permalink
|
Click a dot to rate this entry:





( 3.1 / 113 )
---
<<First
<Back
| 32 | 33 | 34 | 35 | 36 | 37 | 38 | 39 | 40 | 41 |
Next>
Last>>