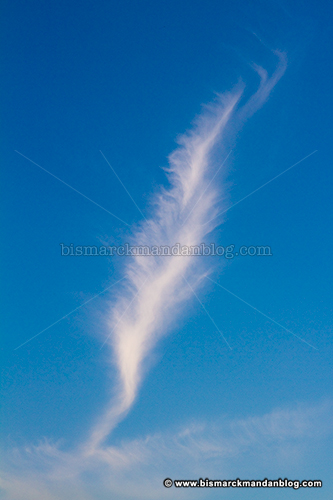 "You mean the feather, Daddy?" PJ replied when I asked if he saw the cloud. Yep, the feather. I was pleased to hear his perception of its wispy shape. I've been working a lot of extra hours lately with the flood response going on around the state, so the opportunity to take a few minutes and haul my boys around for a sunset viewing in the truck was a real treat. Even more so is hearing how they perceive the world around them and watching them try to capture it on their little toy cameras.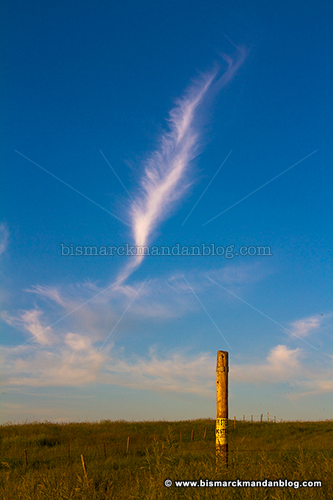 When one goes out to look at the sky, sunrise, and sunset, one often does just what we did: find a high place. At one point my four year old asked me if we could go see the place where Daddy goes on his motorcycle to pray. He heard me talk about a hill I like to frequent when I'm out riding at night where I can just stop and pray, and my boys wanted to see it. So up we went. As we were nearing the crest of the hill, he said, "Maybe we can stop up there and pray for the floods to go away." Excellent idea. And so we did. He also prayed for all the roads that are closed, and the people whose houses are in the water. That's my boy.
The Bible doesn't have much good to say about high places, but in context it's because of the way they were used: idolatry. The people of Israel used their high places to offer worship to false gods they picked up from people around them. Long before I started reading my Bible I enjoyed going to a high, remote place to pray, so maybe it's something we're all inclined to do. But when your prayer or praise is properly directed, it's not a bad thing. The prophet Habakkuk wrote this, paraphrasing a portion of Psalm 18:
"The LORD God is my strength, and he will make my feet like hinds' feet, and he will make me to walk upon mine high places." (Habakkuk 3:19)
I'm pleased to be able to find a high place with my little boys, our cameras, and our prayers...properly directed on behalf of all who are impacted by the flooding.
[ 2 comments ]
( 41 views ) |
permalink
|
Click a dot to rate this entry:





( 3.1 / 248 )
---
<<First
<Back
| 59 | 60 | 61 | 62 | 63 | 64 | 65 | 66 | 67 | 68 |
Next>
Last>>