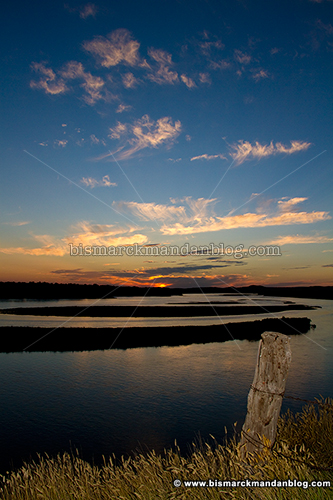 My last-minute dash to Menards accomplished its purpose, but put me a little behind the sun. As I rolled into Double Ditch I had to scramble to catch the end of the fleeting sunset. The sky above was so perfectly blue that I didn't actually fret too much about missing what was happening on the horizon. A few wispy clouds speckled the sky, and the weather was perfect.
[ add comment ]
( 4 views ) |
permalink
|
Click a dot to rate this entry:





( 3 / 248 )
---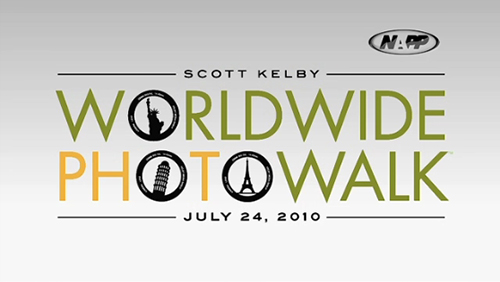 This weekend I was able to participate in the Bismarck-Mandan section of the third annual Worldwide PhotoWalk. I didn't get an official count, but there were close to thirty participants from as far away as Jamestown. It was a blast, and the Bismarck walk was coordinated by Brian Matthews of BisManPhoto.com. There were a lot of really amazing photos posted, far better than mine I think. But what the heck, here are my favorite photos so far: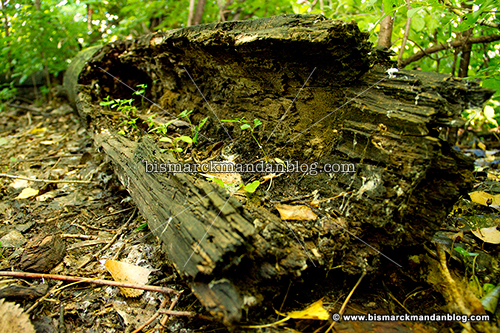 This old log has some new beginnings contained therein. I was shooting handheld so I didn't get to stop my aperture down to get the depth of field that I wanted. I still like the way it turned out.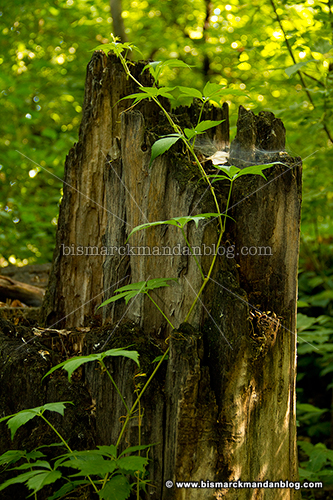 More new beginnings as this plant climbed up the rotting remains of an old stump, with the bud at the top catching a beam of sunlight from the early morning sun.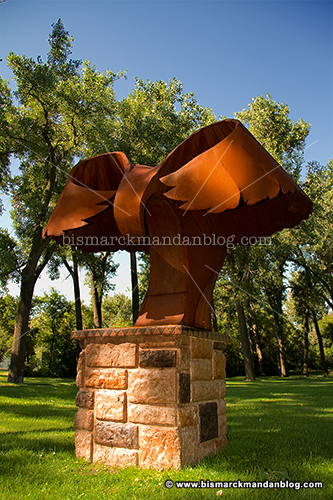 Another of the many statues which adorn the stretch from Sertoma Park to Pioneer Park (and a few points between). I like the range of colors in this one. It was in the shadow of the trees so I had to crank my fill flash and get creative in how I bounced it to eliminate those pesky shadows.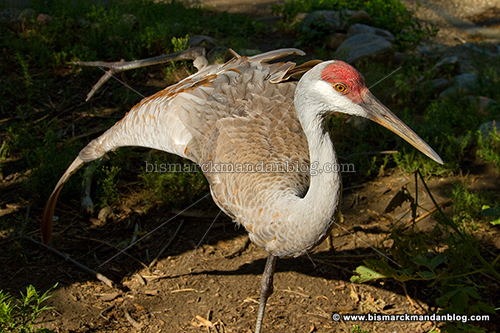 This cranky Sandhill Crane was soon mollified after I let him peck my monopod a few times and began talking to him. As a bird lover I have a way with 'em, and soon he was fluffing up his feathers and even showing off his wing for me!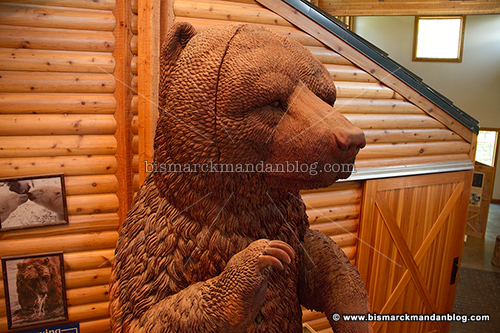 I'm old enough to remember the actual Clyde. This statue in his honor towers over the inside of one of the Zoo's buildings (I think it's called the Discovery Center). I extended my monopod as far as I could, propped it on my shoulder to get it up to the level of the statue, and used my remote to trigger the shot. Note that he must have a wicked migraine, as the wood has developed a big crack in it.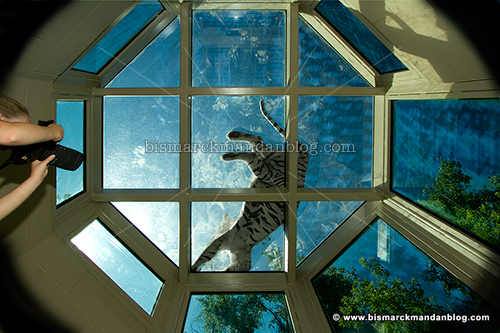 We had two hours to walk and started outside the Dakota Zoo entrance an hour before it opened, so naturally most of us ended up at the big cat exhibits for our last few minutes! I chose to lay on my back with my widest (10mm) lens and point straight upward at this cat. Then one of the girls on the walk poked her head in to get some shots of her own, and she was just the ingredient my composition was missing.
As I said, I think the other participants blew my shots away. You can venture over to BisManPhoto.com to check them out. Sign up for an account and wait a little while until you're approved. New members are screened manually to avoid spammers. Once you're on, you can participate. Hopefully you'll be intrigued enough to join us on future photo walks!
[ add comment ]
( 3 views ) |
permalink
|
Click a dot to rate this entry:





( 3.3 / 243 )
---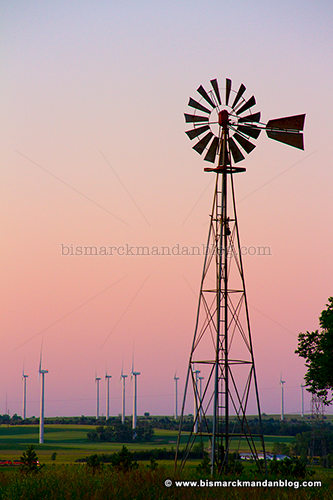 Been feeling under the weather this week, so not a lot of words this time. Just a nice photo of old vs. new. I will point out that neither of these windmills will reliably power Byron Dorgan's electric cars. At least the old one in the foreground isn't subsidized by our tax dollars...
[ 3 comments ]
( 29 views ) |
permalink
|
Click a dot to rate this entry:





( 3 / 259 )
---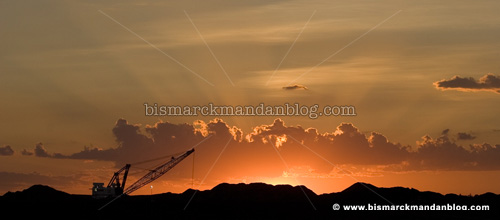 If you paid attention during the 2008 presidential campaign, you likely heard candidate Barack Obama foretell that
he would bankrupt the coal industry
, and that
under his energy policies "electricity rates would necessarily skyrocket."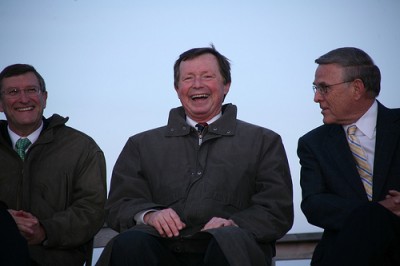 For decades now, North Dakotans have been duped into thinking that we need to continue to send Byron "Skybox" Dorgan, Kent "Countrywide" Conrad, and Earl "The Pearl" Pomeroy to Washington on our behalf, because they've accumulated so much seniority and clout. They've grown very bold and comfortable in this role, scaring North Dakotans into repeatedly sending them back to office and doling out federal dollars when they return. They warn that any replacement would have to start from square one, wielding no effective influence on behalf of North Dakota and the interests of our state. So...what have we gotten for that? Zero. Well, unless you count the government health care takeover...
Now on his way out the door, and employing a "scorched earth" policy toward his country and the North Dakotans who enabled him, Senator Dorgan has these foreboding words for our nation's energy industry:
"Regulations are coming in the future. If coal does nothing, coal will lose."
North Dakota's economy has remained robust during the national recession for a few different reasons, one of which is the solid energy industry. The policies of these liberal Democrats will decimate that. We don't have the next election to use as an incentive to bring Byron Dorgan back to earth...what about his cohorts? I don't think they're any more interested in North Dakota's economic future than he is. Once their re-election chances are sealed one way or the other, can we expect such candor from Conrad and Pomeroy?
UPDATE:
This story from KFYR TV news
shows that Byron Dorgan and his hairpiece are completely detached from reality. He's pushing legislation to push people toward electric cars, while simultaneously trying to strangle the industry which generates much of the electricity that would be used to charge them. He also ignores the load that charging a bunch of these magic vehicles would put on an already strained electric grid.
That's why I've always considered liberal/progressive/Democrat policies as suicidal. He's attacking us from both sides: making energy production more expensive and difficult, while forcing us into a corner with his pie-in-the-sky electric vehicles (which ought to be FANTASTIC in a North Dakota winter). Senator Dorgan is long overdue for replacement, as are his like-minded comrades in Washington.
[ add comment ]
( 4 views ) |
permalink
|
Click a dot to rate this entry:





( 3.3 / 286 )
---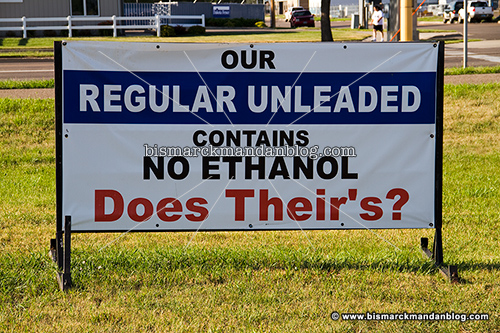 I spotted this sign on the way back from Sibley Park last night. Obvious punctuation issues aside, it raises an important point about ethanol blended fuels that nobody wants to address: they are inferior and smart consumers don't want them. Naturally, the entrepreneurial spirit kicks in and some businesses start catering to the desires of the consumer. Amazing how the system works.
I have friends who own FlexFuel vehicles. They'll tell you that by the time they fill their tanks with E85 fuel, deal with the loss of acceleration and passing power, and figure out the horrible mileage the fuel delivers, they break about even. That is NOT counting the tax subsidy that you and I pay on each gallon of E85, whether we use it or not, in order to keep its price competitive at the pump. That also does not include the higher food costs we pay because so much corn is going into the production of said "renewable fuel."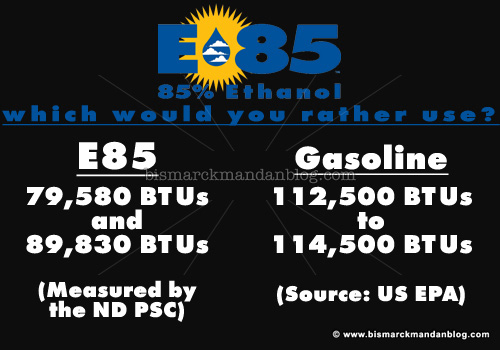 A long time ago I made this graphic to illustrate one more point, and a real deal-breaker: Even if you have an engine that could extract every bit of energy available in a gallon of E85 fuel, it still is WAY down on gasoline. E85 simply does not have the BTUs (measured units of energy) locked within its chemistry to compete with traditional motor fuel when it's burned and the energy stored in those hydrocarbons' chemical bonds is released. (Yes, I majored in chemistry in college at one point.) Simply put:
E85 is a thermodynamic loser
. Even worse, we're forced to subsidize it.
Personally I have to burn high octane fuel in my motorcycles and our trucks recommend it. I burn regular in the lawn mower and stuff like that. Even so, I will not buy ANY fuel that has an ethanol component to it. Thankfully I can now jet down to Unistop along University Drive if I want some ethanol-free regular gasoline.
[ add comment ]
( 3 views ) |
permalink
|
Click a dot to rate this entry:





( 3.2 / 249 )
---
<<First
<Back
| 93 | 94 | 95 | 96 | 97 | 98 | 99 | 100 | 101 | 102 |
Next>
Last>>