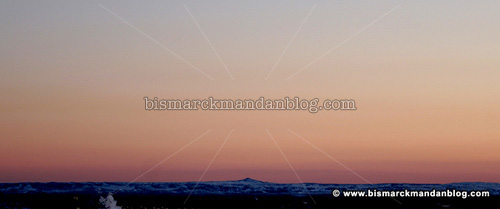 Do you ever try to picture our city through the eyes of a first time visitor? I do, because it really helps pick out features that we see every day but somehow fail to notice.
It should be obvious from the nature of my photography that I'm big on landscapes and other such features. That's why I was actually startled at the view from State Street and Divide Avenue yesterday. While sitting at a stoplight wondering why the punk in the Civic next to me thought I was interested in a race, I glanced out over the south horizon. We've got hills dotted with snow, the sky was red with the waning sunset...it almost had a southwestern feel to it! Yet there I was, right in the middle of my home town, facing a view of it that I'd never given much consideration.
This area of North Dakota is hardly the smooth expanse of endless prairie that it's thought to be; we have hills, rocks, valleys, and other features that somehow seem to escape mention. I've found a few such places recently and have had a ton of fun poking around therein. It just goes to show that there's plenty about our home that we don't know, it's only a matter of changing your perspective.
[ 1 comment ]
( 29 views ) |
permalink
|
Click a dot to rate this entry:





( 2.9 / 644 )
---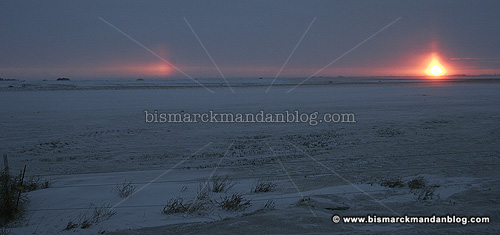 After a breakfast meeting with some of the guys from church, I saw the sun starting to poke up over the horizon. What the heck, I might as well head east a bit and see what it does! This morning it had to blaze through a layer of clouds and lots of blowing snow, but that made it possible to spot a really bright sundog to the north. The cloud cover made it impossible to spot a corresponding
parhelion
to the south.
[ 1 comment ]
( 37 views ) |
permalink
|
Click a dot to rate this entry:





( 3 / 567 )
---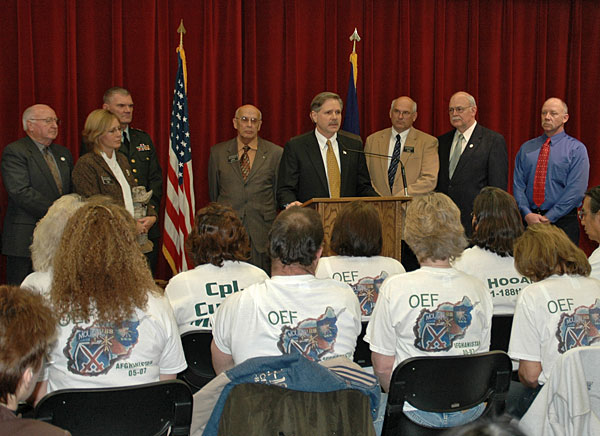 This was a bittersweet day for the families of fallen soldiers in North Dakota. Some of those giving testimony in favor of House Bill 1040, which prohibits protesting near funerals or related activities, have had to endure some pretty nasty circumstances. That's what sadly made this bill, now law, necessary.
As I'm sure everybody knows, a group from Westboro Baptist Church (which is not a Baptist church, they just claim it) was up here to protest funerals in North Dakota. I don't recall them having the guts to set foot on sovereign tribal land, however...hopefully they didn't. These people claim a weird mixture of twisted and perverted Old and New Testament theologies with rancid hate and come up with the tactic of protesting funerals across the country. What they don't tell you is that they're also licensed attornies just waiting for some outraged patriot to lay a hand on them. Thankfully we haven't had any such cases here, although it does require a lot of personal restraint.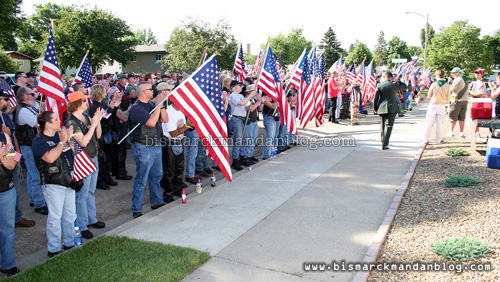 That's where the
Patriot Guard riders
come in. While this picture from last June doesn't convey how many people actually stand in attendance for the Patriot Guard, at least it shows that the families of fallen soldiers do not stand alone. It just goes to show that patriots can band together and honor our nation's soldiers and their loved ones with actions, not just words.
So now, with this bill becoming law, protests like the ones I've decribed and stood to block are illegal. Will that make them stop? I sure hope so. Regardless, I'm sure the Patriot Guard riders will still stand in attendance to honor and pay respect to fallen soldiers and their loved ones whenever they're called to do so.
The photo above is part of the ND state gallery. I'm holed up at home with a sore throat - fever - chills - headache kind of thing today. In fact, I slept from 7am to 7pm! Photos owned by the government are public domain, as far as I know...if they complain, I'll take it down. But I don't think I'm engaging in anything dishonest by using their photo. I'm sure Governor Hoeven and the others involved in this law's passing are happy to get the word out. Now I'm going back to bed - my head's in Mississippi (kudos if you get that music reference)
Past Patriot Guard posts on BismarckMandanBlog.com:
Honoring Curtis:
click here
Honoring Travis:
click here
[ add comment ]
( 4 views ) |
permalink
|
Click a dot to rate this entry:





( 3 / 564 )
---
Identify That Statue
from a few days back. Judging from previous response, I expected this one to be answered in no time. So far I've either stumped or disinterested you folks. Consider it a challenge. "Izzat all you got?" :-)
[ 2 comments ]
( 48 views ) |
permalink
|
Click a dot to rate this entry:





( 3.1 / 451 )
---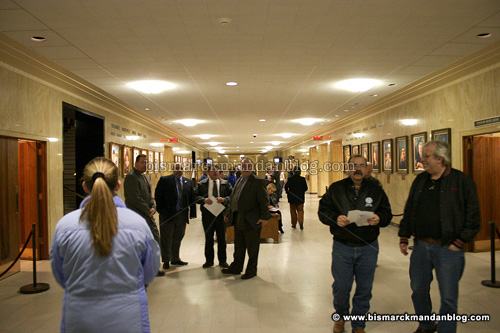 Last night the state legislature held a Citizen's Night where they took care of some of the state's business after hours. This allowed the public who are normally unable to make the regular daytime sessions to stop in and have a peek at how our elected legislators conduct the affairs of making the state's laws. While it wasn't as busy as I thought it might be, there seemed to be a pretty good crowd in the hallways.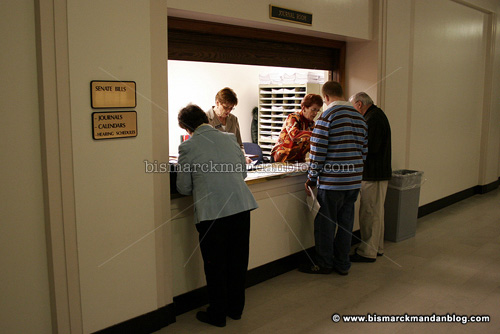 This is the journal room, where folks can stop by to get a copy of bills they're interested in. When I had an evening job and could hang out here during the session, I used to spend a lot of time at this window. It's nice to have the text of the different resolutions and bills available, so you can read it yourself. Then go lean on the legislators from your district if necessary.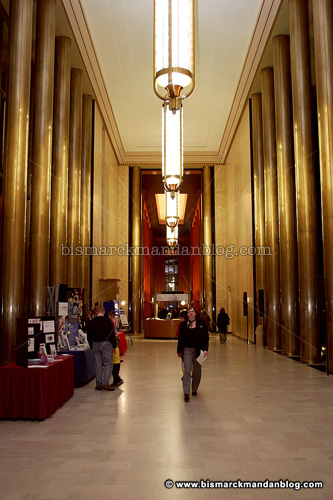 Upstairs there were a few groups with displays and people on hand to answer questions. I think these halls would have been busier, but this was during a point in the evening where everyone was jammed into meeting rooms to watch various committee hearings.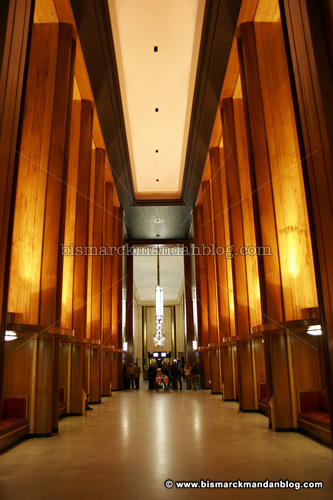 This building was built in the 1930s after the original capitol burned. I find it an aesthetically pleasing building, and it's even cooler at night. There's a lot of glass that glares into the building during the day, and I think that takes away from the style. At night a guy can see the building the way it was designed, and it's really very nice. Not bad for such a rural state, huh?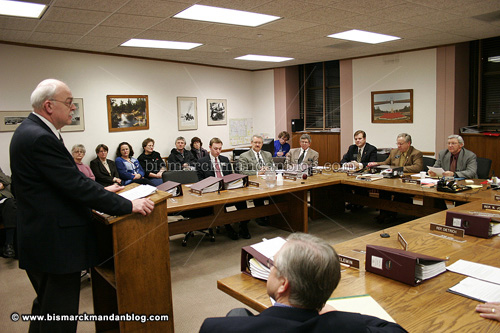 This is one of those committee hearings that I mentioned earlier. In this particular meeting, Secretary of State Al Jaeger was answering questions regarding a bill, one which proposes to restrict an elected official on a city board or commission from serving on a county board or commission at the same time. While there are four people doing just that across North Dakota, he was unaware of any conflict of interest arising from the situation...yet. So it's a precautionary bill. With larger cities expanding further into counties, there is always a chance of some friction, so I think this bill makes sense from that standpoint. By the way, did you know that only 15 cities in North Dakota boast populations in excess of 2,500 people?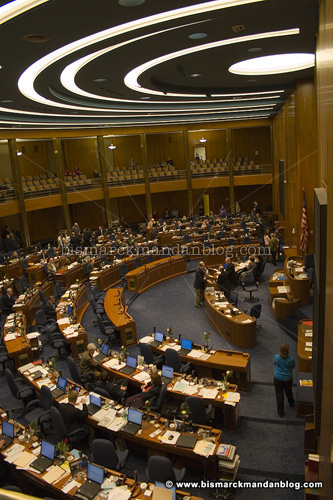 This is the House chamber. There really isn't anything going on here, because at the time I took this the session hadn't come to order yet. I had other things to do at 8pm, so I was unable to hang around to watch the session. I've seen them before, they look a lot like this!
The Senate chamber. Smaller, cozier, and indicative of the inherent belief of Senators that they're somehow special among everyone else, including the House. If you look toward the upper part of the screen, you'll see Joel Heitkamp surfing moveon.org for his show's talking points. Sorry Joel, I couldn't resist!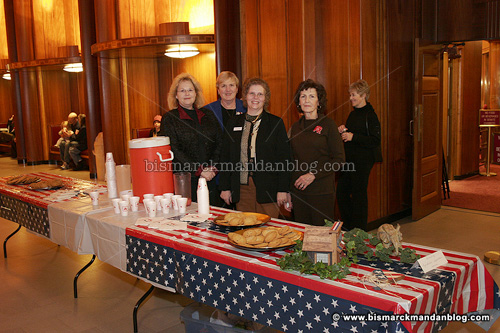 Of course one of the highlights of any such event is going to be the free cookies and lemonade! These friendly ladies served everyone with smiles. This spread was provided and served by the Republican Legislative Spouses. Wait a minute, that doesn't fit the cold-hearted, racist, greedy stereotype that I keep seeing in the media! Hm...
Thanks to the legislature for putting on this evening. I have to admit that I wish it had been more crowded. This kind of thing is quite interesting and enlightening. North Dakota's legislature only meets every two years, so I suggest finding some time during the day to go wander around and take it all in. If it seems boring, it's because you've never been there!
[ 5 comments ]
( 282 views ) |
permalink
|
Click a dot to rate this entry:





( 3 / 407 )
---
<<First
<Back
| 259 | 260 | 261 | 262 | 263 | 264 | 265 | 266 | 267 | 268 |
Next>
Last>>