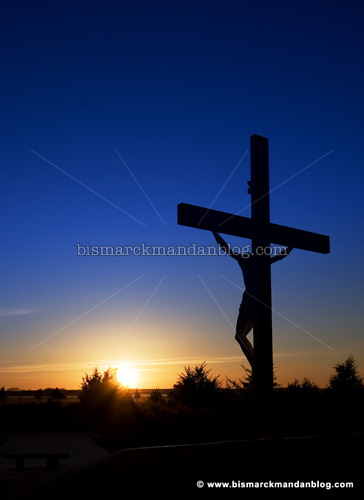 Saturday's first light actually came a while before the sun crept over the horizon, but I couldn't resist using hymn lyrics in the title of this post. After all, I've used plenty of secular songs in the past...why not use something with some meaning to it? By the way, my Savior doesn't look like that any more. He rose from the dead:
For to this end Christ both died, and rose, and revived, that he might be Lord both of the dead and living. -Romans 14:9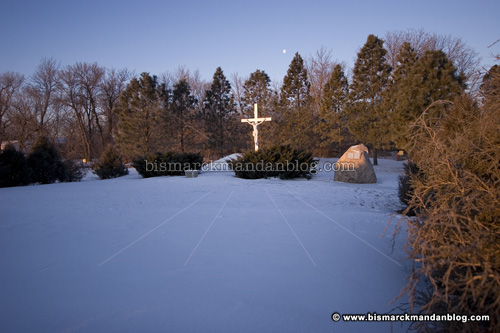 I found this cross by accident one time, in one of my perusals of remote gravel roads. I was driving down a road with no particular destination in mind when I saw this little grove of trees with a clearing, a big rock, and a cross.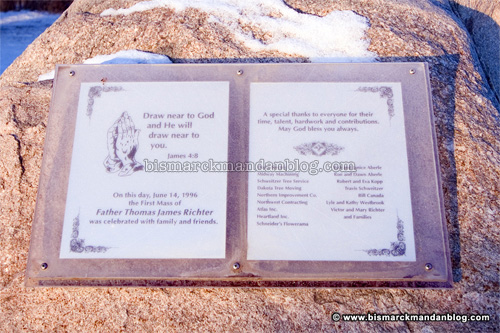 Here's the plaque from the rock. Apparently a family member or friend who became a priest celebrated a Catholic mass here, and it was therefore commemorated. As you know, I'm a former Catholic who has been enlightened by the numerous ways that the Mass contradicts the Bible. But rather than open that whole can of worms here, I just thought I'd show you the picture of the cross at sunrise and describe this surprising find.
You can find this site on 145th Street, which is really just a stretch of gravel road, southeast of Bismarck. GPS coordinates are 46°43.029' North, 100°33.822' West.
[ 6 comments ]
( 109 views ) |
permalink
|
Click a dot to rate this entry:





( 2.9 / 414 )
---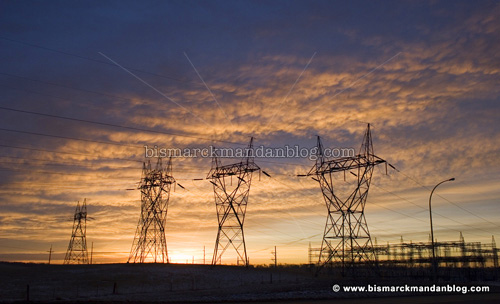 With North Dakota producing so much darn energy these days, it's hard to find a landscape that doesn't have a power line or tower in it somewhere. On a day like this, they can be a photographic asset rather than a nuisance. With the right angle of light in the sky and clouds, these fellas look more like they're ushering in the new day. That could be quite a metaphor for North Dakota's 21st century economy, especially the central part of our beloved state!
[ 1 comment ]
( 42 views ) |
permalink
|
Click a dot to rate this entry:





( 3 / 381 )
---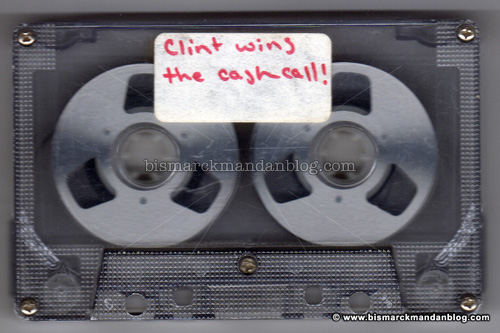 I had forgotten all about it, particularly since I don't recall listening to Y-93 since the late 1980s. Those were the cool days of KYYY, with people like Bob Beck, Olivia DeYoung, Loren Gray, Pat Buchella, and Bruce Elscott. Obviously Bob and Lori are still around town, but they're no longer at Y-93.
Anyway, back to the cash call. I was poking around in the storage room as I often do, and I forget what I was even looking for. Among the things I found, however, was this old tape from my high school days. Appropriately labeled, this tape contains a recording of when I won the Cash Call on Y-93 one morning during my sophomore year.
The way it worked was: they'd pick a dollar amount, always with 93 cents, and announce it periodically throughout the day. Then at 5:30 or so they'd pick a random number from the residential section of the phone book. If you were the lucky recipient of a call and could tell them the correct amount, you'd win it! They'd do the same thing through the evening with a winning call made early in the morning. That's when Bob called me. He woke me up, but I was a faithful winner and blurted out the correct amount.
One other thing they would do is record the call and use it to promote the next Cash Call in a promo later in the day. I had a boom box ( in those days we called 'em "ghetto blasters" ) handy and was able to record the promo of the call that Bruce Elscott played in the afternoon. Wanna listen?
Click here to play the Cash Call and hear my groggy teenage voice (it will open in a new window and launch Windows Media Player).
I actually did pretty well on Y-93 contests. I won tickets, a promo copy of the Miami Vice Soundtrack on vinyl, the aforementioned Cash Call, etc. The winning stopped when I joined the Meyer Broadcasting team in 1990, though. I'm not sure if they were even doing the Cash Call at that point, but I was ineligible for any of the contests on any of the stations.
I still see Bob Beck, Loren Gray, and my other radio friends Brian ( "B-Man" ) and Crystal Reeves every now and then. Bob's an avid motorcyclist, by the way, and the only guy I know who's had a run-in with a buffalo with his Harley and lived. It's fun to refer back to the good old days of the Meyer empire...but I think we're all doing pretty well for ourselves these days too. And the $109.93? I did what any 15 year old kid would do: I spent most of it on my girlfriend and wasted the rest.
EDIT: I forgot to mention my "other" radio friends - Jason Hulm, Phil Parker, Mark Armstrong, Sid Hardt, Al Gustin... since I was in the mindset of "DJs" I overlooked these guys. Not that there's anything wrong with being "just" a DJ. Oh heck, now I've dug myself ANOTHER hole... I love all you guys, okay? I'm just kinda scatterbrained, I guess.
:-)
[ 3 comments ]
( 97 views ) |
permalink
|
Click a dot to rate this entry:





( 3 / 399 )
---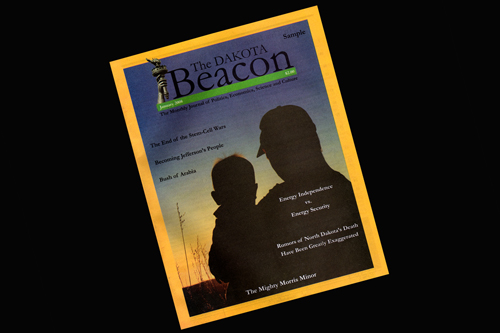 I would be somewhere between impressed and astonished if you could tell me what song's lyrics inspired the title of this post. That's without using a search engine, of course!
The sudden "a-ha!" came last night when I walked past a distribution box for
the Dakota Beacon magazine
and noticed that my favorite father & son moment was portrayed on the cover. This photo was taken one evening when little PJ and I parked ourselves on the hill behind the University of Mary and watched the sunset unfold. I had set up the camera behind us with a timer, and was able to catch a few shots of this quality time with my boy.
Helpful guys have given me advice on fatherhood since long before I actually became a dad. I've filed it all upstairs, and so far I haven't had any bad advice. All the corny things that guys have told me about "once they're born, you're never the same" or "they'll change you...they're a ton of work, but they're worth every bit of it" have been absolutely true. Advice like this came from clients, casual acquaintances, close friends, and family. Apparently the guys I know take fatherhood seriously enough that they only dispense the best of their knowledge to a father-to-be. I'm forever grateful for their help.
The one piece of advice that touched me the most came from the Beacon's publisher, Steve Cates. He lost a son in a car crash a while back and told me that there isn't anything he wouldn't give to have more time with his son. He told me to cherish every moment with my boy (I only had one at that time) and always make time for him. That really left an impression with me, and I've done my best to make sure that I don't deprive my boys of time with Daddy. It's so easy for a guy like me to work my tail off on something that "needs to get done" and let time sneak past. Thanks to Steve's guidance, I'm on guard for that sort of thing.
So far this morning I've been back and forth between my two boys. I got to cuddle with Jonathan this morning while his big brother was still asleep, and then after I fed PJ his scrambled eggs I wrestled him over to the couch to watch a few minutes of cartoons. Then I showed him my aquarium screen saver and gave him my big keyring to play with, and he scampered off to explore the house with mommy. Now I'm calming down a fussy two-month-old Jonathan, and just got him relaxed in the crib. Yeah...it IS hard work, but the most rewarding job a guy could have.
PJ's only one year old and already has his first magazine cover! I'll have to make sure to give it to his mommy to put in his scrapbook. Cover photo or not, I'm just joyful to have a father-son moment like that eternally preserved in one of my favorite photos ever.
[ 1 comment ]
( 78 views ) |
permalink
|
Click a dot to rate this entry:





( 3.1 / 417 )
---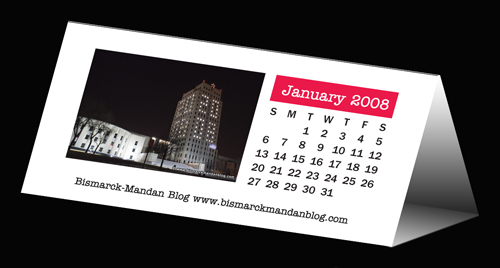 I had this cute little idea of making a folding calendar with my favorite images, then making it available for download. Of course I'm late...but hey, I've got two little boys that I love to spend my evenings with (even if it's hard work)!
Click here to download a printable calendar in PDF format (3mb).
If you have Adobe Acrobat Reader installed, you're good to go. It may take a little bit for the program to load, but the file should download reasonably quickly on a broadband connection. Click on the icon below to download the free Adobe Reader if necessary.

When you print the PDF, fold along the lines and tape or staple at the bottom. You will then have a free-standing desk calendar with the 2008 North Dakota State Capitol Building to enjoy for almost two full weeks! Hopefully I'll have the time to build a February calendar on time, and to dress it up a little bit. First I have to pick the photo...contact me if you have any suggestions.
[ 2 comments ]
( 25 views ) |
permalink
|
Click a dot to rate this entry:





( 3 / 276 )
---
<<First
<Back
| 203 | 204 | 205 | 206 | 207 | 208 | 209 | 210 | 211 | 212 |
Next>
Last>>