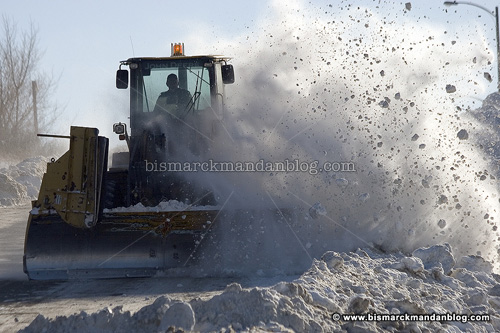 With as much snow as we've had lately, there are no doubt some frustrated folks who think the city's doing a less than spectacular job of keeping the streets clear. I've had a little bout of that myself, such as a couple of weekends ago when I had to help push/dig out a stuck police car before leaving my driveway, but I understand that they've got an overwhelming task on their hands. I figure we should cut 'em a little slack.
I do have a happy story to tell you about an encounter with a snow plow (well, payloader with a blade and snow gate) a week or so ago. I have a sidewalk across my boulevard that I never use, so I don't shovel it. This night, however, my mom was over to babysit and I didn't want her having to deal with the deep snow. As a result, I was out with my spade and grain shovel, dutifully chopping at the snow berm pushed up by recent plow passes.
I'm a "letter of the law" kind of guy when I get belligerent, and the snow on either side of the walk I'd cleared was quite high. Therefore, once I got to the end of the sidewalk and past the curb, I started pitching the snow forward instead of to the side. After all, I was not putting snow from private property onto public; rather, I was just rearranging the snow already on the street. At least, that's how I saw it.
The aforementioned snow removal operator pulled up in front of me, saw what I was doing, and came to a stop. I actually expected a window or door to open and some sort of scolding to come my way; after all, it was about the time that the radio stations were airing reports of citizens being cited for throwing snow into alleys or onto roads. I couldn't have been more surprised with what happened next.
The operator backed up, dropped his (or her) blade, and pushed the snow I'd just chiseled my way through. He cleared the area in front of my sidewalk and part of my boulevard, and cut a nice clear path along the curb for much of my yard. He angled his loader in such a way that it pushed the snow out of the way and up onto the boulevard. In a matter of seconds, and with one single swipe, he'd done more than I could have with my silly little spade.
It was dark and the loader had plenty of lights on it, so I couldn't see into the cab. But as the loader backed up from pushing the snow out of the way, I threw the operator a friendly wave and salute. They then continued on their way up the street. It didn't cost them even a full minute of their time, but it saved me a lot more than that. I'm going to remember this encounter the next time I get frustrated with snow on my street or alley. Apparently there are some pretty nice folks operating those machines, even if they can't get to everybody's neighborhood as quickly as we'd like.
[ 3 comments ]
( 94 views ) |
permalink
|
Click a dot to rate this entry:





( 3 / 391 )
---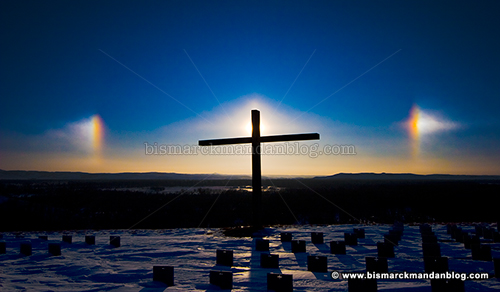 I can guarantee you won't see THIS shot anywhere else. Nobody else would be stupid enough to trudge down U-Mary hill in waist-deep crusted snow! But that's what you've got me for, eh?
I've been experiencing some cabin fever lately; I haven't been able to go out with my camera much this year at all. Thankfully, when I say "this year" it's only mid-January! But I did get a plethora of awesome shots this afternoon, having left the office at noon to enjoy some Taco del Mar with a friend and taking the rest of the week off. Unfortunately, when I say "rest of the week" it's already Friday afternoon!
There were amazing sundogs today (or parhelion, to be technical) that I'm sure were witnessed by all. The reason was a combination of clear skies, fierce winds, and plenty of snow to kick up in the air. Those ice crystals form the oddly-shaped rainbows on either side of the sun, giving the government a convenient scapegoat for UFO reports!
[ 2 comments ]
( 64 views ) |
permalink
|
Click a dot to rate this entry:





( 2.9 / 456 )
---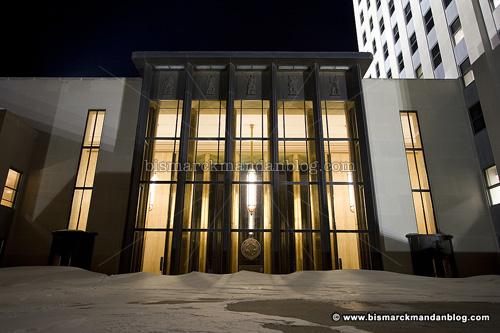 Monday night was Citizens' Night at the North Dakota State Legislature. This is an evening of both the Senate and House conducting business during hours where the public can come and get a look at the process. In addition to the evening session in each house, there are also some committee hearings held for a time before the houses convene for their scheduled business.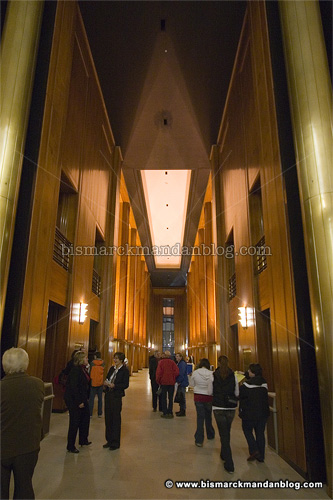 The great hall of the capitol building was pretty busy for the night time! Many of the folks working the event tonight had already put in a full day with the normal legislative day, and were working double duty for those of us who attended. Thanks, everybody!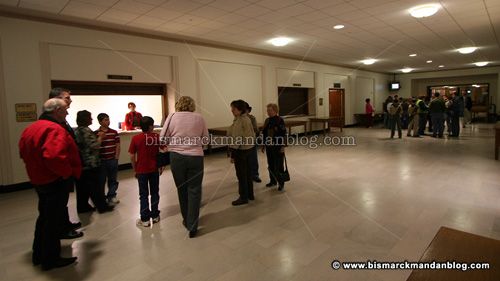 The public was welcome to stop in at the journal rooms and pick up copies of the bills to be discussed in committee and in the sessions.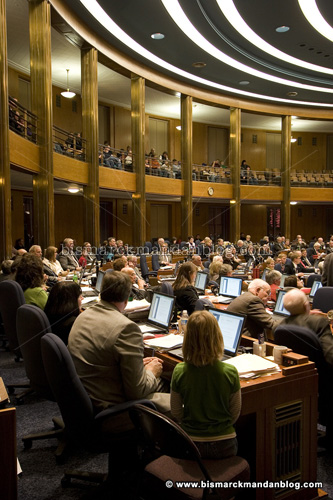 The House of Representatives. Many of the legislators had their kids or other guests, presumably from their districts, seated with them for the session.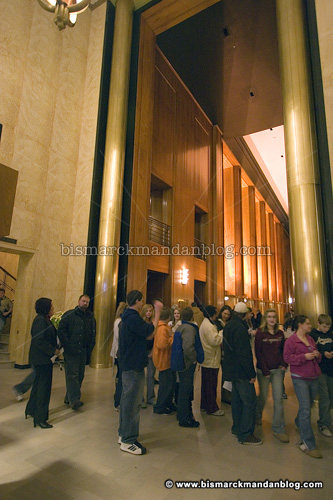 There was plenty of back-and-forth traffic between the chambers, as they met at the same time. People were respectful of the business being conducted, and the staff were gracious with the unusual activity.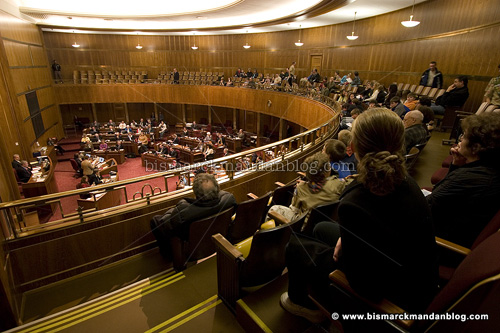 The Senate. I have a friend who's a page for this session, and it was neat to say hi to her. My wife also stopped in to say hi on her way to pick up our little boys, who were playing at a friend's house while Mommy and Daddy were out and about.
This is a fantastic idea for the North Dakota state government, and I'm glad they did it again this session. I posted about it two years ago during the previous session, and I've been looking forward to it ever since.
After the night was wound down, I hung out quietly and patiently until I had the Great Hall of the state capitol to myself. I then ran around with my camera and tripod for a while; this is the only occasion I can think of where a regular citizen can see the inside of this wing of the capitol all lit up at night! I'll post those pictures soon.
[ 1 comment ]
( 14 views ) |
permalink
|
Click a dot to rate this entry:





( 3 / 301 )
---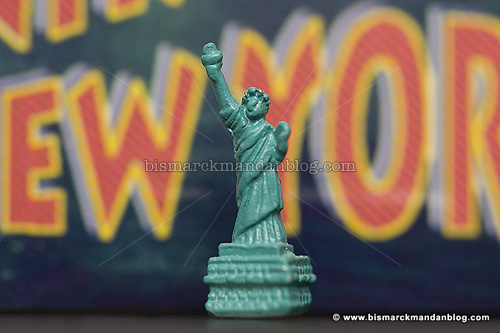 This diminutive little figurine, a Statue of Liberty, stands just shorter than the diameter of a dime (1.8cm). In this photo it stands in front of a postcard of the Manhattan Bridge in New York City. Both were given to me in 2001 by
Jody Kerzman
, my friend and coworker at the time, after her trip to the wreckage of the World Trade Center towers on assignment from KFYR-TV.
I have a box of souvenirs, tapes, and other stuff from my job at the TV station, including the newspaper clipping of the Help Wanted ad I answered when I applied for the job. Of all the items in that box, this little statue ranks among the most meaningful. I'd been meaning to take a picture of it for a while, but since it's Jody's birthday today I thought it was a good time to bump the photos I was going to post for a few days.
Jody had a link on Facebook to her
KFYR-TV Blog entry
today, and the story she related reminded me of what a genuine person she is. That is probably obvious even in her on-air demeanor, but I can't tell; I've never seen Jody on TV without already knowing her. I'm not writing this to flatter or embarrass; however, in a business where newsrooms should have revolving doors installed for the people who come and go, certain people stand out. In my 21 years of working in the media business I have met and/or worked with a handful of TV and radio personalities who I think deserve mention. I've written about some of them, and this is a perfect opportunity to share this story.
Happy Birthday, Jody! I know it was a bittersweet day, according to what you've written. I agree with your take on what's important, and I'm learning more every day now that I'm a Daddy. As far as reaching out to an old friend, this is how I thought I'd give it a try.
[ add comment ]
( 6 views ) |
permalink
|
Click a dot to rate this entry:





( 3 / 343 )
---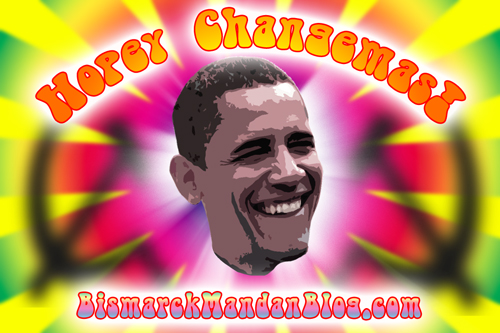 Sorry, Martin Luther King Jr.: you failed. It is with great regret that I note, on the day marking the remembrance of your life and accomplishments, that we're about to inaugurate the antithesis of that famous speech back in August of 1963:
"I have a dream that my four little children will one day live in a nation where they will not be judged by the color of their skin but by the content of their character."
Had Barack Obama been judged by his character, he wouldn't have made it out of Chicago. Well, the cult of personality, propped up by the house organ media, actually got this fella elected. Now we're all going to have to deal with the result. This isn't sour grapes, folks: this guy's policies, and the agendas of the people who have surrounded him his entire life, spell the end of the United States of America if allowed to come to fruition.
Here's your "change" by the way: an administration full of recycled Clinton administration hacks, many of whom are already caught up in scandal; avowed socialists, communists, terrorists, and other anti-American associates; and a President who has done nothing but run for office for the past few years. Well, he's won it. Now what? Gun control, abortion, and the term "hate speech" to label anyone audacious enough to point out that homosexuality is wrong. That's without even getting to the fiscal part of things!
Well, here comes all that Hope™ and Change™ that the vacuous masses of Obama voters wanted, despite the fact that few of them could summon a tangible idea of the policies embodied by those two buzz words. Who knows, maybe they'll be too enthralled by American Idol to even notice the path down which an Obama presidency takes us.
My hope and prayer for President Obama is that he never gets anywhere near his socialist goals. I pray that once the real world sets in on Wednesday, and he actually has to commit to a policy decision, that he finds himself unable to go down the path he's espoused throughout his short political career. I pray he's able to keep our nation safe, and I certainly wish him no ill will, but I hope his policies die on the drawing board. With the help he'll receive from the Legislative branch and the bedazzled mainstream media, however, I am have my doubts.
Do you like being able to select a doctor from among the finest in the nation, and not wait for months to see them? Well, here comes the change. Do you believe in the sanctity of life, even in the womb? Well, here comes the change. Do you believe in the right to own a gun to protect yourself and your family? Well, here comes the change. Do you strive to better yourself without having a union telling you what to do? Well, here comes the change. Do you believe in the right to speak freely about what the Bible says? Well, here comes the change. And do you enjoy the right to be able to cry out with the voice of political dissent? Well, here comes the change.
The Bible says we're to abide by the government under which we live, and I certainly plan to do that. I also plan to continue to be involved in political matters, and implore everyone else to do so as well. As far as the Bible verse I would best love to apply (albeit out of context) to an Obama presidency, I suppose it would be Psalms 109, verse 8:
Let his days be few; and let another take his office.
Of course it's only the days of his Presidency that I would like to be few, not "his days" of course. Be that as it may, we've got at least four years of trying to hang onto the freedoms we have left. Let's stand up for what we believe in. In the mean time, have a sip of that crazy Kool-Aid and hang on. Hopey Changemas, everybody!
UPDATE:
I'm fully prepared to be called a "racist" for disagreeing with President Obama, as they started that little game during the campaign. They sure set the tone early, however, as evidenced by the benediction "prayer" by Rev. Joseph Lowery:
"Lord, in the memory of all the saints who from their labors rest, and in the joy of a new beginning, we ask you to help us work for that day when black will not be asked to get in back, when brown can stick around... when the red man can get ahead, man; and when white will embrace what is right. That all those who do justice and love mercy say Amen. Say Amen..."
In other words, if you're white, you're a bigot. Hope! Change!
[ add comment ]
( 1 view ) |
permalink
|
Click a dot to rate this entry:





( 3 / 153 )
---
<<First
<Back
| 160 | 161 | 162 | 163 | 164 | 165 | 166 | 167 | 168 | 169 |
Next>
Last>>