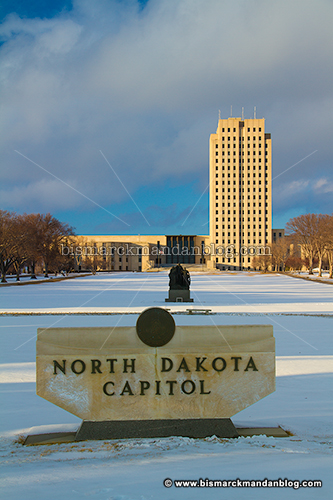 There wasn't this much snow on the capitol mall for New Year's Day, and on Christmas I actually took a photo of myself in front of the mall on my motorcycle! It feels good to actually be able to photograph the capitol with snow in front of it again. Now all we need is a couple more feet and I'll be in precipitation heaven!
[ add comment ]
( 13 views ) |
permalink
|
Click a dot to rate this entry:





( 3.1 / 116 )
---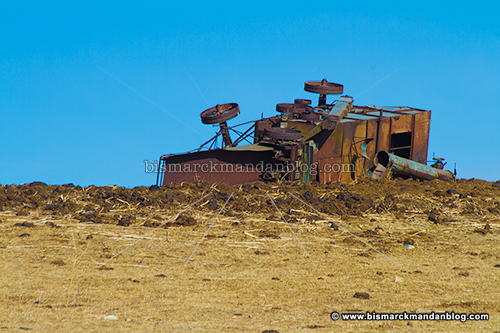 Poking around south of town I spotted this old machine rolled over at the top of a hill. I'm sure it caught a nasty wind and ended up on its side, but the fact that it was in a field full of cattle tickled my sense of humor a little. I mean...after all, does anyone REALLY know what cows do when we're not watching?
[ 1 comment ]
( 15 views ) |
permalink
|
Click a dot to rate this entry:





( 3 / 172 )
---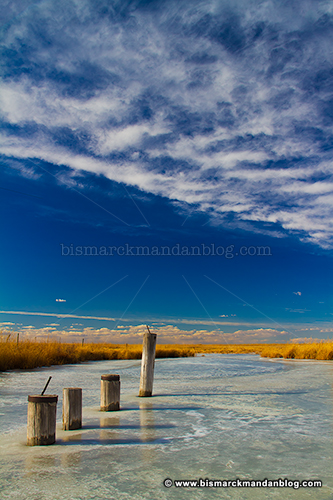 I was out roaming the county roads this weekend and stumbled upon these old piles next to a small wooden bridge. Apparently at some point the bridge had been moved or replaced, and these were left behind. They were a perfect subject for a themed photo, as our photo club's monthly contest for February is themed "shadows."
I love roaming the back roads and this past weekend's trip was exceptional. I found a few nice photos, got to roam as a guy is wont to do, and even found a location I'd been seeking for quite some time. These bridge footings were a particularly pleasant surprise and, since the water surrounding them was completely frozen, I was able to try several angles over the course of a half hour until I found something that I liked. I was even able to position my flash and trigger it remotely to fill in some light where needed. After all, as my photographic mentor taught me, "lighting is simply controlling the shadows."
[ add comment ]
( 12 views ) |
permalink
|
Click a dot to rate this entry:





( 2.9 / 72 )
---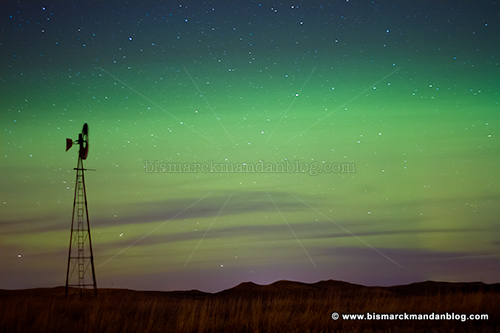 Upon returning to the Bizzo following a family funeral in Dickinson, I settled in and decided to check the arsenal of websites I use to attempt my aurora borealis predictions. Things looked promising, and I made a mental note to head out for a look-see after a while. Before long, however, I got a call from a friend who was already out and about: the Northern Lights were blazing!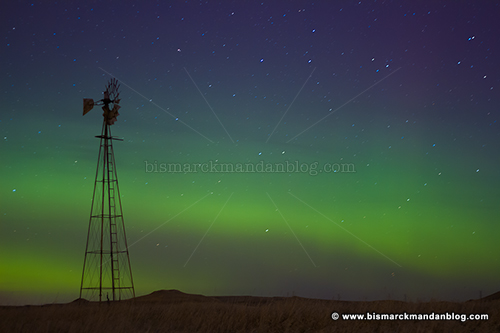 When my best friend and I arrived on the scene, the colors were pretty faint and uniform. That gave me time to wander around the field in an attempt to find an angle that provided what I was looking for. The windmill didn't want to cooperate, as its head was facing the wrong direction at first. A small breeze apparently corrected that later.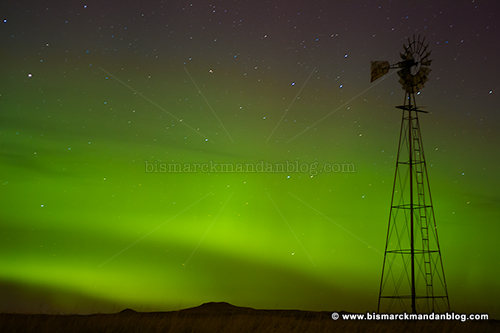 Things ramped up for a bit, painting a sharper wall of light across the northern sky. Northern Lights can take on many permutations; dancing spikes of light, cascading sheets, and sometimes winding bands of glowing green that snake across the sky. This happened to be the long band variety. After a while, things appeared to wane, and it was getting cold...so I decided to pack up the gear.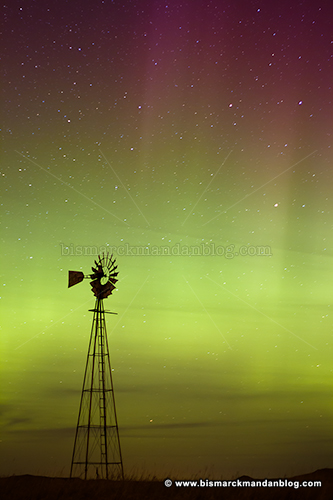 Apparently that's what the sky was waiting for, because as soon as we began to drive away the intensity flared and we started to get some additional colors and spikes. I hadn't made it far down the road, so I whipped around and bolted over to the previous position to grab a quick few shots. This time some reds began to make an appearance as well as the light began to dance more brightly.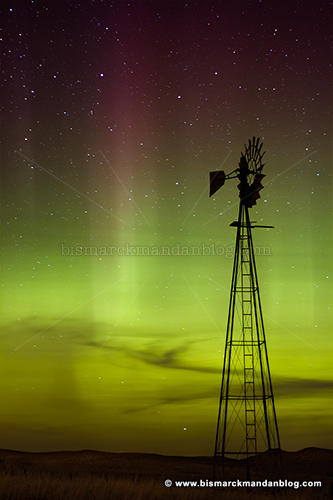 Finally - some spikes of color began to appear amid the horizon's green and blue aura! They were elusive and short-lived, but they were there. I spent a few more minutes in the cold but otherwise perfect night, and the sky began to settle. Hiking back to the truck for the night, I got the gear stowed and checked the numbers one more time.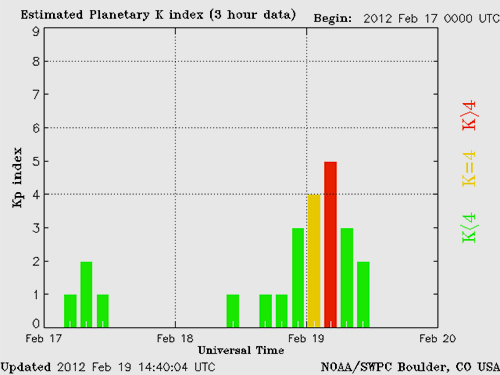 The way things were looking, I figured that there was a chance that things would flare up again around 3am as they're known to do. It was approaching midnight, however, and I wasn't about to sit out in the cold and find out. The plan was to head home, check on things before bed, and make the call there. In this case I decided to go to bed instead of back out into the night, predicting that the skies were going to settle. It turned out to be the right call; things dropped off after that.
I have a link on my Northern Lights page (link in the upper right column) for each of the many sites I use to "throw in the hopper" and make the call on whether I figure chasing after Northern Lights is worthwhile. It's a soft science at best. In this case, one particular model was accurate and another was not. In other cases, a different model will make the correct prediction. It really ends up coming down to gut instinct: trying to determine which numbers to trust. Yesterday's solar wind blast was expected, but it was not expected to cause any auroras. One blip on one set of data is what made me suspicious, and it turned out to be the right call.
Since I'm a husband and Daddy these days, I can't be bolting out of town every night in the hopes of getting a lucky encounter with the auroras, so I'm trying to see if I can get a better sense of when such a trip is worthwhile. Last night my instincts proved correct.
[ add comment ]
( 13 views ) |
permalink
|
Click a dot to rate this entry:





( 3 / 128 )
---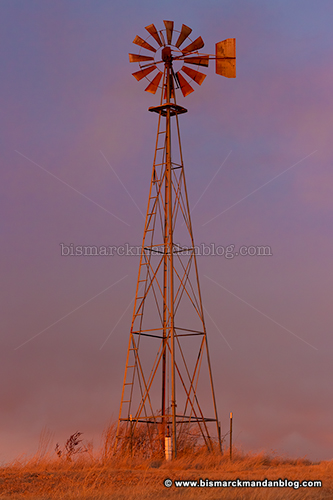 Upon hearing the news that Arlon Voge has sold Farmers Livestock and will be closing 'er up after the 28th of the month, I had a disturbing thought. One news report said an adjacent piece of land was also sold as part of the deal, and I thought, "What if that's the piece of land containing one of my favorite local windmills?" Gasp! So I figured it would be nice to go out and take some nice photos of it just in case.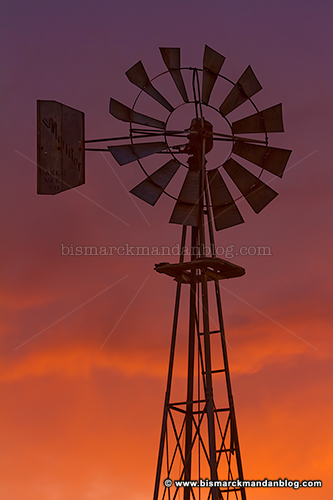 The sun cooperated with me as I found the windmill bathed in Golden Hour sunlight upon my arrival. I snapped a few pics in the cold and, as the sun began to descend beyond the horizon, I spun around to do some silhouette shots with the burning skies in the background.
If this windmill indeed becomes a casualty of the sale, I'll at least have some nice memories of it.
[ add comment ]
( 10 views ) |
permalink
|
Click a dot to rate this entry:





( 3.1 / 140 )
---
<<First
<Back
| 37 | 38 | 39 | 40 | 41 | 42 | 43 | 44 | 45 | 46 |
Next>
Last>>