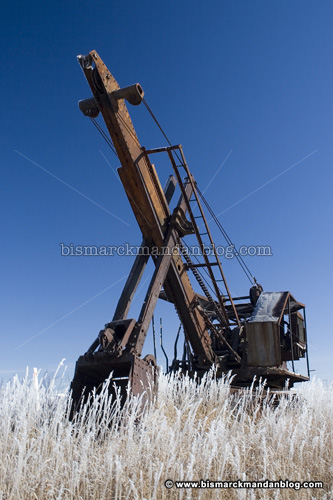 Poking around southwest of my beloved Mandan, I came across this behemoth. It's actually not that big by today's standards, but it's still a formidable hunk of metal. Driven by a small two-cylinder engine, with two spark plugs per cylinder, this machine probably hasn't moved in years. I suspect it will soon, however.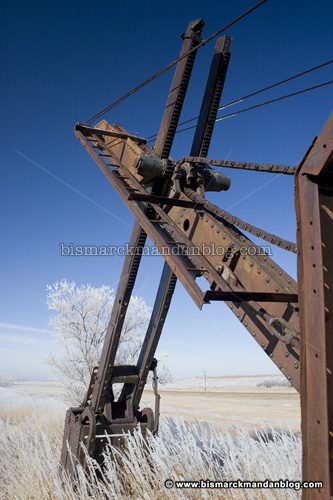 Check it out: chain drive on the bucket arm! Pretty cool. I took a lot of pictures of this piece of hardware, but don't have time to post them here just yet. Somehow I resisted the urge to climb all over the thing. It's a lot bigger than the ones I used to play with in my sandbox as a kid! I guess the little boy in me is still mesmerized by heavy equipment such as this.
[ add comment ]
( 6 views ) |
permalink
|
Click a dot to rate this entry:





( 2.9 / 545 )
---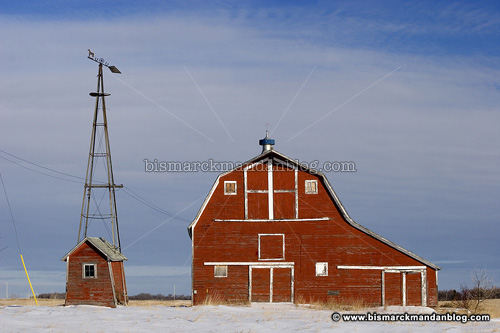 This barn sits along north 26th Street, a road which doesn't end at Divide Avenue. You can catch up with it again on Highway 1804 north of town, where it remains a paved road for quite some time. It was on the paved portion of the road that I noticed this barn, or the weather vane pointing at it.
Some say a glass is half empty. Others say it's half full. Those first fellas would say that the weather vane is droopy and probably not working right. I choose to join the second half and attribute a sort of charm to it, and instead label it the Barn Indicator. From the look of things, it's pointing exactly where it needs to.
[ 2 comments ]
( 38 views ) |
permalink
|
Click a dot to rate this entry:





( 3 / 440 )
---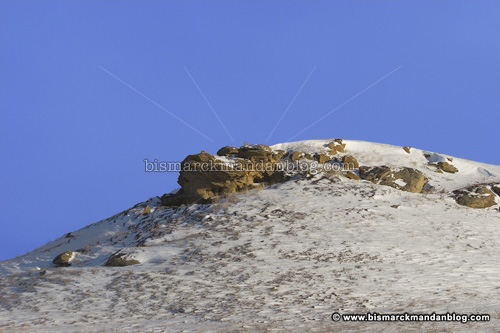 This rock face sits on the north end of a hill that peaks as Solberg Butte, but since I have a friend who's a Solberg I decided that the name applies to the entire hill. I've spent some time on this hill from time to time, with the landowner's permission, and am finally going to tell you a little bit about it while guiding you through last Friday's hike.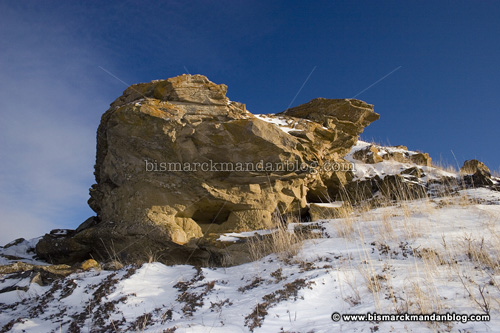 The picture above is the rock face on the north end of the hill, which is the feature that led me to this place. A friend of mine used to fly his hang glider off the back of this hill. On one occasion, the friend who was
filming his crashes
helping him came around the corner and exclaimed that he'd found all sorts of writing on the rocks! It was those rocks I set out to find, and find them I did.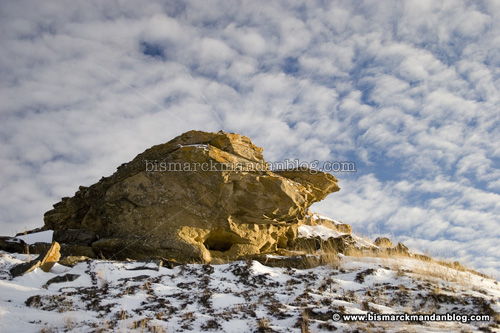 I was not wearing the shoes for this. Hiking this hill is fun when it's not caked in slippery snow, but trudging up it in ankle socks and a pair of well-worn Airwalks is just plain ridiculous. Thankfully I had my monopod with me, which doubles as a hiking stick.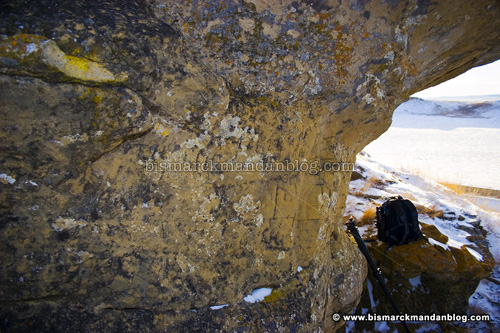 Here's one of the rock faces filled with writing. I know, there's so much other gunk on the rock that you can't make out the writing, but I wanted to show you the cool overhang formed by the eroded sandstone.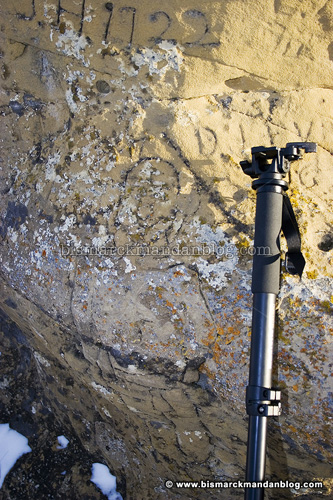 Here we have some of the writings, most with dates. The one at the top of the frame says "J.H. 1922" and below it is the outline of a smilin' dude. It's hard to make out, but the top of his head starts just to the left of the top of my monopod.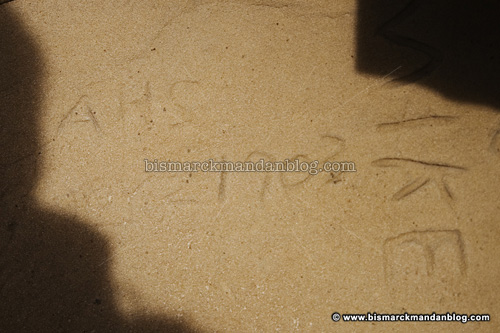 This one was really well worn. It's dated 1903. I embellished the date just a bit in Photoshop so it would be easier to read. In person it was quite easy to make out. Because this rock erodes so easily, newer carvings like the "MIKE" to the right of it are much deeper.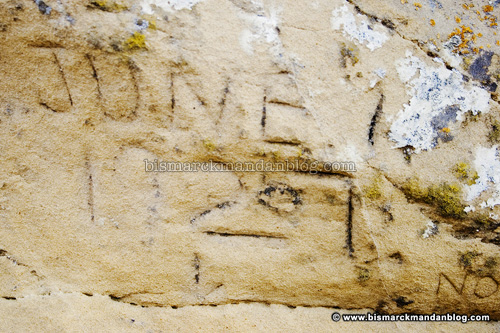 This particular carving says June (something) 1927. No embellishment here. There are many other carvings as well, but to do so here would require hundreds of photos; the entire rock face has carvings on it!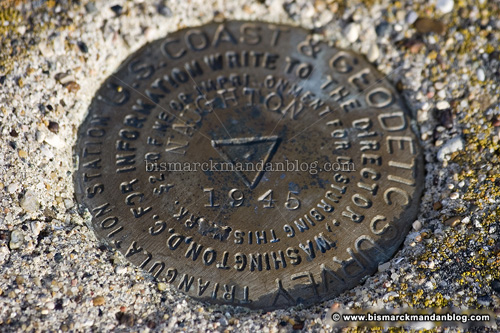 Surprise of a lifetime: out walking around atop the technically accurate peak of Solberg Butte, I stumbled upon this marker! If I'd been looking for the thing, I'd likely have gone years without finding it. But in the fashion of my usual dumb luck, I nearly tripped on it. This marker (and its accompanying azimuth marker a few yards away) was placed in 1945. You can read more about the National Geodetic Survey's current incarnation by
clicking here.
Its history is even more fascinating; I'll let you track that down on your own.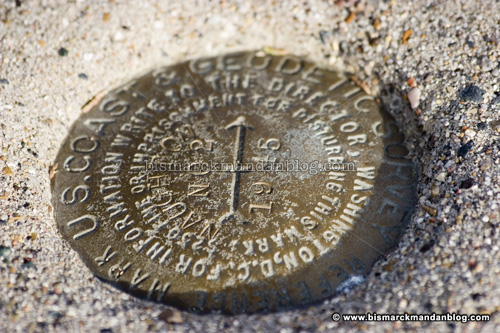 ADDED:
This is the second marker, the one I referred to as an azimuth marker earlier. Notice that the center of the disc has an arrow in it, not a triangle. If you clicked on "comments below" or click
here
to view the comments for this article, you'll see that Bruce found the actual azimuth marker's location to be quite some distance away. I guess this one is just to indicate the direction in which the azimuth marker lies. See, I learn something new every day!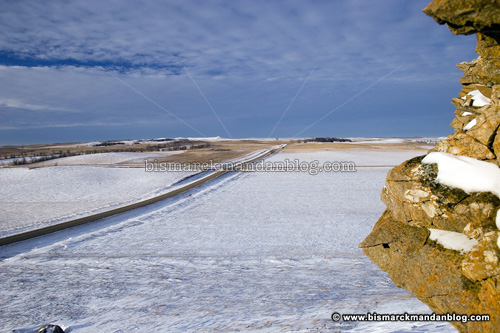 The view of the road. I don't know if the picture conveys it, but I'm up a little ways.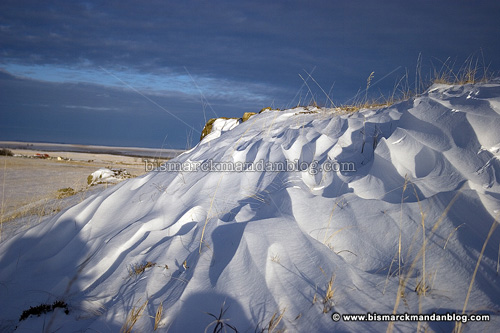 Cool snow, huh? This was on the hike back down. I had a racquetball date to keep with my wife, and boy did I get
skunked!
But overall the day was a success, because I had a fun hike and photos to share. I got to leave work early today due to some extra time I'd put in earlier in the week, so I had time to go pokin' around.
I'm not divulging the exact location of this site, but I will say that it's northeast of Bismarck. The geodetic marker is a clue, that it's in the Naughton township...east of the Naughton School, by the way. But because this land is posted No Trespassing, don't go getting any ideas. I have explicit permission from the landowner himself to visit this site, something that took quite a while to get. In all the photos I post here, I always honor No Trespassing and other posted signs, respect landowners' rights, and seek their permission. I expect my readers to do the same.
[ 3 comments ]
( 31 views ) |
permalink
|
Click a dot to rate this entry:





( 3.1 / 326 )
---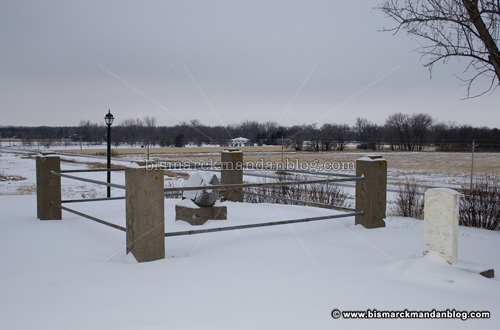 How would you like to be buried roadside in south Bismarck? Or actually be buried in the middle of nowhere, and have Bismarck suddenly encroach upon your final resting place? That's what happened to these two fellas, Nicholas Miller and Fred Holt Beaver. Their graves lie along Sibley Drive in south Bismarck, where they've been since the 1860s.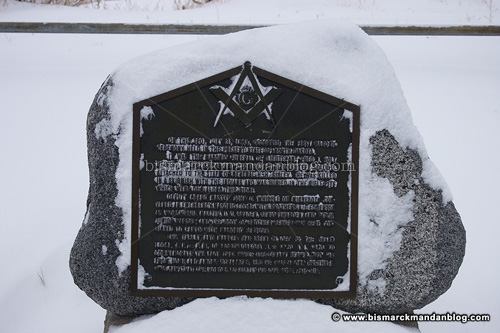 This is the stone of Fred Beaver. The metal plaque reads:
"ON THIS SPOT, JULY 31, 1863, OCCURRED THE FIRST MASONIC CEREMONY HELD IN THE PRESENT STATE OF NORTH DAKOTA.
IT WAS THE MASONIC FUNERAL OF LIEUTENANT FRED J. HOLT BEAVER, AN ENGLISHMAN AND OXONIAN, AND A VOLUNTEER SOLDIER, ATTACHED TO THE STAFF OF GENERAL H. H. SIBLEY. HE WAS KILLED IN A SKIRMISH WITH THE INDIANS AND WAS BURIED IN THE RIFLE PITS WHICH WERE DUG ALONG THIS RIDGE.
DEPUTY GRAND MASTER JON C. WHIPPLE OF MINNESOTA CONVENED AN EMERGENCY MASONIC LODGE WITH BROTHERS A.J. EDGERTON AS WORSHIPFUL MASTER, J. C. BRADEN, SENIOR WARDEN, AND PATCH JUNIOR WARDEN, AND THE BODY OF BROTHER BEAVER WAS HERE CONSIGNED TO EARTH WITH MASONIC SERVICES.
THIS TABLET AND MARKER HAS BEEN PLACED BY THE GRAND LODGE, A.F. AND A.M., OF NORTH DAKOTA, A.D. 1920, A.L. 5920, TO COMMEMORATE THE FACT THAT WHILE LIEUTENANT BEAVER DIED FAR FROM HOME AND AMONG STRANGERS, YET HE WAS AMONG BRETHREN WHO SAW THAT THE HONORS SO JUSTLY HIS DUE WERE PAID HIM."
Those wacky Masons. The other stone, a more traditional one, sits just to the north: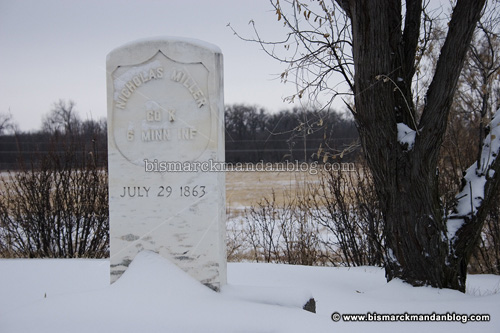 This stone simply reads:
NICHOLAS MILLER
CO K
6 MINN INF

JULY 29 1863
These two stones sit pretty much in someone's back yard. I didn't know they were there until finding them on a Geocaching trip last year. These guys were apparently buried pretty much where they died, according to the stone above Fred Beaver's grave.
If you're interested in finding these markers, point your GPS at 46°44.412'N, 100°45.759'W. They're on the east side of Sibley Drive as you head south. They're just about in someone's back yard, so please be respectful of that fact. These markers are another example of the interesting history sitting right beneath the noses of Bismarck-Mandan's citizens. Too few of us get to find out about stuff like this!
[ 1 comment ]
( 28 views ) |
permalink
|
Click a dot to rate this entry:





( 3 / 321 )
---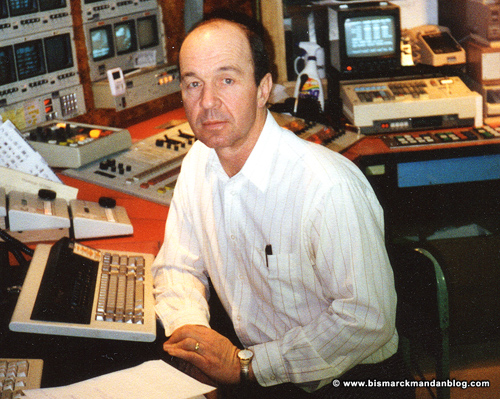 I saw a TV news report tonight that highlighted Al Gustin's 40th anniversary in broadcasting. You can view KFYR-TV's report by clicking
here
and KXMB-TV's report by clicking
here
. The first time I heard Al referred to as "The G-Man" was on KFYR Radio, by Mr. Phil Parker. I've always assumed that Phil coined the nickname. Congratulations, Al! You're the most professional person I've ever met in this business. By the way, this is just about the only picture of Al I could find in my collection. I wasn't always into photography, and never had a digital camera while the two of us still worked at KFYR. How about those orange countertops? Yikes!
I'm honored to call Al my friend and to have worked with him for a large part of my broadcast career. I started working with Al in 1991, when I was just getting my feet wet as a technical director in the mornings. He was patient with me as I'd make the occasional gaffe, sometimes popping him up on camera instead of going to a tape or graphic. He once told me of one of his goofups, back when commercials were run on slides. He dropped the box of slides for the morning, spilling them all over the floor, after they'd been sorted and organized for the day! I guess it happens to everyone. I don't recall ever seeing Al make a significant mistake on the air, myself.
As usual, I'll try to provide some additional insight in this blog post:
- As I recall, Al worked at KXMB way back when, before joining KFYR and becoming their farm director. In fact, I think that's where he was working when he dropped that box of slides.
- Nothing can rattle him on the air. If there was a problem with a tape or graphic or something, we could just cut back to him and he'd keep going. When we would do news cutins throughout the morning on KFYR, he'd give me a script for a tape if he had one, so I knew when to go to the tape and when it would be done, and the rest he'd do on the fly. He would have little filler stories ready and always add or subtract whatever needed to make his news updates time out just right, every time.
- Al would come in at 3:30 every morning, like clockwork. He'd get his morning prepared for radio and TV, making the rounds from the radio building to the TV building throughout the morning. Between 5 and 6 he'd get some time to catch a break and call his wife, Peg, to see how her evening was. Because he had to come to work so early every day, he had to go to bed early too. So he would faithfully call home and see how his wife was doing and if anything exciting happened the night before.
- Al's got some surprises up his sleeve. I remember one time when he came in to type up his market graphics. I had the control room speakers turned up with the Frank Zappa CD "Thing Fish" playing. Without even looking up from the keyboard, Al said something to the effect of "Frank's talented, but I think he would get his message across a lot better if he wasn't always trying to shock people with his lyrics." I was stunned that he could actually recognize Frank Zappa, especially by hearing a short segment from Thing Fish! I never asked how he knew. I doubt he has a copy of "Joe's Garage" in the tractor, though.
- He looks pretty good in a turban. I remember seeing a picture hanging in his office featuring him atop a camel, taken when Meyer Broadcasting sent him to the Middle East on assignment. I believe it was in Egypt. When the building was remodeled and his quarters were moved into the new, spacious newsroom, I think the picture adorned his cubicle as well.
- My favorite mornings were when Al joined Phil & Mark for the simulcast of "Country Morning" on the KFYRs (TV and radio). When I first started at Meyer, Country Morning was a 15 minute show. There was a staff of two: Al and the director. Most days it was my friend
Mike.
When Mike was out fishing, it was me. It later evolved into a simulcast half-hour show, with cameras stationed in the radio studio. By that time I was working overnights, Mike would come in at 4:30, and the two of us would handle the behind-the-scenes part of the show every morning. Al had great chemistry with Phil & Mark, the perfect complement to their goofy style. Add to that the PMS trips to small town events around the state, with their trusty camcorder in hand, and we had the best morning entertainment to ever hit North Dakota screens.
I haven't seen Al in a while, although I hear him on the radio. We have had lunch once since he left TV and I left broadcasting, and while talking to Jason Hulm on the phone I've asked him to shout out a "Hello" to Al as he walked by. Hopefully he'll see this someday and have a fond memory or two of that kid who joined Country Morning back in the 90s. Let me say it again: it was a great privilege to work with such a consummate professional, the likes of which are rare in any industry, not just broadcasting.
[ 2 comments ]
( 29 views ) |
permalink
|
Click a dot to rate this entry:





( 3 / 360 )
---
<<First
<Back
| 200 | 201 | 202 | 203 | 204 | 205 | 206 | 207 | 208 | 209 |
Next>
Last>>