I just got a fundraising letter in the mail from the National Republican Congressional Committee, asking for money to help them defeat the Democrats in upcoming elections. Here's my response (and NO, I did not include a contribution with it...as will be evident from my letter):
To: Congressman Tom Cole, NRCC Chairman
Re: Membership contribution request
Dear Congressman Cole,
Thank you for the notification that my membership in the NRCC had lapsed. It is with good reason that I have allowed such a lapse to occur; it seems that members of Congress, elected to serve the people, have forgotten that they work for the American people and see us as more of a nuisance and hindrance than anything else.
You're asking me for money to help you fight for reform...yet you had six years of total control in Washington in which to advance our agenda. Who fell asleep at the wheel? The same folks who want my hard-earned money now that they're powerless to push anything through the House at all, and can merely stonewall Democrat bills in the Senate? What was my money paying for when you guys ran the joint?
The fact of the matter is, I am not sending you guys a penny. I, like many who vote Republican, am the antithesis of the "rich, evil Republican" that the Democrats like to portray. I make a modest living and am content doing so, and thought that sending some of my valuable money to you Republicans while you were in power would actually help you accomplish something. I was sorely mistaken, and I won't be making such a poor investment any time in the near future.
Until I have assurance that Republicans in Congress will start representing the conservatives who stand by them despite repeated assaults from leftist Democrats, I will not support the NRCC in any way, especially with my hard-earned dollars. I will also suggest to my fellow conservatives that they do the same via my website and any other means at my disposal.
I was not one of those voters who "sat out" the last election in order to teach you Republicans a lesson. I do understand what's at stake here. But for you to come back to us with your hat in your hand after a shameful squandering of six years in control of Washington is too much. I won't vote with my wallet the way I will with my ballot. Either you Republicans in Congress had better start acting like conservatives, or you won't have any support left from people who thought you were there to advance the causes about which we care most deeply.
Good luck. Your candidates will likely get my vote in 2008, but you won't get one red cent. This time you earn it first. In the mean time, save yourself the embarassment of mailing your legal American supporters with your hat in your hand, asking us for money while simultaneously throwing us overboard.
PS: The same applies to Presidential candidates in 2008. At this point I remain firmly resolved to write-in Ronald Reagan.
[ 2 comments ]
( 70 views ) |
permalink
|
Click a dot to rate this entry:





( 3 / 275 )
---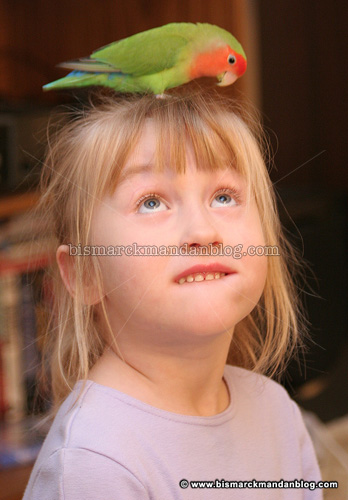 For my thoughts are not your thoughts, neither are your ways my ways, saith the LORD. For as the heavens are higher than the earth, so are my ways higher than your ways, and my thoughts than your thoughts.
Alexis Vogel died this morning. She was the daughter of my wife's sister, and I've never known a sweeter little girl. Earlier this year, Lexi was diagnosed with an inoperable tumor at the base of her brain. Nothing could stop the tumor from slowly putting a stranglehold on this wonderful little child, and now her battle against it is over. With the Bible as our authority, we can know that she's in heaven today...but it's a sad day for all who will miss her.
Lexi lost a little brother a couple of years ago. Little Dominic survived less than an hour after coming into this world. As a new dad I can't imagine the God-given strength her parents must have, to make it through such a situation...not once, but now twice. They've trusted in the Lord to take care of their family and been an amazing testimony for Him all the while. At a time when no human means can deliver any answers, they've glorified their God.
This picture is how I choose to remember Alexis. She, like pretty much every little kid that comes to visit, loved Scooter. I imagine it was a pretty big thrill when he flew over and landed on her head! That's nothing compared to the unimaginable happiness she must be feeling in heaven now. It's hard for that to be a consolation to those who miss her, but it's good to know that there's no sickness, no pain, no parting with her Savior in heaven.
[ 6 comments ]
( 306 views ) |
permalink
|
Click a dot to rate this entry:





( 3 / 343 )
---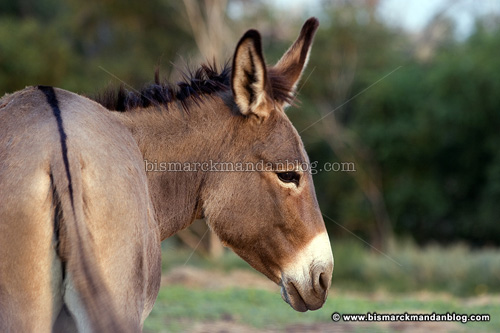 It's amazing who you run into out on these rural North Dakota roads!
[ 4 comments ]
( 73 views ) |
permalink
|
Click a dot to rate this entry:





( 3.1 / 260 )
---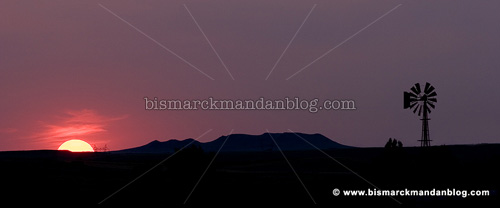 My little boy and I took a drive west of Mandan tonight and caught this shot. It's like a formula for success on this website: an old windmill, the buttes west of Mandan, and a blazing red sun with a power line tower in front of it!
Little PJ is such a treasure. He was patient when I'd jump out of the truck for a quick photo. He held my finger while we drove, and smiled at all my funny faces. I'm so blessed to be his daddy!
There's a lot of other neat stuff to see west of Mandan. I hope to post the photosin the near future.
[ add comment ]
( 3 views ) |
permalink
|
Click a dot to rate this entry:





( 3 / 257 )
---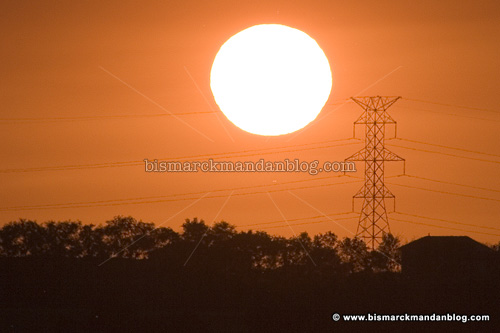 26th Street in northeast Bismarck can take you to some pretty cool places if you'll let it. Saturday night after the KTM Sportbike Night, I rode out to a friend's place north of Bismarck. Along the way I was treated to another blazing red sun in the horizon, so I stopped to capture this image. The power line tower served to put things into perspective.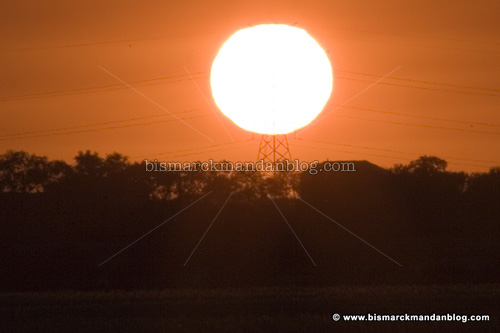 Here we are, all teed up! Now we just need the universe's largest 9 iron to make it interesting. I tried a number of different things to try to make the tower visible where the sun is behind it, but without result. Perhaps I'll need to get into specific filters or something like that, which I'd like to do. But for now I'll just have to get by. In any case, I think it looks pretty nice just the way it is.
By the way, it's almost September! Enjoy those warm evening sunsets while we've still got 'em!
[ add comment ]
( 2 views ) |
permalink
|
Click a dot to rate this entry:





( 3 / 246 )
---
<<First
<Back
| 226 | 227 | 228 | 229 | 230 | 231 | 232 | 233 | 234 | 235 |
Next>
Last>>