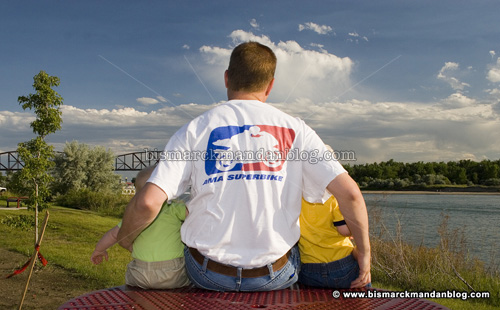 "If I had a boat, I'd go out on the ocean...and if I had a pony, I'd ride him on my boat..."
For the music reference title of this post I picked a Lyle Lovett song, but I'll always think of it as a
JPL
song, since my favorite version of it is done by my pals in JPL. Two of the guys are my frequent live-sports coworkers and employees of NBC in Fargo, and the third (J) is the brother of the other (L). They are extremely talented, and the best of their work isn't even on the Myspace page I have linked for them. Enough about JPL, though...this picture is of JCP: Jonathan, me, and PJ.
We spent an evening by the river this week, with PJ learning how to throw rocks into the river and calling out every airplane, boat, or motorcycle that passed our view. He really loves motorcycles, which he calls "norlkles", and can even turn the key and start one of my Kawasaki motorcycles if help him get up onto it. Imagine what he'll be like when he's two!
The river seems to be where it's at this year. The sandbars are now fully revived as a place to gather and spend a summer afternoon, despite the city of Bismarck decimating the summer sandbar scene when they carved up Sertoma Park many years ago. Nowadays one simply needs a boat (or a friend with one) to join; I don't, but considering that my little boy thinks they're so keen, I suppose it's time to shop for one! I never wanted one before because I didn't think I'd use it enough to justify it. I suspect that these two little guys would encourage me to take the boat out plenty. Hm...if I had a boat...
[ 1 comment ]
( 12 views ) |
permalink
|
Click a dot to rate this entry:





( 3.1 / 232 )
---
Now a reminder of an older, less frequently used feature. When I activated this feature a long time ago, I posted instructions on how to "Rate the Windbag." The number of regular visitors to the site has grown by leaps and bounds since then, so I'll post this again for those of you who are new. While older posts have rating counts as high as 400 or 500, I'm getting several times that many visitors on even a slow day now. So perhaps not everyone knows what those dots are for.

This is a 5-point rating system. If you like the post, click on the dot to the far right. If you think I'm out of my ever-lovin' mind, click on the dot on the far right. Just kidding. The dot on the left is worth 1 point, the one on the right worth 5, and I leave it to you to discern the values of the remaining three.
Each time a user clicks a dot it's added to the tally, the number on the right. The average rating is on the left. In the graphic above, 4 users have responded with an average rating of 3.8.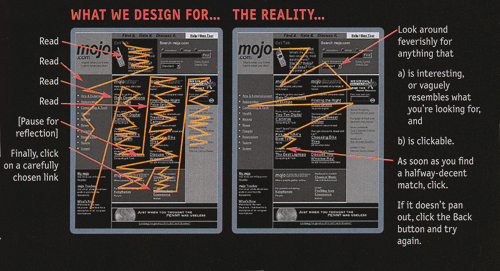 This diagram illustrates the difference between the way a designer sets up a web page, with how he thinks the reader will scan it in mind, and the way the average web surfer actually looks through the page. It's a pretty big difference, isn't it? By the same token, I tend to assume that those five little dots look like they're clickable... but apparently not everybody gets it right away. Oh well.
That's why, when you see the numbers at the bottom of the posts, things won't always make sense. I'll have a post with a low vote count, but with one comment, and dozens (sometimes hundreds) of comment views. So, while the post has been read between a thousand and two thousand times (that's how many daily visitors I get), only one person may have found reason to comment, and not everybody decided to read his/her comment. Even fewer decided (or knew how to) vote to rate the post. It's actually very interesting to see, especially in light of the server stats that I receive daily!
Of course, if you're reading this post on one of the websites that syndicate it, you're not eligible to vote. You have to actually come to bismarckmandanblog.com to do so.
Have fun. The old Democrat adage "vote early, vote often!" doesn't apply here.
[ 1 comment ]
( 11 views ) |
permalink
|
Click a dot to rate this entry:





( 3 / 242 )
---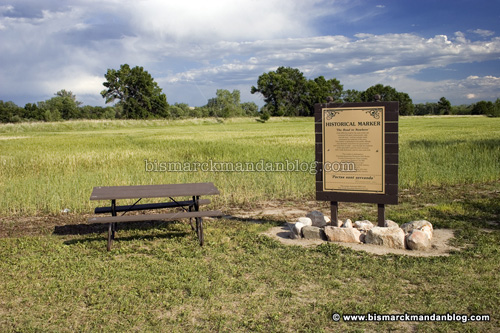 While heading down to the Burnt Creek dock with my boys, I took the scenic route down Sandy River Drive. It's one of my favorite roads because it's narrow, straight, canopied by trees, and I have several friends who live along it. Just before I headed north to the boat dock, however, I saw this new item.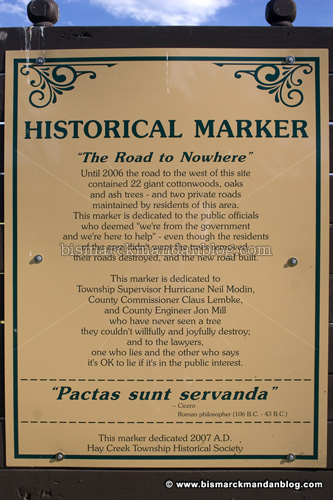 Marking "The Road to Nowhere", this marker was obviously put up by someone who got a raw deal. In case you have a bad monitor, let me go ahead and quote it:
"Until 2006 the road to the west of this site contained 22 giant cottonwoods, oaks and ash trees - and two private roads maintained by residents of this area.

This marker is dedicated to the public officials who deemed "we're from the government and we're here to help" - even though the residents of the area didn't want the trees removed, their roads destroyed, and the new road built."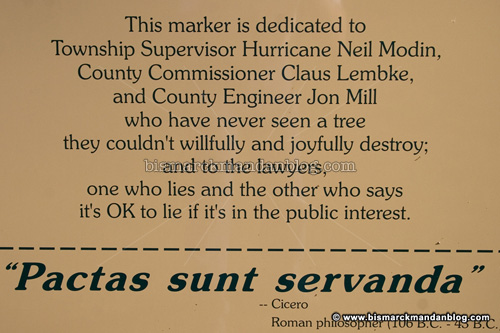 As usual, I proofread everything I read, and something caught my eye. If I'm right, "Pactas" should actually read "Pacta" as it's the plural of the Latin word "pactum." It means an agreement, contract, covenant, or treaty. The full translation of this little dictum is essentially "Agreements should be honored." If so, all those years of high school and college Latin finally paid off. The dedication itself speaks for itself...just think the Democrats want the government to be in charge of our health care, too!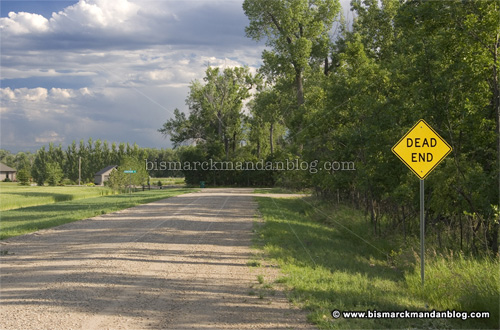 The road really DOES go nowhere, by the way. I went to the end of the road so I'd have room to turn our carbon-belching SUV around, but not until after I poked my head through the moon roof to take this shot of our tax dollars at work.
If you'd like to find this marker and enjoy the picnic table, you can take River Road north from Pioneer Park, then turn left and head west on Sandy River Drive until you spot the marker on your left. Its GPS coordinates are 46 deg 51.164 minutes North, 100 deg 51.237 minutes West. If you find out who placed the marker here (it ain't hard to figure out), tell them I sent you.
[ 4 comments ]
( 80 views ) |
permalink
|
Click a dot to rate this entry:





( 3 / 239 )
---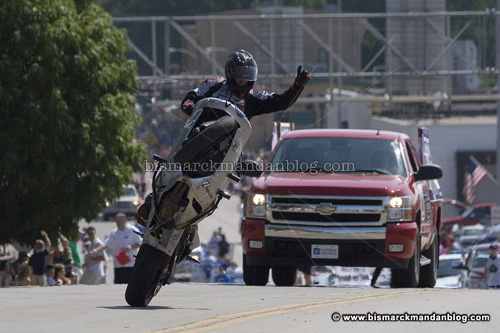 This year brought something different for our family on Independence Day. I was hired to take photos for Cycle Hutt, our church didn't do a float this year because of our new building project, and my wife and I thought it better to keep the two little boys at home on the hot afternoon. That means that I didn't sit and watch the parade go by like last year; rather, I took lots and lots of photos of the goings-on at Cycle Hutt and around & on the float for the parade.
There are around 1800 photos overall, but I pared it down quite a bit into a few image galleries:
July 3rd: Practice, brief Stunt Show
July 4th: the main stunt show, the crowds, the fun.
The parade float, complete with a burnout stand and other fun stuff.
July 5th: Another stunt show, wrap-up with the SPEED Channel crew, and a brief group ride afterwards.
Local Riders - These guys got lessons from JasoN Britton!
Enjoy! Prints are available, if you'd like. Just find the "Contact me" link on the upper right of this screen, and we'll get you the details.
[ 2 comments ]
( 26 views ) |
permalink
|
Click a dot to rate this entry:





( 3 / 249 )
---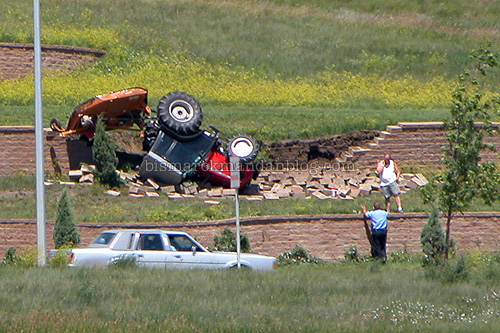 One of my mountain biking buddies and I were comparing photos a couple of weeks ago and I found this gem in his collection. He gave me permission to share it with y'all, so I thought I would take the opportunity to do so. The tractor above was mowing near the sagging walls on a hill along west Century Avenue when a section of the wall decided it had had enough. Fortunately the tractor operator was okay.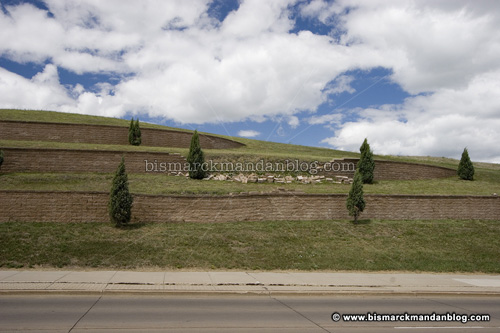 The same cannot be said for the wall; however. The same sort of upkeep that had left sections of the wall sagging in the first place has also left a pile of bricks where the incident occurred. I don't remember the date of this particular rollover, but it's been a while...plenty of time to repair the wall. In the mean time, I wonder how they mow around it?
[ add comment ]
( 2 views ) |
permalink
|
Click a dot to rate this entry:





( 2.9 / 247 )
---
<<First
<Back
| 183 | 184 | 185 | 186 | 187 | 188 | 189 | 190 | 191 | 192 |
Next>
Last>>