Any time a new Taco Bell goes up, I'm a happy guy. My friends and I used to visit TB religiously after karate training and while out riding motorcycles, so we have a long history with the franchise. Now there are three. I had the opportunity to stop in on opening day, and the place doesn't really look much like a fast food restaurant. It also happens to be a block away from the new Arby's, which is perfect! Two fast food favorites sit close together on the southeast corner of Bismarck.
I looked through the phone book a week or so ago out of curiosity and counted 123 restaurants in the Bismarck-Mandan area! Add the surrounding small towns and I bet you'll start to approach 200. That's a staggering number of eateries for a town this size, but I'm not complaining. If you're having a hard time deciding where to go out to eat sometime, just remember...there's more variety out there than you'd think!
[ 2 comments ]
( 64 views ) |
permalink
|
Click a dot to rate this entry:





( 3 / 378 )
---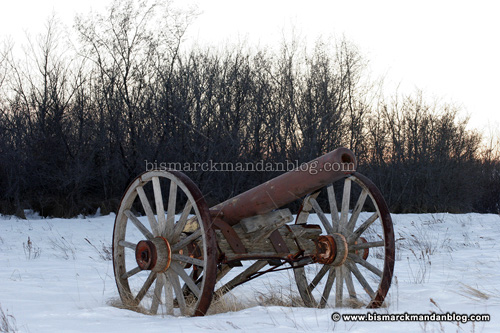 If I was referring to my camera and me, I would title this post "Canon on the hill." I know, bad pun. This cannon sits atop a hill outside of Bismarck in a clearing atop a hill. I was out perusing after work a while back and it caught my eye, so I did a little investigating. After looking for the nearest mailbox, looking up the name thereon in my phone book, and placing a friendly call, I was able to head over to this interesting piece and take a few photos.
No, this is not a piece of war history. Yes, it does fire. It's a homebuilt novelty capable of launching tennis ball sized projectiles for entertainment purposes. It would not be useful in holding back the British; however, it's a great example of what a guy can do with an idea in his head and a welding stick in his hand.
The owners are two very nice folks who I'm glad I've met. The guy who built this device reminds me a lot of my dad and his brothers, who also would simply weld whatever they needed (and overbuild it as well). He graciously allowed me onto the property to look at his masterpiece and gave me a history of how it came to be. I love North Dakota hospitality...thanks for allowing me into your home.
As an aside, I'd like to point something out to my readers. I take a lot of photos from places that a guy wouldn't normally be, and in doing so I make every effort to have permission first. My Fallen Farm series of photos are either taken from outside the fence lines of these dilapidated farms, or up close after tracking down the owners and receiving permission. I value my privacy and property rights so I must repect that of others.
If you see something really cool on this website and want to go check it out yourself, please contact me by email using the link at the top right of this page. I can let you know how to get permission to visit a particular site or let you know who to contact. It's a simple matter of respect, something I think our society needs more of these days.
[ add comment ]
( 2 views ) |
permalink
|
Click a dot to rate this entry:





( 3 / 431 )
---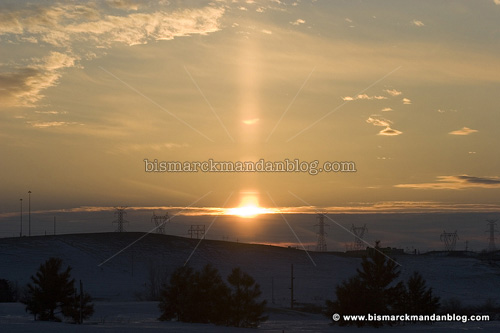 I'd hoped to catch a view of the comet McNaught that appears around sunrise, but unfortunately our horizon was obscured by clouds until it was too late and the sun drowned out any possibility of a comet sighting. That's okay, there was a pretty neat sunrise after all. I didn't get the luck of a parhelion event or anything, but there was a pretty good beam straight upward from the rising sun. I was out running errands before church, so I didn't hang around to see if anything else exciting was about to happen.
[ 1 comment ]
( 40 views ) |
permalink
|
Click a dot to rate this entry:





( 3 / 639 )
---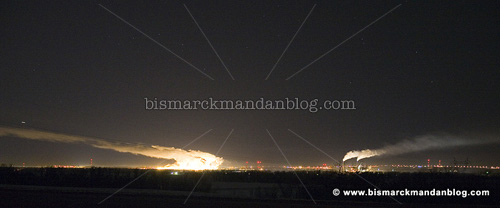 Another music reference title for y'all. My wife is originally from Texas, and she's had an old friend staying with us for the past week...so I find myself saying "y'all" a lot. Anyway, I digress as usual. This is a photo of the wind having two distinctly different effects at the same time. The steam on the left is heading east from the Tesoro refinery, while the steam from the Heskett Station power plant is drifting in the opposite direction.
I did some extensive poking around inside almost every single powerplant in North Dakota during the summer of 2006, including standing atop one of the 23-story boilers at the Coal Creek Station. You could fit the state capitol, the tallest building in North Dakota, inside that boiler. Crazy, huh? One thing I saw that hadn't occurred to me before was the volume of steam generated by these plants, something that many people assume is smoke. After all, that's what a power plant does: generate steam. The steam powers the big generators, sure, but everything upstream of the generators exists solely to produce steam.
While I still think that ethanol is a waste and the numbers show it to be a thermodynamic loser, I have to give credit to the guys who came up with the idea of using steam generated by the Coal Creek Station to power an ethanol plant. At least they're not adding to the amount of energy it takes to produce ethanol, only to get a product with 70-80% of the energy output of an equivalent amount of gasoline. And one thing that nobody's making a big deal out of is that E85 can actually be sold as E65 in this state without running afoul of state regulations!
None of these thoughts really crossed my mind when I snapped this photo, they just popped into my head as I started typing. After a long day in the garage, I guess it was just time for a big ol' word dump accompanied by a reasonably neat picture.
[ 4 comments ]
( 77 views ) |
permalink
|
Click a dot to rate this entry:





( 3 / 842 )
---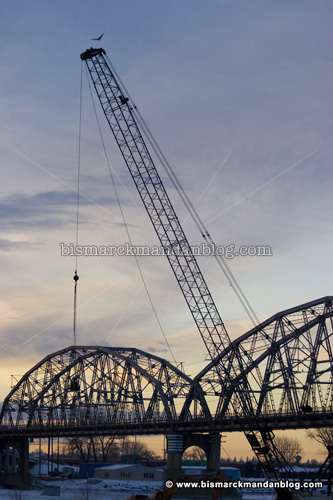 Another music reference for ya there. A friend called to tell that some eagles were roosting in her tree along the river. After work I poked around along the river, but the eagles were long gone. I did, however, spot this picturesque angle of Old Glory flying high above the Memorial Bridge project.
[ add comment ]
( 3 views ) |
permalink
|
Click a dot to rate this entry:





( 3 / 855 )
---
<<First
<Back
| 262 | 263 | 264 | 265 | 266 | 267 | 268 | 269 | 270 | 271 |
Next>
Last>>