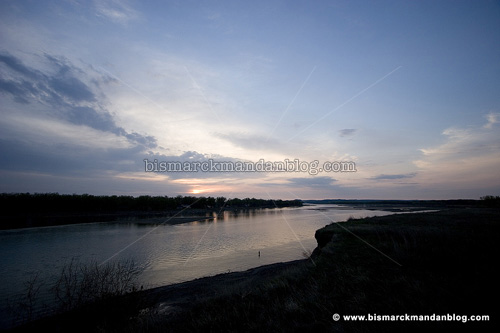 Wide open sky, that is. My wife and I had taken our son out for his first sunset and were enjoying the beautiful sky over Double Ditch when a guy pulled up in his car, got out and threw on a set of waders, and worked his way down the cliff to go a-fishing. He could hardly have picked a finer evening!
One thing that was remarkable was the low river level and its impact on the layout in the Double Ditch area. There were a lot of sandbars I hadn't known about before, and it looked like a pretty interesting place to try to bring a boat through. Apparently it was a good opportunity to wade out into the Missouri and see what's biting.
[ add comment ]
( 2 views ) |
permalink
|
Click a dot to rate this entry:





( 3 / 112 )
---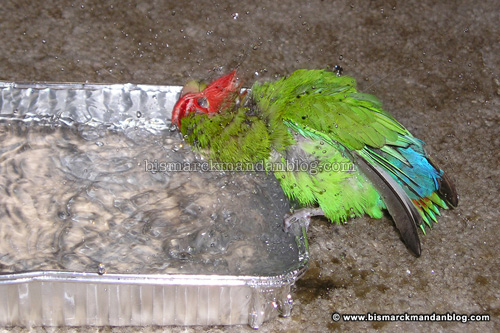 Spring means new feathers, which also means that a certain Scooter loves his bath. His feathers come out like little porcupine quills, and he has to break off the outer coating so the feathers can unfold. It's busy work for a bird, keeping him preening for most of the day. That also makes a lot of bird dandruff, too! With that in mind, a bird bath is a wonderful feeling indeed.
[ 1 comment ]
( 20 views ) |
permalink
|
Click a dot to rate this entry:





( 3 / 328 )
---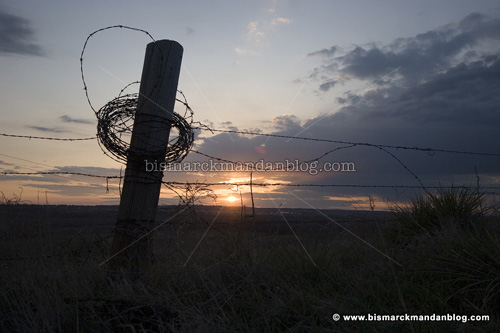 As Bismarck and Mandan grow steadily northward, a lot of really scenic riverside views are becoming history. This view, for example, will likely not survive 2007. It's on a hill just north of Bismarck, where a neighborhood is being built at this very moment. I'm not the only one who knows of this spot; in fact, someone had put some old patio furniture there last time I ventured out there!
This looks like the fencepost at the end of Double Ditch park, but it's actually overlooking Pioneer Park. The doubletrack trail leading up to it is still intact, but will likely soon become someone's back yard. That's okay...there are plenty of other nice vantage points surrounding our fair cities. Many are just waiting to be discovered.
[ add comment ]
( 3 views ) |
permalink
|
Click a dot to rate this entry:





( 3 / 255 )
---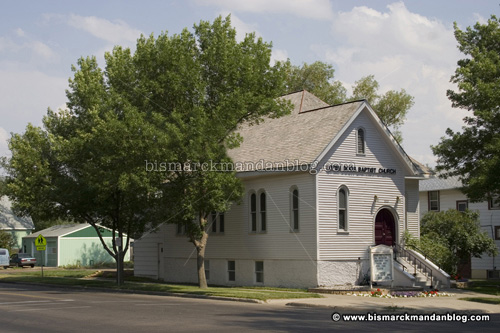 Open Door Baptist Church, the "little church on the corner" of 7th and Avenue C, is holding its annual Missions Conference this week, with a variety of missionaries in attendance to present their work overseas.
Missionaries from a variety of places, from Nepal to Malawi to communist countries in Europe and Asia, are presenting their work and preaching Bible messages on the subject of missions, evangelization, and prayer. They get to share their stories of trials and successes, blessings along the way, and the lives of the people they serve.
There's a service tonight at 6:30 pm as well as the regular Sunday services: Sunday School at 9:30 am, morning service at 10:30 am, and an evening service at 5:00 pm.
If you want to hear the testimonies of some remarkable missionary families, pay the folks at Open Door Baptist Church a visit this weekend!
[ add comment ]
( 5 views ) |
permalink
|
Click a dot to rate this entry:





( 3 / 281 )
---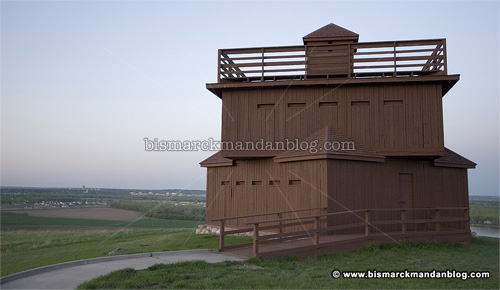 Out on a drive the other night, I decided to see how the blockhouses would look at sunset. I had my family with me in the truck, and we went good ol' Fort Lincoln. I like North Dakota parks and the opportunity to support and enjoy them, but I have to give Fort Lincoln a big "thumbs down" for this trip.
It's five bucks to get into the park. If you approach after hours, just slip a fiver into one of the envelopes at the gate and drop it in the slot. That's what I typically do. Then you're free to roam about the park, including a short drive up the hill to the blockhouses. The only problem is: the gates to the blockhouses were locked! There's a sign next to them indicating "GATES LOCKED AT DARK." Fine, but it wasn't even close to dark yet. This is the second time this has happened to me, and I'm getting really tired of not getting my money's worth. In fact, on my desk I have a ND State Historical Society Foundation membership form ready to send in. Part of the benefits include free admission to state historic sites. What good would that be if the gates continue to be locked?
My wife is a saint. She said that if I wanted to hike up the hill instead, grab a quick couple of shots when the sun got to the horizon, and bolt back down...well, that was fine with her. I did so, not really getting any decent shots at all, but collecting TEN wood ticks. It was almost a tick a minute on that hike, since I had forgotten to apply any insect repellent. I found nine that night and one the next morning. I was working on a DVD and felt a tickle on my neck and...YIKES! Then I had the creepy-crawlies all day long.
If you're thinking about going out to Fort Lincoln, just park on the north end and hike in for free. You'll save five bucks and achieve the same result. And don't forget to take a can of OFF or another type of tick repellent. They're crazy this year!
[ 3 comments ]
( 70 views ) |
permalink
|
Click a dot to rate this entry:





( 3 / 265 )
---
<<First
<Back
| 241 | 242 | 243 | 244 | 245 | 246 | 247 | 248 | 249 | 250 |
Next>
Last>>