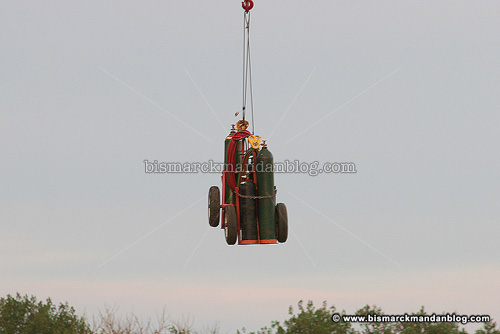 That's odd...driving across the Memorial Bridge, catching something out of the corner of your eye...and yikes! It's hovering oxy-acetylene tanks! It's just a coincidence that they happen to be at eye level from the bridge, but it's a pretty neat anti-theft technique for job sites.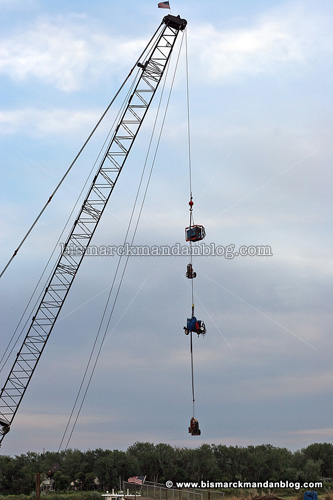 When the crew wraps up at the end of the day, they can simply gather any equipment that might grow legs overnight by appealing to would-be thieves and attach it to the cranes. They then lift it in the air, lock up for the night, and go home assured their equipment will remain until morning. It's not a bad plan.
So, unless you're a crane operator and a locksmith, you're out of luck trying to make off with any free equipment from this site. I've even seen some job sites where a 4x4 ATV hangs suspended from the crane...it's a clever and unique anti-theft mechanism, and I applaud whoever came up with this idea. I'm guessing it works pretty well!
[ 2 comments ]
( 36 views ) |
permalink
|
Click a dot to rate this entry:





( 3 / 414 )
---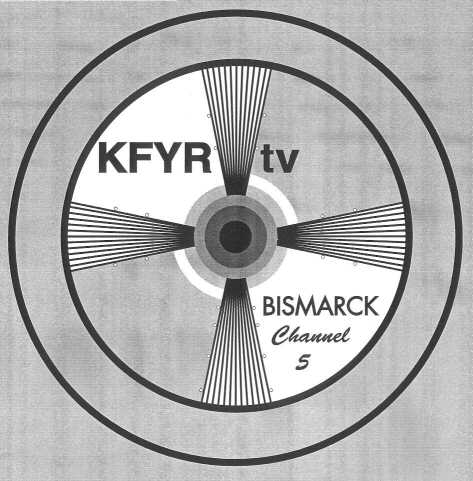 According to
filings last month with the FCC
, it's pretty much official. The stations currently held by North Dakota Television and South Dakota Television, a pair of LLCs, are being sold to a company called
Hoak Media of Dallas, TX
. The price is undisclosed but if you poke around enough you can find a figure of 86.8 million dollars.
Filings like this are applications for license transfers. Until those transfers are approved by the FCC, the sale isn't official. Really, though, it's a technicality. A company with an established broadcast presence like Hoak should have no problems with any license transfers.
I first heard about this through the grapevine back when Hoak still had their due diligence people running around North and South Dakota "kicking the tires." It's not surprising, although it's indicative of a sad trend in mid- to small-market broadcasting.
When I first interviewed at KFYR-TV in 1990, I figured that the mighty Meyer Broadcasting empire was a sign of stability. I actually had plans of going back to Bozeman for a video & film degree, but ended up going to college locally while working for the TV station. After all, they owned TV stations, radio stations, the cable company, a beautiful sound studio, a killer film & video production company in Fargo, print and broadcast media holdings in Poland, and later the NBC affiliate in Fargo as well. Little did I know that the business would be slowly parted out in due time.
It didn't seem like a big deal when the radio stations in Minot and Montana were sold. Later the cable company was sold for a staggering $44 million, a premium price for sure. The sound studio, which was designed by the same guy who built Paisely Park studios in Minneapolis for Prince, was sold and became Makoche. Snyder Film and Video was sold and I think is Media Productions now. KTHI, the NBC in Fargo, was converted to KVLY and is still part of the current TV group. The radio stations in Bismarck were sold to Clear Channel, then the TV stations to Sunrise Television.
The TV group were the last of the Meyer assets to be sold, as far as I know. We had a big meeting where somebody asked Judy Johnson, the owner at the time, what would happen to the Meyer Broadcasting name. She paused, shrugged her shoulders, and said something to the effect of "I don't know...if they want it, they can have it." You wouldn't believe the hush that went over the room! The legacy was gone.
Sunrise didn't appear to have the slightest idea how to run TV stations, and they unloaded most of their holdings as they went where dead corporations go. The North Dakota stations, however, were in a weird sort of limbo for a while... I don't think anybody knew who owned what! The FCC licenses ended up being owned by Wicks, a company that does mostly print advertising and stuff. Then they formed the North Dakota Television LLC, which has held the North Dakota stations since then. They also added some South Dakota stations, which appear to be part of this deal.
It was interesting that the NBC stations originally sold for the neighborhood of $55 million. Later on I believe the purchase price was around $35 million. So this time around, when I saw a purchase price of $88 million, I was pretty shocked. Okay, it includes some South Dakota TV stations too...but where's the money? If you know what local advertising rates are, it's hard to see the numbers add up.
I really wish that broadcasting was still left to the people who know how to do it, and not the bankers. I have yet to come up with a plausible explanation of how these companies make money. They appear to purchase stations, attempt to streamline them and whip their sales departments until they produce more dollars... only to sell the station a few years later for less money. Where's the profit at the end of this rainbow?
The only thing I can figure is that it's smooth talkers playing with someone else's money. Let's say I ask you to loan me $50 million to buy some TV stations. I take that $50 million, get the stations, then do what I have to in order to wring some money out of it. Every month (or quarter) I generate enough money to pay you the loan payment plus the interest, with a little bit of profit for me to keep. I play that game for a while until I unload the stations to some other guy so he can leech 'em for a while. Does that make sense? It seems to, except in the case of Sunrise. They sold for a lot less than they bought for. But then again, they didn't appear to have a clue about broadcasting from the start. And they ARE out of business.
Who wins here? The guys with the suits that play with all the money. You see, if they use the method I described above, they aren't playing with any of their own money. They get investors lined up, get a loan, reap the profits for a while, then sell out.
It's always someone else's money.
In the mean time, the employees walk around nervous all the time, the local customers get less for their dollar, and some guys in suits squeeze as much as they can out of this area. It's a sad state of affairs for local broadcasting.
I feel the need to disclose that I still freelance for ND Television, who are without equal in live sports in this area. I still have my keys and am planning to do some weekend newscasts this fall. Hopefully this sale doesn't change any of that. And I really hope it doesn't mean any upsetting changes for the people I've worked with.
[ 2 comments ]
( 78 views ) |
permalink
|
Click a dot to rate this entry:





( 3 / 438 )
---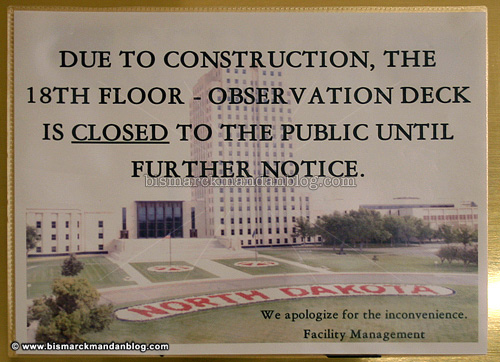 If you're one of those who, like me, enjoy the 18th floor of the North Dakota State Capitol, you're going to have to find something to replace it for a while. The observation floor is closed until further notice, likely for a year.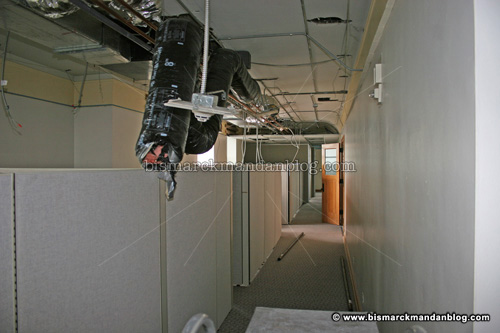 I was surprised to see these signs a few weeks ago, so what do ya do in such a situation? You ask someone "in the know." I'm not talking about someone at the info desk or any other Capitol employee. No, I'm referring to someone who's actually doing the job. So, I poked around upstairs where all the carpet, electrical, and cubicle work was going on. I ran into a nice guy who explained that, once they got the sprinkler system going, the 18th floor is going to be used for intermediate offices while the floors below it are being remodeled.
While the 17th floor is undergoing its updates, the employees from there will be on the 18th. Then they'll move back down a floor and the people from the 16th will move up two floors for a while. And, as far as this guy was aware, that was going to be the case for floors 15-17 only. I just hope that they get done soon so we can go up to the observation floor again as soon as possible.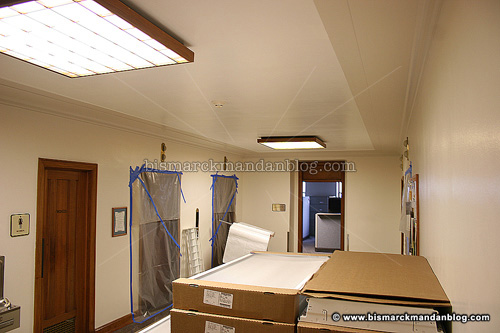 The floors below are stacked with construction materials already, at least they were when I took these pictures. I'm going to miss the ol' 18th floor for a while. It's fun to get good cloud pictures from there, look at the historic photos they have posted up there, or even just count the sunroofs in the parking lots below. It's also good exercise, as I take the stairs instead of the elevator.
If you were planning a trip to the top of the Capitol any time soon, don't bother! Go to the Heritage Center or the State Library instead. When it opens again, you'll see more pictures here.
[ add comment ]
( 2 views ) |
permalink
|
Click a dot to rate this entry:





( 3 / 467 )
---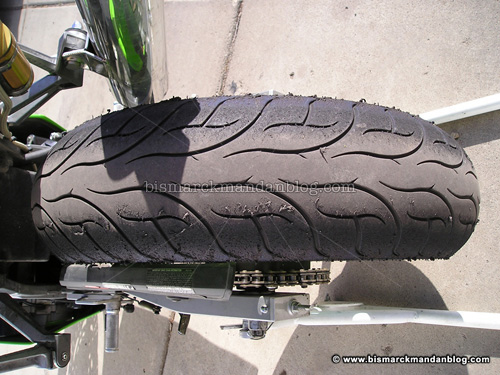 I forgot I had even taken this picture, I found it this weekend. This is what a tire looks after a race. One would think that it's in awful condition, but that's actually how they're supposed to look. Race tires are vastly different than street tires.
One's first impression of a "race tire" might be that it's super sticky. Not at first; in fact, race tires are harder than street tires until they get hot due to high speed and extreme cornering. It's unlikely you'll ever see a race tire get hot enough on the street to look like this one, especially on North Dakota roads. I've gotten street tires close, but that's a different matter.
The rubber balled up on the edges is also normal; it's the balled-up gummy rubber on the edges that helps with traction at extreme lean, when I'm dragging my knee on the ground. The track surface at the edge of the racing line will typically have lots of little flung rubber balls on it.
Once these tires do get up to temperature on the track, though, they're sticky like you wouldn't believe. One time at Brainerd I crashed in the super tight corner nicknamed the "Bus Stop," because that's where everybody gets off at one time or another. While we pushed my bike through the gravel trap to transport it back to the pits, gravel rocks the size of quarters were stuck to the tire like sprinkles on a donut. Now THAT is a sticky tire!
I know this post didn't really have a local theme to it, but I've really been pining for the track lately. Having a baby on the way really has me doubtful about returning to racing in the future, although I'm just about bursting with the need to turn some hard laps!
[ add comment ]
( 2 views ) |
permalink
|
Click a dot to rate this entry:





( 3 / 457 )
---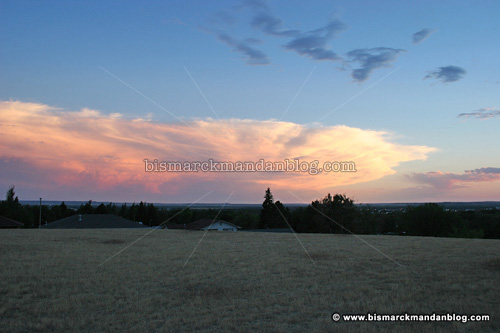 The sunset on Friday night didn't look like it was shaping up to be anything particularly spectacular, but then I noticed that the real show was going on in the southern sky. This enormous cloud formation had not only dramatic lines but also a brilliant array of color from the setting sun.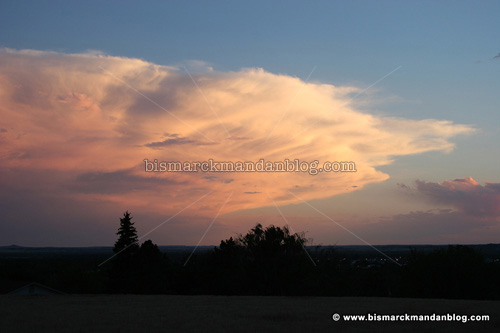 This cloud faced the sun with a huge upswept front, catching a big chunk of the spectrum from top to bottom. As we watched from Hillside Park, it slowly faded from pink to blue as the sun crept beyond the horizon.
What's neat about clouds like this is that they tend to get their color after the sun has appeared to set to those of us on the ground. With that in mind, you can enjoy a beautiful sunset, then turn to any really tall clouds in the area and take in all the colors they catch from 20,000 to 30,000 feet. Their colorful show doesn't begin until the sun reaches the horizon from their point of view. It's like two shows for the price of one...except they're free already.
[ 1 comment ]
( 14 views ) |
permalink
|
Click a dot to rate this entry:





( 3 / 447 )
---
<<First
<Back
| 293 | 294 | 295 | 296 | 297 | 298 | 299 | 300 | 301 | 302 |
Next>
Last>>