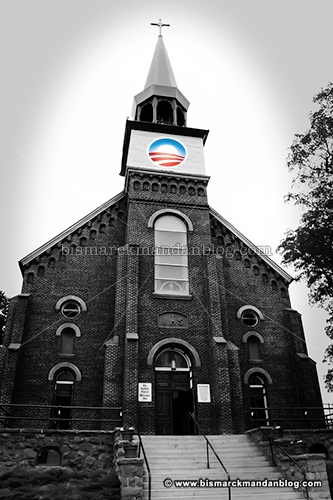 On my way out of the office earlier this week, I saw Monica Hannan open "First News at 5:00" with a story touting an interesting poll. It claimed that a majority of Catholics' opinion of President Obama hadn't changed in light of the Obamacare mandate on "contraception."
I was surprised to hear this poll reported as credible on KFYR, because it ignores two very important facts:
1- The pro-abort crowd has WON this issue if they continue to refer to it as a "contraception" issue. Go back to those same professing Catholics, poll 'em again
AFTER
reminding them that the mandate also includes
ABORTION
drugs. Look up what an "abortifacient" drug is, or a "morning after" pill. Guess what: the Catholic church is going to have to hand
THOSE
out too. My guess is that at a
LOT
of Catholics who don't mind strapping on prophylactics in defiance of the Pope would have a real problem with handing out abortion drugs!
2- It's not just an issue of contraception, or even abortion. It goes far more fundamental. Let's simplify the scenario for a second:
Government: "Hey, church - we want you to do 'X' and we're going to require it by law."

Church: "Um...no. 'X' is against our beliefs and teachings, and has been for centuries."

Government: "Well, that's too bad. We're going to make you do 'X' anyway. After a week of bad press, we'll claim it's the insurance companies paying for 'X', but you're still going to do it. Besides, your membership's doing 'X' in secret anyway...regardless of your church's belief."
So what's the right answer for the churches or practicing Catholics to give here? I'll give you a hint: it's NOT one of acquiescence.
And by the way, it's
NOT
just a Catholic issue. Just because Christian churches don't have a tenet forbidding contraceptives, they are
ALL
united against abortion. That's what brought Catholic, Christian, Jewish, and even Muslim groups together in unity against this mandate. But you don't hear anything about that anymore, do you?
This is how the media works to further leftist agendas: with a vacuum. They locked the issue of mandatory government-funded abortion into a vacuum chamber, and only reported on "the contraception issue." Not only did that take the worst part of the issue out of the argument completely, but it also sliced those unified groups apart and focused only on the Catholic church, an organization liberals knew they could easily roll over. Divide and conquer, 21st century style.
I'm not surprised at how many Catholics have fallen hook, line, and sinker for it...given the fact that the Catholic Church has given in to liberal progressivism long ago in what
Paul Rahe calls "Catholicism's Pact with the Devil."
[ 2 comments ]
( 38 views ) |
permalink
|
Click a dot to rate this entry:





( 3 / 133 )
---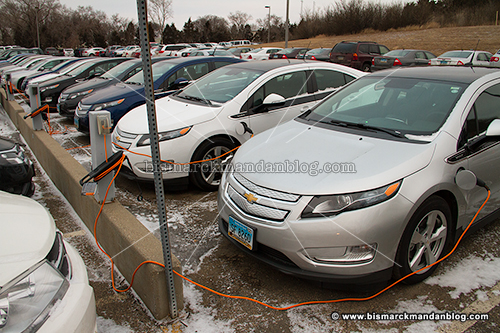 The state fleet grew by ten this week as the DOT purchased several Chevy Volts. These are electric cars with a range of about 40 miles, so I don't think anyone will be running from Bismarck to Fargo (or Minot, or Glen Ullin for that matter) with them without kicking in the backup gas-powered generator. I wonder if they'll make interesting little git-around-town vehicles. They're going to be distributed around the state to the eight motor pool regions for state employees to use on official business. GM has suffered dismal failure in trying to convince the general public to buy these things, so I hope the state was able to leverage a sweet deal before spending our tax dollars on them.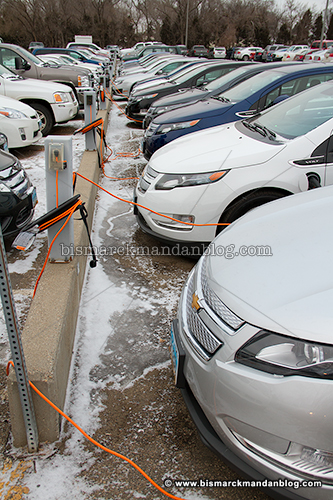 If you sense apprehension in my words, don't get me wrong. I'm not fundamentally opposed to electric cars; I think it's a good idea to explore new technologies. After all, the "brick" cellular phone of the 90's had to precede the smartphones of today. What I do oppose are any simpletons who claim they're "saving the Earth" by purchasing one. Apparently people like that think their outlets are juiced by the Electricity Fairy or something. Let's face it: these things are NOT going to be charged by windmills or solar panels...period. Thankfully I don't get the impression that anyone at the state is making any of these pie-in-the-sky claims. This isn't the first set of electric vehicles to frequent the capitol; there are still some
GEM electric vehicles
in use as well.
All "saving the planet" BS aside, I don't know if I see these things as nearly as big a boondoggle as the state's fascination with ethanol blended fuels. Those are a sure-fire loser, with less thermodynamic potential than gasoline, propped up by taxpayer subsidies in a perverse shell game, while wreaking havoc on the food market. These cars are drawing power from North Dakota lignite-fired power plants, and we can be quite proud of that. I just try not to think of the fact that
each one of these cars may already have as much as $250,000 in taxpayer money already subsidizing it.
[ add comment ]
( 10 views ) |
permalink
|
Click a dot to rate this entry:





( 3 / 145 )
---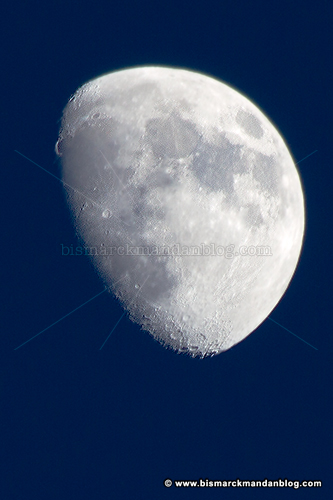 Okay, I'll admit there is no rabbit in this photo, so don't bother looking. That was just a hat-tip to the song playing in my iTunes right now, "Rabbit in the Moon" by Scott Hardkiss. There is, however, one really cool feature of this photo. Did you pick it out? In the upper left, right along the terminator, is an illuminated rim of a crater that stands out from the rest.
The terminator is not Arnold "GIT TO DA CHOPPA" Schwarzenegger when we're talking astronomy; rather, it's the line between day and night, light and dark, the illuminated and non-illuminated part of a moon or planet. Notice the nice, gentle gradient of the terminator's edge...and how it's boldly interrupted by the rim of the crater. Cool, huh?
I took this photo in the late afternoon, some might say early evening. It's the best time to photograph the moon because the sky behind it isn't dark. While properly exposing for the detail in the moon, you still get some color in the sky surrounding it. At night all you get is a bold white or gold disk in a sea of black. I suppose that's fine if that's what you're going for, but I prefer to show a little bit of blue.
[ add comment ]
( 7 views ) |
permalink
|
Click a dot to rate this entry:





( 3 / 131 )
---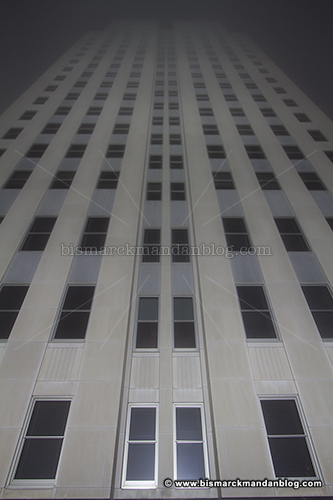 One interesting bit about the fog this weekend was that it made things nearly impossible to see from a distance, including the landmark capitol building! Even from the pioneer statue at the bottom of the capitol mall the building itself was completely obscured. That gave me an idea, and it kinda worked out the way I planned.
The plan was for the capitol to actually vanish into the fog as I perched at the bottom. Interestingly, the fog didn't work that way; while it was certainly thick enough looking horizontally through it, the fog wasn't dense enough to totally obscure things while looking vertically while remaining as close to the building as I wanted. Standing far enough away to allow the building to be obscured by fog blew the perspective I wanted to achieve. In any case, it's still a neat photo even if the effect is somewhat less than I'd anticipated. I didn't freeze my fingers for nothing.
While I didn't bump into him, it turns out I wasn't the only other photographically inclined person poking around the capitol grounds at night. Check out a brief video of the weekend's foggy festivities by Sam Sprynczynatyk by
clicking here
!
[ 1 comment ]
( 15 views ) |
permalink
|
Click a dot to rate this entry:





( 3 / 81 )
---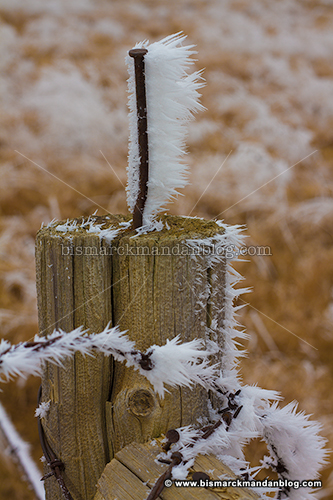 Yesterday I took advantage of the conditions and bolted out to some of my favorite rural haunts to see what the weather had in store. I knew the night fog would leave behind some photogenic traces, but also that I needed to find the right location to capture them. Out of town, the spikes of frost were up to an inch long!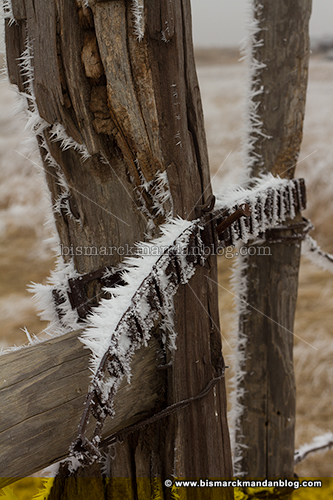 I was in a little crunch for time and burned much of it pursuing a snowy owl without result, so I mostly hung around this one fence. It had a really cool way of securing the gate, using a chain from an old thresher or bailer. Naturally such a neat metal structure was the perfect place for frost to set up shop, and I was there to catch it.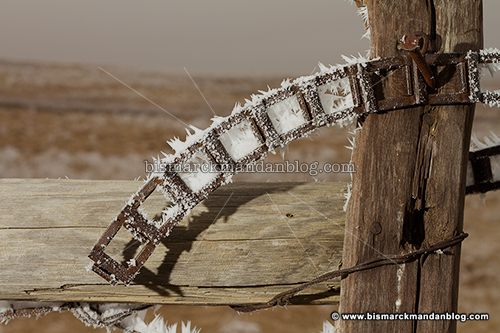 Daylight began to break later in the day, and I actually came back after we got the afternoon's festivities handled. Most of the frost was gone from the fences, but a few low-lying areas and shady spots were still adorned with what my four year old said resembled a porcupine's quills.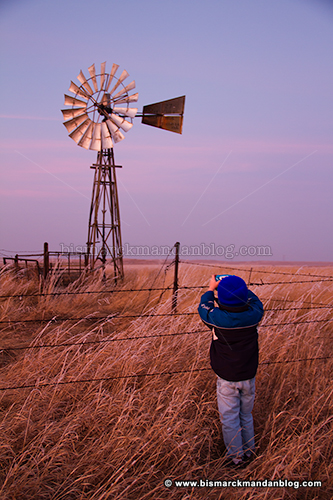 Yes, that's right...I didn't come out here alone! I had one of my little guys along for some quality Daddy time. We had a blast just roaming around and talking, and we even spotted a new windmill for our collection! He has the same fascination with these structures as I do. We got to take some photos here, and I got to let him touch and break off some of the frosty spikes and see how they felt and melted.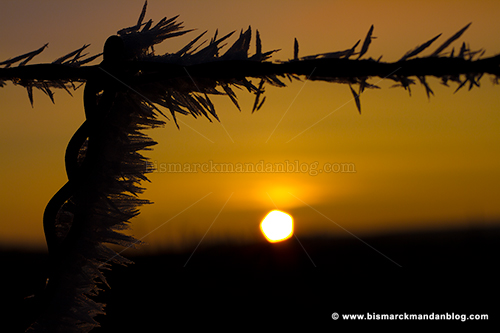 As soon as it started, the day came to an end. The sun approached the horizon and we began our journey back to town. We got to witness some of the wonders of God's creation, had some great Daddy-son time, got some cool photos, marked a new windmill in the GPS, and simply had ourselves a glorious day.
[ 1 comment ]
( 13 views ) |
permalink
|
Click a dot to rate this entry:





( 3.1 / 110 )
---
<<First
<Back
| 38 | 39 | 40 | 41 | 42 | 43 | 44 | 45 | 46 | 47 |
Next>
Last>>