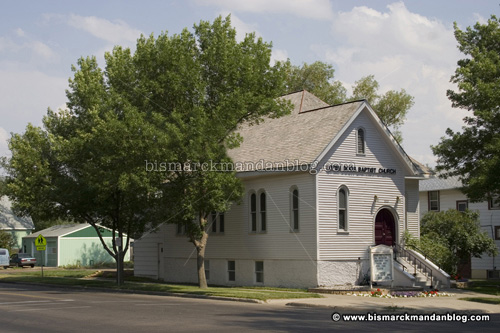 Open Door Baptist Church, the "little church on the corner" of 7th and Avenue C, is holding its annual Missions Conference this week, with a variety of missionaries in attendance to present their work overseas.
Missionaries from a variety of places, from Nepal to Malawi to communist countries in Europe and Asia, are presenting their work and preaching Bible messages on the subject of missions, evangelization, and prayer. They get to share their stories of trials and successes, blessings along the way, and the lives of the people they serve.
There's a service tonight at 6:30 pm as well as the regular Sunday services: Sunday School at 9:30 am, morning service at 10:30 am, and an evening service at 5:00 pm.
If you want to hear the testimonies of some remarkable missionary families, pay the folks at Open Door Baptist Church a visit this weekend!
[ add comment ]
( 5 views ) |
permalink
|
Click a dot to rate this entry:





( 3 / 281 )
---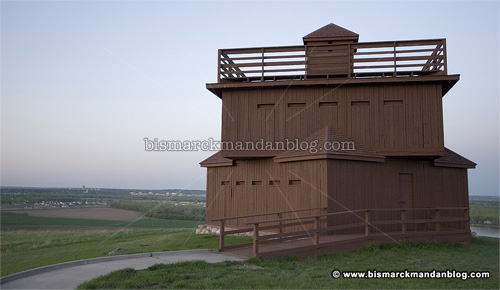 Out on a drive the other night, I decided to see how the blockhouses would look at sunset. I had my family with me in the truck, and we went good ol' Fort Lincoln. I like North Dakota parks and the opportunity to support and enjoy them, but I have to give Fort Lincoln a big "thumbs down" for this trip.
It's five bucks to get into the park. If you approach after hours, just slip a fiver into one of the envelopes at the gate and drop it in the slot. That's what I typically do. Then you're free to roam about the park, including a short drive up the hill to the blockhouses. The only problem is: the gates to the blockhouses were locked! There's a sign next to them indicating "GATES LOCKED AT DARK." Fine, but it wasn't even close to dark yet. This is the second time this has happened to me, and I'm getting really tired of not getting my money's worth. In fact, on my desk I have a ND State Historical Society Foundation membership form ready to send in. Part of the benefits include free admission to state historic sites. What good would that be if the gates continue to be locked?
My wife is a saint. She said that if I wanted to hike up the hill instead, grab a quick couple of shots when the sun got to the horizon, and bolt back down...well, that was fine with her. I did so, not really getting any decent shots at all, but collecting TEN wood ticks. It was almost a tick a minute on that hike, since I had forgotten to apply any insect repellent. I found nine that night and one the next morning. I was working on a DVD and felt a tickle on my neck and...YIKES! Then I had the creepy-crawlies all day long.
If you're thinking about going out to Fort Lincoln, just park on the north end and hike in for free. You'll save five bucks and achieve the same result. And don't forget to take a can of OFF or another type of tick repellent. They're crazy this year!
[ 3 comments ]
( 70 views ) |
permalink
|
Click a dot to rate this entry:





( 3 / 265 )
---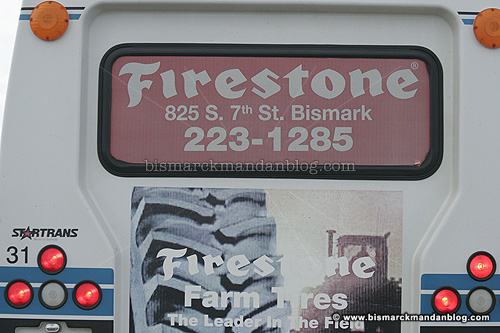 There's a TON of construction going on out there these days, much of it along my daily route. So what does one do while stuck at a standstill because some dork wants to turn left in the middle of a construction zone? Pull out the camera and take a photo of the misspelling of "Bismarck" in the window of the
Bis-Man Transit
bus in front of me, of course!
I'm pretty sure Bis-Man Transit doesn't make the window stickers, and neither do most of their advertisers. With that in mind, I'm sure that both BMT and Firestone employees know how to spell Bismarck. As far as the ad agency or printer who made this decal...well, they need to go back to school!
This sign has been on the bus for a long time, as its Firestone Red has faded to a faint communist pink. I wonder if anyone's told Firestone that their ad has Bismarck spelled wrong, and that they should get their advertising account credited for the blunder? I mean, if I was paying for someone to drive around town with my business name on their bus, I wouldn't want to be associated with spelling my own city wrong. What if someone thinks it's my fault and doesn't visit my business as a result? It's a stretch, but people are wacky that way. I would want my money back, or at least some free ads (with the spelling corrected, of course).
[ 2 comments ]
( 24 views ) |
permalink
|
Click a dot to rate this entry:





( 3 / 315 )
---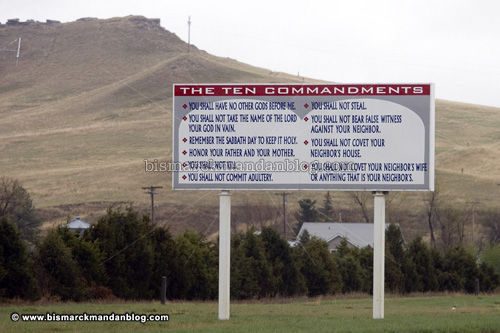 Although I've only had a few opportunities to pass through Alexander, for some reason it remains one of my favorite small towns in North Dakota. Working for the state DOT I've often been able to stay in small towns and go walkabout to explore what they have to offer. In fact, my experiences working around the state for the DOT's Planning Division are what gave me my love of North Dakota in the first place...how's that for a formative experience?
One of my favorite qualities of Alexander these days is the Ten Commandments sign posted on the edge of town. I don't know who posted it, and I don't know whose property it's on. I just know that I like it. My travels for work had me working a rare Saturday gig this weekend, and also sent me up Highway 85. Thus I had the chance to pull over for a second and get a photo of this sign. I think more communities should have one of these!
On a side note, the western part of the state got a LOT of rain yesterday. I was disappointed to hear that Bismarck did not get the same. As we worked our way through western North Dakota and northward, the rain even threatened our visibility at times...and the North Unit of the TR Park was fogged in! That's an unusual Badlands photo. I only got one shot due to time constraints, and didn't even get out of the car. But it still turned out pretty cool.
[ 3 comments ]
( 61 views ) |
permalink
|
Click a dot to rate this entry:





( 3 / 384 )
---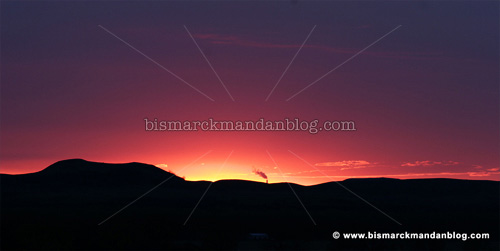 The sunset from Double Ditch on Friday night actually wasn't very remarkable. As my family and I prepared to leave, however, we caught a hint of pink in the clouds to the east. The sun was up to something on the horizon, past the clouds that were obscuring our view! I turned north instead of south, to see if we could get a good view, when I noticed this sunset on the western horizon.
These are bluffs just north of Double ditch, with a little bit of a stack from Center to give perspective. I saw the color start to develop just over the horizon, set the tripod and got the camera ready, and then the deep, brilliant reds began to show. We took PJ out for his first sunset with mommy and daddy Friday night, and the skies did not disappoint us! We just had to work a little harder to see it.
[ 1 comment ]
( 17 views ) |
permalink
|
Click a dot to rate this entry:





( 3 / 241 )
---
<<First
<Back
| 241 | 242 | 243 | 244 | 245 | 246 | 247 | 248 | 249 | 250 |
Next>
Last>>