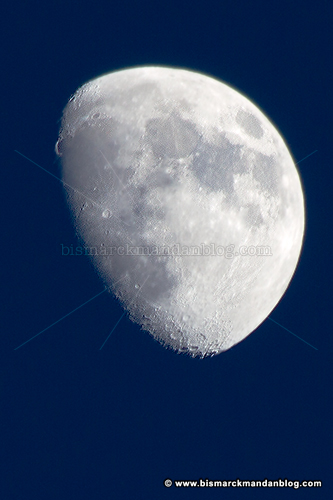 Okay, I'll admit there is no rabbit in this photo, so don't bother looking. That was just a hat-tip to the song playing in my iTunes right now, "Rabbit in the Moon" by Scott Hardkiss. There is, however, one really cool feature of this photo. Did you pick it out? In the upper left, right along the terminator, is an illuminated rim of a crater that stands out from the rest.
The terminator is not Arnold "GIT TO DA CHOPPA" Schwarzenegger when we're talking astronomy; rather, it's the line between day and night, light and dark, the illuminated and non-illuminated part of a moon or planet. Notice the nice, gentle gradient of the terminator's edge...and how it's boldly interrupted by the rim of the crater. Cool, huh?
I took this photo in the late afternoon, some might say early evening. It's the best time to photograph the moon because the sky behind it isn't dark. While properly exposing for the detail in the moon, you still get some color in the sky surrounding it. At night all you get is a bold white or gold disk in a sea of black. I suppose that's fine if that's what you're going for, but I prefer to show a little bit of blue.
[ add comment ]
( 7 views ) |
permalink
|
Click a dot to rate this entry:





( 3 / 131 )
---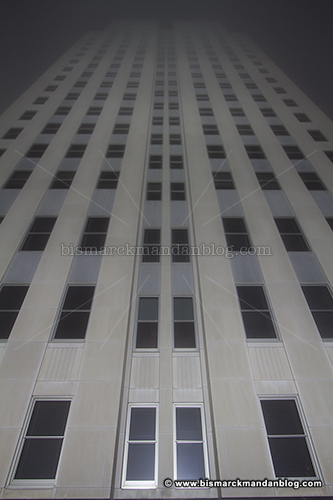 One interesting bit about the fog this weekend was that it made things nearly impossible to see from a distance, including the landmark capitol building! Even from the pioneer statue at the bottom of the capitol mall the building itself was completely obscured. That gave me an idea, and it kinda worked out the way I planned.
The plan was for the capitol to actually vanish into the fog as I perched at the bottom. Interestingly, the fog didn't work that way; while it was certainly thick enough looking horizontally through it, the fog wasn't dense enough to totally obscure things while looking vertically while remaining as close to the building as I wanted. Standing far enough away to allow the building to be obscured by fog blew the perspective I wanted to achieve. In any case, it's still a neat photo even if the effect is somewhat less than I'd anticipated. I didn't freeze my fingers for nothing.
While I didn't bump into him, it turns out I wasn't the only other photographically inclined person poking around the capitol grounds at night. Check out a brief video of the weekend's foggy festivities by Sam Sprynczynatyk by
clicking here
!
[ 1 comment ]
( 15 views ) |
permalink
|
Click a dot to rate this entry:





( 3 / 81 )
---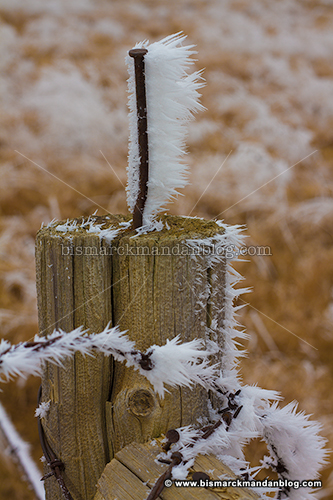 Yesterday I took advantage of the conditions and bolted out to some of my favorite rural haunts to see what the weather had in store. I knew the night fog would leave behind some photogenic traces, but also that I needed to find the right location to capture them. Out of town, the spikes of frost were up to an inch long!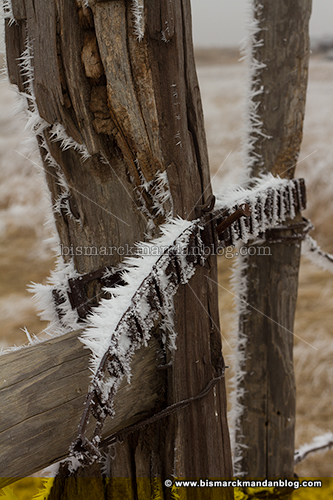 I was in a little crunch for time and burned much of it pursuing a snowy owl without result, so I mostly hung around this one fence. It had a really cool way of securing the gate, using a chain from an old thresher or bailer. Naturally such a neat metal structure was the perfect place for frost to set up shop, and I was there to catch it.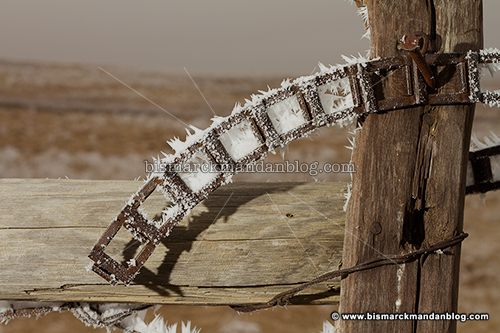 Daylight began to break later in the day, and I actually came back after we got the afternoon's festivities handled. Most of the frost was gone from the fences, but a few low-lying areas and shady spots were still adorned with what my four year old said resembled a porcupine's quills.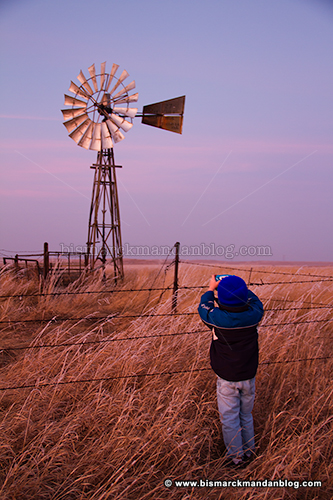 Yes, that's right...I didn't come out here alone! I had one of my little guys along for some quality Daddy time. We had a blast just roaming around and talking, and we even spotted a new windmill for our collection! He has the same fascination with these structures as I do. We got to take some photos here, and I got to let him touch and break off some of the frosty spikes and see how they felt and melted.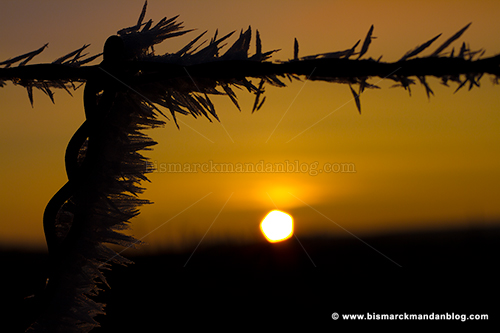 As soon as it started, the day came to an end. The sun approached the horizon and we began our journey back to town. We got to witness some of the wonders of God's creation, had some great Daddy-son time, got some cool photos, marked a new windmill in the GPS, and simply had ourselves a glorious day.
[ 1 comment ]
( 13 views ) |
permalink
|
Click a dot to rate this entry:





( 3.1 / 110 )
---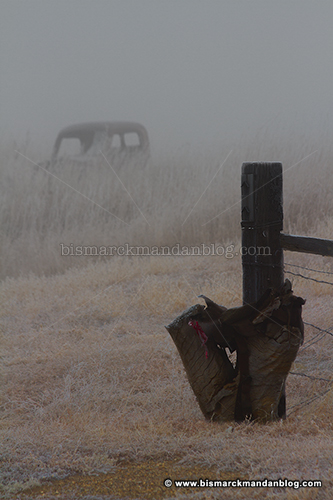 I took the day off today to accompany my little fellas on a field trip and then to teach a quick introductory karate lesson to the group of kids. Getting up early, I realized there was a lot of fog and just enough time available to bolt out east of Bismarck and look for something frosty. Bonus.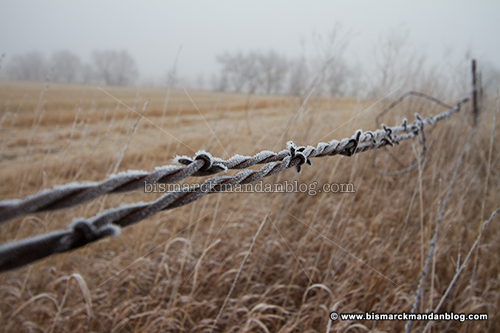 Barbed wire is always a safe bet if there is frost about. Not only is it a good candidate for frost to form, but it's also quite photogenic in the first place. A while back, when I bought and outfitted my new camera, I had to sell my beloved macro lens in order to afford some accessories (I'm still smarting from that). Even so, I have a couple of lenses in my kit that do a remarkable job of interesting closeups when the situation requires.
[ add comment ]
( 8 views ) |
permalink
|
Click a dot to rate this entry:





( 2.9 / 86 )
---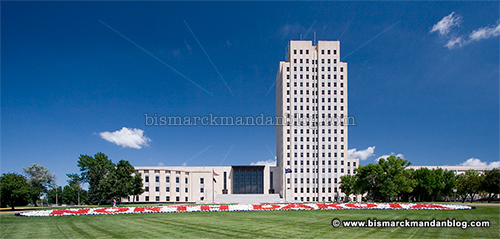 I haven't been able to reconcile the philosophy that a centralized government is a
bad
thing with the philosophy that putting all local spending in the hands of a centralized state government is a
good
thing. The problem with the property tax lies with local governments, and that's where it needs to be fixed. Measure 2 will not accomplish this. In fact, I think it's an example of bad mechanics.
Our legislature meets part time for eighty days every two years...
that
is supposed to be sufficient to take on the responsibility of managing ALL local spending for the state? Not likely. Just the support structure required for the legislature to assume the additional oversight duties would amount to a huge balloon in spending and bureaucracy - and we all know how well
that
works out for the general citizen.
State spending under the guidance of our legislative body has soared time and time again, with no apparent frugality to be found anywhere. Now, according to Measure 2 proponents, this same legislative body is expected to be the responsible party and rein in all this rampant overspending and over-taxation by the local government bodies. These same local entities, I might add, have a pretty decent lobby already in place with the Association of Counties et cetera. Riiiiight. Am I the only one who lacks faith in the fiscal virtue of our legislature? What happens if the Democrats ever get control of it someday and cut loose the purse strings even further?
Remember Governor Hoeven's ill-fated "property tax relief"? It was a shell game which did little if anything to relieve property taxes in the short term, but it hung the issue squarely around the neck of the state legislature. I remind you that the legislature neither levies nor collects property taxes - but thanks to this blunder, they own it in the eyes of the people.
I read another interesting point about rural counties a while ago. Much of the land in these counties is owned by non-residents. If the property tax goes away, it will not be replaced by income or sales tax from these people; they're not here to pay it. This will in essence defund many counties, instead requiring the rest of North Dakotans to ante up to pay the difference.
This proposed measure, Measure 2, is an ill-fitting band-aid. We all agree that local (city/county) governments are abusing their power to spend money, assess property values, and levy property taxes; however, this measure does nothing to address that. It takes the idea of spending out of the hands of one bunch of free-spenders and puts it in the hands of another, one which meets once every two years, is barely allowed enough time to finish its business, and has proven itself no more responsible with taxpayer dollars than the local entities this measure aims to dethrone. The stand against abusive property taxes, if it really wants to enjoy any measurable success, needs to be taken at the local level...period.
[ 3 comments ]
( 34 views ) |
permalink
|
Click a dot to rate this entry:





( 3 / 120 )
---
<<First
<Back
| 38 | 39 | 40 | 41 | 42 | 43 | 44 | 45 | 46 | 47 |
Next>
Last>>