Now it's been announced that Parrell Grossman is going to run for a spot on the city commission. I haven't spoken to him personally for a long time but my impressions of him then were very good. I was pursuing an article on "identity theft" (the term had not been coined yet) and talked to him for a while in his office at the capitol. He's got experience with the school board too. Maybe some hard stats on his record with them will surface toward the upcoming election. In any case, I welcome him to the race.
On a side note, the next City Commission meeting will be next Tuesday, February 14th. It's in a conference room in the basement of the City-County Office Building on 5th & Thayer. I won't be there...if I skip Valentine's Day dinner with my wife to go to that meeting, it had better be to seek asylum! (just kidding) But you can watch it live on CATV or online at
freetv.org.
They replay it once too. Check their schedule online.
If you don't play a part in city government, or at least keep an eye on what they're doing, you pretty much waive any right to complain as far as I'm concerned.
[ 1 comment ]
( 19 views ) |
permalink
|
Click a dot to rate this entry:





( 3 / 555 )
---
I remember when Ed Schafer was the governor of ND. It was common to see him jogging in the mornings near Tom O' Leary on the path, or even on Burnt Boat Road. And it was refreshing to see that the governor, the chief executive and commander in chief of our state, is able to go jogging in the morning without a motorcade or entourage of thugs to protect him. I like that kind of simplicity.
Fast forward to today...I saw a guy biking to work who reminded me of my friend Tom, who unfortunately died of a brain aneurism a few years ago. This despite religiously watching his diet and exercise, living perhaps healthier than anyone I know. As I drove by he looked suspiciously like assistant city attorney Paul Fraase. Right on, Paul! It was a nice day for a ride to work, if you keep your eye out for the ice. If it wasn't Paul, oh well..mistaken identity. Due to the wool hat, I'm sure.
Not that an assistant city attorney is a huge bigwig (sorry, Paul), but it's just nice to see our city officials out being PEOPLE. Plus, it's nice that he doesn't have to have a driver bring him into work in case the mob wants to wack 'im. Just like seeing the Sprynczynatyks (did I get it right, Connie?) at the movies a while back. We live in a small enough area that our officials can still just be normal people. With all the growth in this area, I sure hope it stays that way.
[ 1 comment ]
( 31 views ) |
permalink
|
Click a dot to rate this entry:





( 2.9 / 541 )
---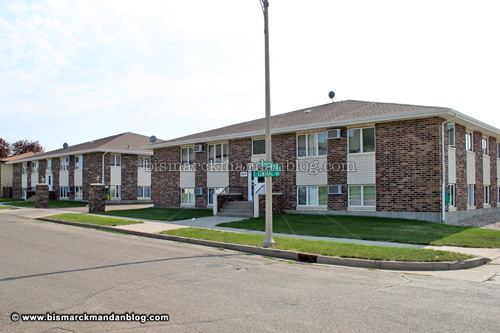 ...but you have to make it look that way. Yet we've got the 21st century version of the carpetbagger in North Dakota. I consider Dorgan a Virginia resident, although I'm sure he has a nominal address here in ND to hang on to his cushy Washington gig. He comes around to express concern about all the problems his fellow North Dakotans face, then zips back home. Yet our water intakes along the Missouri River system are sucking mud, farm prices and inequities with Canada haven't gotten better, and he votes with his California Cronies™ instead of in line with the more level-headed folks he's supposed to represent.
So what about Senator Conrad? At least he cast North Dakota's vote when it came to confirming Judge Alito, but would that have happened in 2004 or 2005? I think it was an election year vote. The biggest thing about politics is being there...whether you're a Republicrat or a Demican. So I trust all Congressmen to vote in one way: whatever lengthens their stay.
Back to the point of this post: Check out this picture. Supposedly our Senators Conrad and Dorgan inhabit these two meager little 8-unit apartments paired up in North Bismarck. It's not exactly prime real estate. They're not even security buildings. I lived here once...I wonder if the Senators and their wives have the same 70s-throwback olive green carpeting and appliances I did?
Hardly the kind of digs you'd expect for United States Senators, unless only their names live there. I've never seen them there. I haven't lived there in years, but their names were on the mailboxes when I got there in the mid-90s and it's still there today. So, I guess that makes them North Dakota residents...technically. Unless it's some random schmucks with the same name (and living with a Lucy Calautti and Kim Dorgan. It can happen...right?)
I recently looked up who owned these buildings, and they're owned by GKC Apartments, LLC. It appears to be a partnership set up by Kent Conrad, and I don't know who else is involved. When I lived here the lady managing the property told me that the Senator's brother owned them; I originally thought that would be Dorgan's brother, but a little further investigation showed that "Conrad Brothers" was listed in the county records. In 2004 a quit-claim deed was filed to transfer the property to GKC Apartments. I assume GKC stands for
Gaylord Kent Conrad
, which is Kent's real full name.
Anyway, it's good to see that our two Senators get along so well that they decided to be neighbors. After all, that will help them coordinate their efforts to bring all those federal dollars home. Maybe then we won't care if they sell our state's soul to the devil and Nancy Pelosi.
Note: I promised (see the upper right panel) that this isn't going to be a political blog, although I might be prone to a rant infrequently. Chalk this one up. Now it'll be a while until you see another.
[ add comment ]
( 4 views ) |
permalink
|
Click a dot to rate this entry:





( 3 / 610 )
---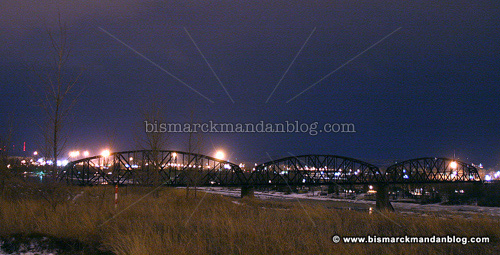 Taken after dark, about 3 seconds exposure. Unfortunately a train had just gone by, I wanted to get that whole "streaking headlight" thing but missed my opportunity. I didn't feel like standing around in the cold for much longer.
Some inspiration credit due to
Little Green Footballs
...I always planned to post pics every few days when I got this blog idea, but the way I title the posts bears shocking resemblance to Charles' site. Is unintentional imitation still the sincerest form of flattery?
[ add comment ]
( 3 views ) |
permalink
|
Click a dot to rate this entry:





( 3 / 569 )
---
First off: I'm like a lot of guys...I'd buy more dress clothes if 1) I only knew what the heck I was doing, and 2) I had any idea what my size is and how to buy stuff that fits nice. I was in luck Sunday. An older gentleman there by the name of Dick came up to me and started out by helping me find my shirt size. This guy helped me out as if I was at a custom tailor. So we ventured over to the suits after finding my proper shirt size.
I've been meaning to get another suit (I love suits) and they were 50% off yesterday. So with Dick's help I tried on a few, he explained how they should fit in the shoulders, waist, and sleeves, and we found one that worked perfectly. He spent all the time necessary to make sure both my wife and I understood what we were trying to achieve in fitting a suit. All the while he was very professional, courteous, and great conversation.
At one point another customer came up with a question. He explained that he was fitting a suit and couldn't help them right away, apologized, and found another employee to help them. Talk about feeling like I was being attended to - again, as if I were at a custom tailor. I forgot I was in a department store.
Employees seem to be treated as a disposable commodity these days, especially since many of them seem incapable of proper customer service. A gentleman like this suit salesman at JC Penney stands out as one in thousands, perhaps even more rare than that. I am going to buy
all
my dress clothes from JC Penney in the future, as long as a guy like Dick works there to help me out.
So, if you're like most guys - willing to dress up, but uncertain about (even intimidated by) shopping for dress clothes,
go to JC Penney and see this man.
You'll be glad you did.
Aside: I value good customer service and professionalism in general more than most, or at least I make a bigger deal about it. When I have a positive experience at an establishment, I make sure that someone in charge knows about it. They need to; most of the time the only people who seek out a manager are the angry ones. Employees who go above and beyond deserve recognition, and I am always more than happy to give it.
[ add comment ]
( 4 views ) |
permalink
|
Click a dot to rate this entry:





( 3 / 570 )
---
<<First
<Back
| 334 | 335 | 336 | 337 | 338 | 339 | 340 | 341 | 342 | 343 |
Next>
Last>>