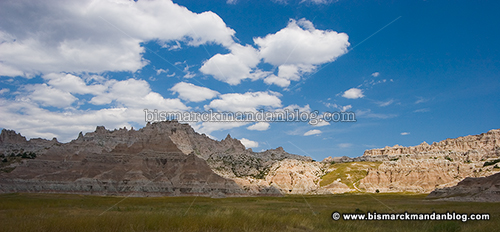 I see it's supposed to be
cloudy and miserable
this weekend, so I thought I'd brighten up Friday a bit with a sunny scene from the Badlands. I took this photo last Friday. What a difference a week can make. Actually, considering the weather that blew in about twenty minutes after this photo was taken, I guess one could say what a difference a few minutes can make! That's life in the Dakotas.
[ add comment ]
( 10 views ) |
permalink
|
Click a dot to rate this entry:





( 3 / 378 )
---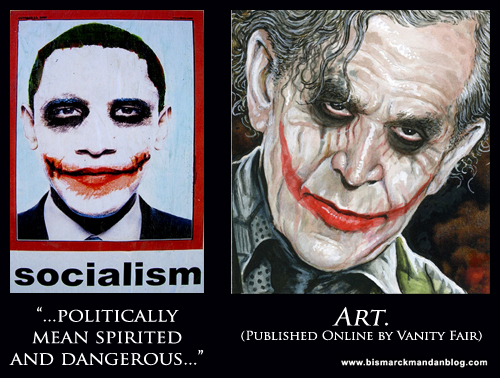 Regardless of what you think about either President, you cannot be intellectually honest and yet think that this sort of thing is appropriate for one President and not the other. Either it's appropriate for both or neither. Personally I prefer to have more respect for the office of President, regardless of who's holding it...but the left seems to have skewered that concept long ago.
The argumentative part of me wants to say, "there you have it, lefties. You wrote books about assassinating President Bush, you called him Hitler, you made 'art' depicting him as a monkey, and every other demented thing you could think of. See how you like it when it's your messiah getting the treatment." Frankly, I don't care to stoop to their level.
I see that some people are
trying to make a buck off this
.
While I'm not a frequent visitor of her site, I noticed today that
Michelle Malkin
has some examples of the tolerant left's treatment of our 43rd President.
[ add comment ]
( 11 views ) |
permalink
|
Click a dot to rate this entry:





( 3 / 285 )
---
Our greatest generation denied care, our next generation denied life. Hope™! Change™!
[ add comment ]
( 11 views ) |
permalink
|
Click a dot to rate this entry:





( 3 / 259 )
---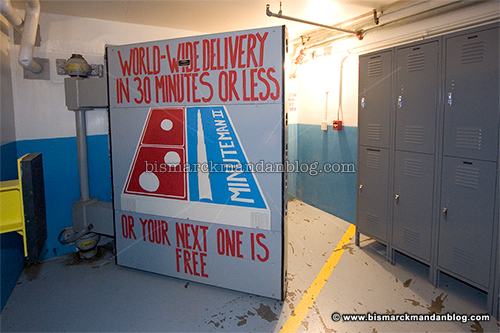 It's larger than the door to my underground blogging bunker here at the ol' BMB, and since it's in a decomissioned missile facility it has fewer loaded weapons behind it. But it sure is funnier than anything I've got, since my wife won't let me paint our doors! This is the door to the underground Minuteman II launch facility at the
Minuteman Missile National Historic Site
in lovely Cactus Flat, South Dakota. I made a trip there last week after encountering the site by chance en route to a video shoot much earlier. The door you see here goes to the hardened "capsule" that missileers would inhabit 24/7, ready to launch the missiles under their control. Not only does it weigh 8 tons, it also is lined by very large steel pins that lock into place when the door is secured.
If you have ever watched the movie War Games, and/or you don't live in North Dakota, you may have the impression that nuclear missile launch facilities were hidden. Wrong. Travel central North Dakota and you'll discover that neither are hidden or secret, there are signs pointing to them, and that people in the area find them rather commonplace. Even so, taking a tour of this park corrected a lot of misconceptions I had about life in the missile wing.
North Dakota has recently opened a state park Minuteman site, which I haven't had the opportunity to visit. You can find out more about it by visiting the websites for it at either
OscarZero.com
or
the State Historical Society's page
. Even cooler: our state site is called the Ronald Reagan Minuteman Missile State Historic Site. Chalk one up for the Gipper!
[ 1 comment ]
( 28 views ) |
permalink
|
Click a dot to rate this entry:





( 2.9 / 279 )
---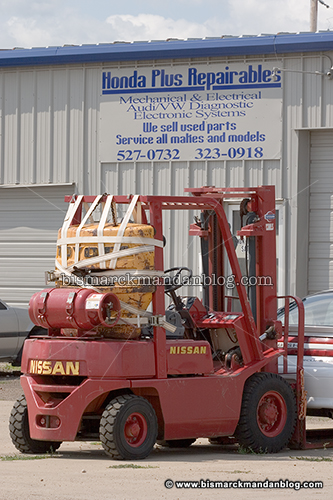 Every time I pass this forklift at Honda Plus, located on Airport Road, I have to chuckle at the ingenuity of people. Not only does this counterweight serve an important purpose, it also shows that you CAN make Toyota and Nissan parts compatible...somewhat.
One of my favorite "daily visit" sites is
failblog.org
. It took off from the FAIL
meme:
You take an image of someone doing something dumb, making a hilarious mistake, or just generally failing at something. Paste the word FAIL on it in an Impact style font. Post and share the hilarity.
An alternate of it is WIN. While I question the means of attachment of this weight to the forklift, I have to admit it displays a certain innovation. While it would probably qualify for failblog.org, I wouldn't put this in the "dumb" category. Thus I couldn't decide if this was a FAIL or WIN, so I thought I'd make my own failblog.com-worthy image and let you be the judge: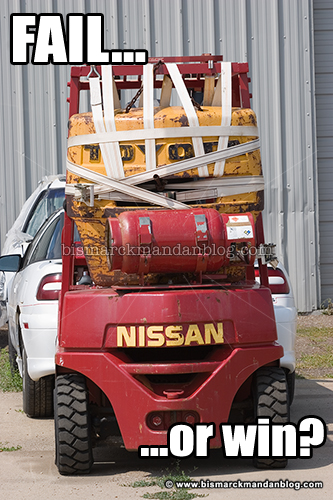 Giant piece of metal strapped to a piece of heavy equipment: check. Toyota counterweight attached to Nissan forklift: check. FAIL text in proper font (Impact): check. All that's left is to see if it's a FAIL or a WIN. I may even decide to post it to failblog.org sometime, or you can if you'd like.
[ add comment ]
( 1 view ) |
permalink
|
Click a dot to rate this entry:





( 2.9 / 37 )
---
<<First
<Back
| 135 | 136 | 137 | 138 | 139 | 140 | 141 | 142 | 143 | 144 |
Next>
Last>>