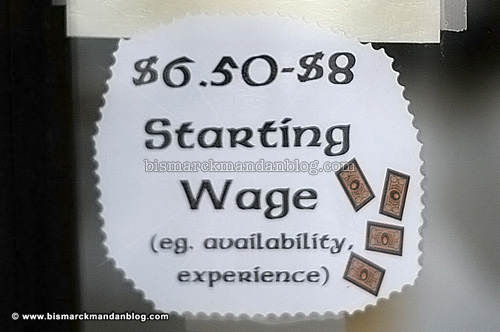 It's interesting...over the weekend I referenced a
KXMB article indicating 4,000 North Dakota workers making minimum wage
and pointed out that using their statistics, which they claim are from a 2005 Labor Department survey, 4,000 (less than one percent of the eligible ND workforce, see below) make minimum wage. But now, apparently, things have changed.
In
this unattributed article by KXMB a mere two weeks later
, the number of North Dakotans making minimum wage is now listed as 21,000. This time there's no citation of where they got that number, they just throw it out there. So which is it...4,000 or 21,000? What's the source of the new number? And what's the catastrophic event that caused it? I mean...assuming the new number is even
remotely
accurate, the ND Labor Department came up with a number less than one fifth as large with a survey last year! Either the number jumped by 525% in less than a year, or one of these numbers is flat wrong.
Sloppy reporting, folks. Get your facts straight, document them properly, and then try to convince me of how bad the minimum wage situation is. The second you start throwing numbers at me with a deviation of 525%, I quit believing a single word you say.
In my post from this past weekend, I point out how few North Dakotans actually make minimum wage according to the statistics the article quoted. One thing I was unable to address is how many people make
close to
minimum wage, a number for which I haven't found the statistics. One could argue that the results would be much different. That may be, but those aren't the numbers that the media is presenting to us.
Another point of my previous post was that KXMB's Tracie Bettenhausen was playing up the issue by showing how hard it would be to live as an independent adult on minimum wage. Sorry to have to point this out, Tracie, but if you're an adult making minimum wage, it's not because of the evil employers or oppressive ND job market.
By the time a person is 18 and independent, there's no reason why they should not have been at a job long enough to work their way up in pay a bit or gain enough experience to find a better paying job. That's assuming that they didn't take advantage of all the programs to help a person get a college degree in this state. It's called ambition, and it's why different people attain different levels of success in life. I have friends who are doctors who had the same average grades as I did, the same family income, but they applied themselves where I didn't. I'm happy where I am, presumably they are too...but it was up to us. You could make the minimum wage $20/hr, and there will still be thousands of people working for $20/hr while everyone else is making $30.
In any case, I'm just curious where KXMB gets its numbers from, which ones are accurate, and if they're ever going to be given to us in context. Don't throw 4,000 at us like it's a huge number when it's under one percent, and don't quintuple that number without citing
any
sources and expect us to just go along with it.
[ 4 comments ]
( 59 views ) |
permalink
|
Click a dot to rate this entry:





( 3 / 266 )
---
Even if some of the eye candy can sing, they are still just pretty faces and half-naked bodies gyrating in front of a mechanical dance track. Prince is well known as a songwriter as well, including for some of the pretty pop faces. He can also play nearly every musical instrument you hear on his albums.
I work in video production. Quite a while ago one of my coworkers did a freelance job with Mtv News which involved a Kurt Loder interview at Prince's place. He told me that Prince was the nicest, most humble and gracious guy he'd ever met. After the interview he told the crew they'd be welcome to return for a party he was holding later that evening. And this was before he developed a conscience and publicly declared that he was no longer going to perform much of the racy material that helped make him popular early in his career.
Even if the Christinas, Britneys, et al can sing...I don't need my kids to see them gyrating around mostly nude like a bunch of hookers and earning grammys for hitting the high notes.
[ add comment ]
( 2 views ) |
permalink
|
Click a dot to rate this entry:





( 3 / 276 )
---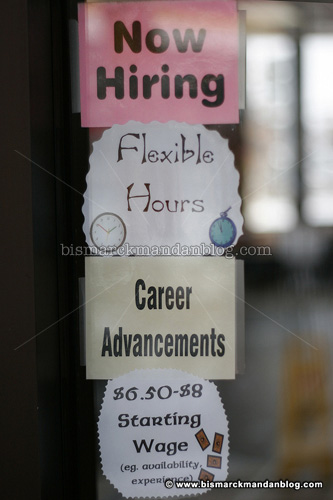 I saw this at McRock 'n' Roll on Main Street this weekend. If the minimum wage issue is so dire, why are people starting out at McDonald's at $6.50 to $8.00 an hour? I mean, that's gotta be more than a lot of places are paying. The minimum wage is $5.15 or something like that, isn't it? Apparently McDonald's has a minimum wage of their own, and it's due to their desire to staff their restaurant...not the legislature.
According to
this article posted on KXMB's website
, a 2005 Labor Department survey reported four thousand North Dakotans working for minimum wage. This same census reported North Dakota's population at 636,677. That means that
.6%
of North Dakotans drawing breath are working for minimum wage. But that's not an honest statistic, that's the kind that a newspaper, television station, or other major media outlet would use. But I'm not a journalism major, so let's get some context:
Using KXMB's figure of 4,000 people I did some investigating, perusing a report called
North Dakota QuickFacts from the US Census Bureau
to find out some interesting numbers for North Dakota:
21.4% of our state's population is under 18 (136,249 people), and
14.7% of our state's population is over 65 (93,592 people). So
63.9% of our state's population is between 18 and 65 (406836 people).
Compare that to the .6% of North Dakotans (4000 people) who are making minimum wage! Let's put it even further into context:
If only kids under 18 worked in ND, only 3% of them would make minimum wage (4000/136,249)!
If only senior citizens over 65 worked in ND, merely 4.3% of them would make minimum wage (4000/93,592)!
Since most kids under 18 don't work, and the census data didn't break down minors enough to extrapolate kids old enough to work, let's eliminate them from the math for a second. Since many seniors retire at age 65 or earlier, let's remove them from the equation too. If only the remaining 406,836 adults between 18 and 65 worked in North Dakota, only .98% -- oh heck, let's round it up to 1% -- would make minimum wage!
Right now there is an enormous amount of pressure being applied by the class envy folks to bring up the minimum wage, even within our state legislature, when statistically NOBODY is making it! If there's a vault somewhere with the specific data, I'd love to see it. Somehow I don't think it's families of four, as the talking heads pushing this thing want to tell you. As Tracie Bettenhausen indicates how hard it would be to eke out a meager existence, even survive, on minimum wage, she's also completely ignoring the fact that a mere percentile of the jobs out there are paying it.
I dare say, that with only 4,000 minimum wage jobs existing in North Dakota, a person would be hard pressed to find one unless deliberately seeking it. If a guy with the notorious "family of four" were to apply for such a job, I'm willing to bet any responsible North Dakota employer would urge them to instead seek a job paying more money (or even offer them more)! I've had some low paying jobs in the Bismarck-Mandan area during my teens, but even bagging groceries, keeping score at the bowling alley, or maintaining baseball diamonds paid more than minimum wage. With McDonald's paying over a dollar more than the minimum, I'm not even sure where I'd go to find $5.15 an hour!
As for the KXMB article...I'd expect better reporting, but I worked in television and around journalists for fifteen years. The people writing these articles are typically no more qualified than you the viewer, and in many cases know even less about a particular subject than many of the people they claim to inform. They may be simply repeating a press release or be woefully ignorant or misguided about their subject matter. Then there's the fact that many of them are driven by an agenda. If you trust a journalist as your sole source of information, you deserve to be misled. In this information age, the facts are out there for your perusal. You need only look to find them and make your own conclusions. You may be mistaken from time to time, but at least you're thinking for yourself.
I could turn this into a book with observations about the kids driving $30,000 cars to Century High School every day, or the politicians fighting immigration enforcement so illegal aliens can make far BELOW the minimum wage, but I'll save that for a later date. I think I've made my point that the minimum wage debate in North Dakota is nothing more than an example of class envy and political posturing, served to you on a plate of misinformation.
[ 5 comments ]
( 250 views ) |
permalink
|
Click a dot to rate this entry:





( 3 / 434 )
---

Waiting by a roadside near you! There's a reason why I usually drive extra cautiously, with one foot on the brake, north of Bismarck on River Road. This particular afternoon I got a look at dozens of the deer which line the route to my favorite stargazing place...and they are many!
Apparently they weren't too put out by a truck approaching them, since this is their stompin' grounds. If you're heading up River Road or Highway 1804, watch out for these deer! Their numbers are very great this year, at least in the meadows northwest of town.
[ 1 comment ]
( 29 views ) |
permalink
|
Click a dot to rate this entry:





( 3 / 449 )
---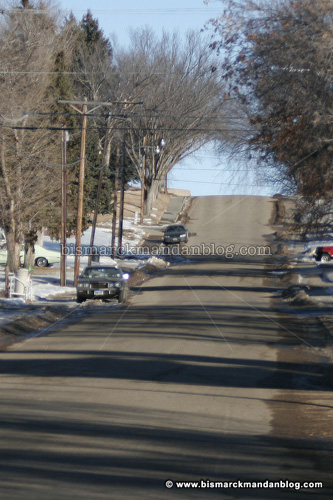 If you grew up in Mandan, you're likely no stranger to what the kids have affectionately termed "Thrill Hill." I have no idea how long it's been named such, but it already sported that moniker over twenty years ago when I first got my license. Whoa. I just realized I've been driving for over two decades! That must mean I'm................old.
Okay, I'm back. This innocent looking street holds a real "whee" at the end, so it's no surprise that people discovered it and treat it like an amusement ride. It'll put your heart in your throat right quick! This street is a long upward slope, but it drops off pretty good on the other side.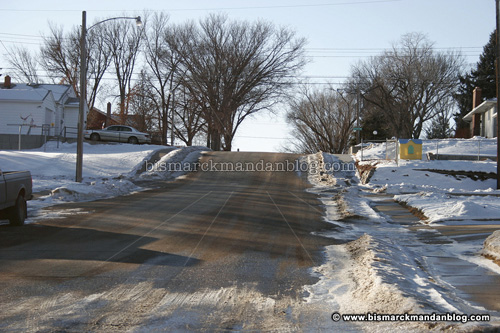 Photographs simply cannot do the backside of this hill justice. Believe me, I tried several angles. The crest of the hill is really nothing remarkable...if you're not sure you're on the real Thrill Hill, you'll think you missed it! Just as that thought crosses your mind, the road drops out from under you. Whee.
The bottom of this photo has snow on the roadway, otherwise you'd see hundreds of scrapes as cars hit the dip at the end of the block. Whether it's for drainage or speed control I don't know; but apparently people are still hitting it with some gusto. Just as the road falling away will bring your heart into your stomach, piling into this dip will drop it back into place!
This post is kinda for the "insiders" who know where Thrill Hill is. You see, I'm not going to tell you...that would be encouraging you to try it, and quite frankly it's dangerous. While it's fun even at legal speeds, for some reason no mere mortal can resist going much faster. I like my readers, I'm certainly not going to send them to their doom! I need you folks.
Before I got my license, I was a passenger in a car that flew (quite literally) over this hill at speeds that would probably have cost the driver his license. Later on in life, my friend Tony and I explored it on our motorcycles and scared ourselves silly - there's not much keeping motorcycles from going airborne, we discovered - and I haven't done anything reckless on it in many, many years. I guess now I think like an adult, a dad, and a homeowner.
So if you want to find it, you're on your own. If you've got your own Thrill Hill stories, I'd love to hear about them.
[ 4 comments ]
( 323 views ) |
permalink
|
Click a dot to rate this entry:





( 3 / 597 )
---
<<First
<Back
| 258 | 259 | 260 | 261 | 262 | 263 | 264 | 265 | 266 | 267 |
Next>
Last>>