I know...how many pictures of the bridge and/or the sunset can a guy post? Well, here's the deal. I was in the area when I saw this amazing sunset, and knew I didn't have more than a couple of minutes before it set completely. So, I found the best foreground object I could. Too bad the sun itself had already ducked behind the horizon; it was a magnificent red tonight.
[ add comment ]
( 2 views ) |
permalink
|
Click a dot to rate this entry:





( 3 / 464 )
---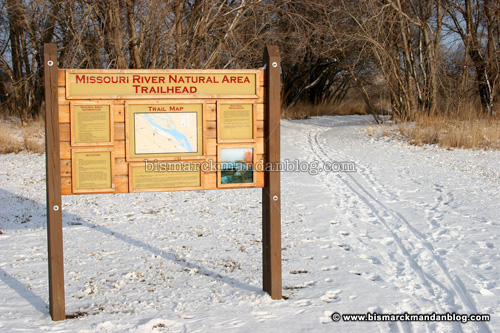 It didn't always have this nice fancy sign or benches or interpretive signage, but this trail has been around for a long time. In many ways it's more scenic than the paved trails that wind around the Bismarck-Mandan area. It's one of Mandan's more entertaining features, since it's got use all year long. Cross country skiers always got the most use out of this trail, until mountain biking took off. Runners use it too; I've had many of them pass me while I'm out taking wildlife photos here.
This trail splits into wandering forks in a couple of places, but all lead to the trail head just north of Interstate 94 by the refinery. To get there you need to take I-94 into east Mandan, then hook a quick right by the Bonanza restaurant. Follow the road back and around until you drive under I-94, and hook the first right. There's the trail head.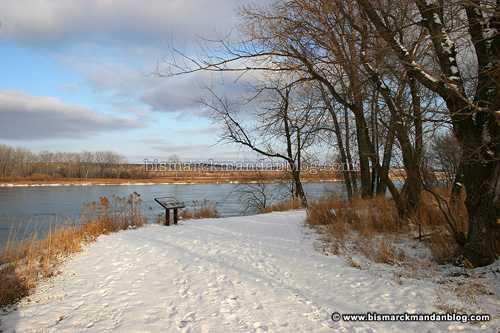 The trail has various little offshoots that take you to the banks of the Missouri. There are interpretive signs and lots of wildlife. This particular day I had a beautiful Mallard drift by, but of course I had a short lens on the camera. That old adage about having multiple lenses (that you always have the wrong one on the camera) has held true for me on many occasions.
The other end of the trail is just to the north of the closed-for-now Memorial Bridge. The way to get there is exit the I-94 / Expressway loop by the Raging Rivers park (or Moritz Sport & Marine) and head north along the river. The trail starts on private land, but is signed and people are welcome to use the trail. It ventures over to and under the railroad bridge, the Grant Marsh bridge, and along to river over to the other trail head.
This trail also gets you close to the backwaters along the Missouri, where I've recently spotted bald eagles, great blue herons, and lots of
other various wildlife species too.
So while there may be snow for the cross country skiers right now, soon this will turn into a nice spot for a spring walk. All summer it'll be a great mountain biking route, or just a nice place for a jog. If you walk the trail, make sure to bring a camera.
[ add comment ]
( 2 views ) |
permalink
|
Click a dot to rate this entry:





( 3 / 480 )
---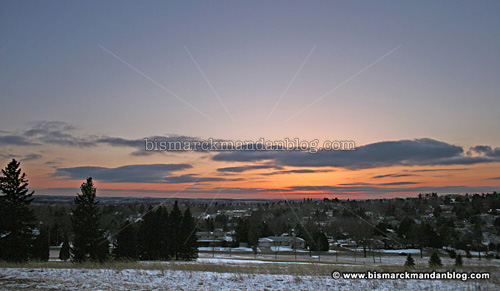 I haven't officially declared Thursday as a weekly "Clint posts a sunset picture night" but it just worked out that way. I was on my way to one of my notorious "will work on your computer or motorcycle for dinner at Applebee's" runs when I saw this gorgeous sky. So I flew up to the warming hut hill at O'Leary Golf Course and snapped a quick shot on the way.
[ add comment ]
( 3 views ) |
permalink
|
Click a dot to rate this entry:





( 3 / 545 )
---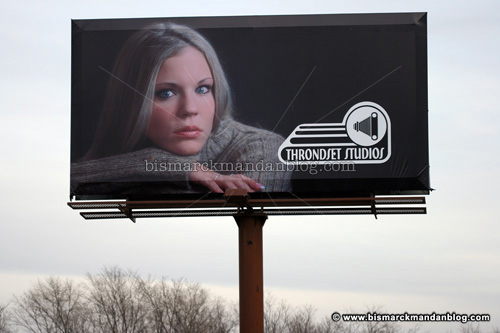 I'm sure the girl on this sign, located at 26th and Rosser, is a very nice girl. She's obviously very pretty. But those lovely blue eyes seem to FOLLOW a guy while driving by! I'm not the only one...in fact, I've had a couple of different friends ask if I've seen "that spooky sign on 26th."
Sure, it's an optical illusion and all that, but it's still quite freaky. Get on Rosser Avenue on or before 26th Street and head east...you'll see what I'm talking about.
UPDATE:
This sign has been rotated out now. It's been replaced by a Metro Collision Center ad. The spookiest thing they ever did was forget to replace the emblems after they painted my car.
[ 1 comment ]
( 48 views ) |
permalink
|
Click a dot to rate this entry:





( 3 / 539 )
---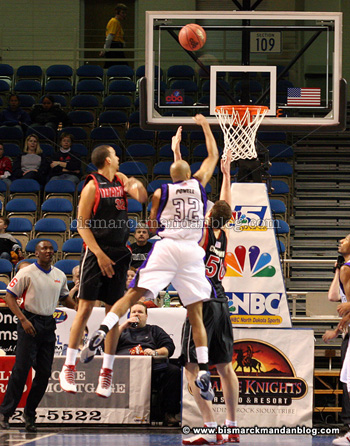 I'm not a sports photographer, but I do have a floor pass for the Wizards games...so I thought I'd try my luck. It's much harder than wildlife, that's for sure. It's going to take more practice, but since the Wizards are pretty much eliminated from the playoffs, I'll have to look forward to next fall.
They had a strong lead going, relaxed, forgot how to rebound, and ended up with the score tied at the end of the 4th. That means they lost the quarter point, and they went on to lose the game at the end of the overtime period. Better luck next year. Their (presumably) last game of the season is tonight at 7:05 at the Civic Center.
One thing that was a surprise to me is all the yelling going on courtside. There was one crotchety old fart sitting in the first row of bleachers on the South wall that did nothing but insult the officials at the top of his lungs. It's no surprise he was sitting there alone; if you were his wife, would you want to sit with him? I was actually embarassed for the guy.
[ 1 comment ]
( 15 views ) |
permalink
|
Click a dot to rate this entry:





( 3 / 524 )
---
<<First
<Back
| 330 | 331 | 332 | 333 | 334 | 335 | 336 | 337 | 338 | 339 |
Next>
Last>>