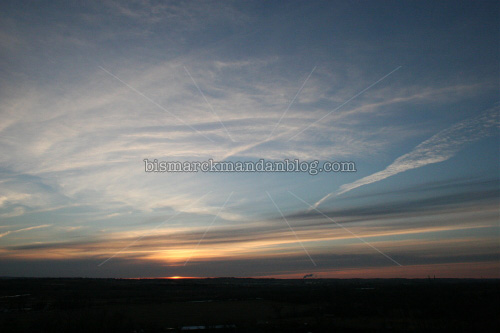 I caught this particular sunset Friday evening from my favorite endangered sunset spot. There were others driving by with their cameras too, but none of them wanted to brave the mud and get to the bluff where I got this exposure. Doing so allows me to get out of the way of all the power lines and stuff that would clutter the foreground. It also allows me to kick it into 4x4 and do some climbing!
[ add comment ]
( 3 views ) |
permalink
|
Click a dot to rate this entry:





( 3 / 489 )
---
Stores like this will only build in a certain metro area once its population has reached or exceeded a certain threshold, usually around 100,000 people. In order to recruit these businesses to the Bismarck-Mandan area, local community developers exploited the "100 mile radius" rule to define a Bismarck-Mandan "metro area" that met the requirement. This allowed them to include Dickinson, Washburn, Wilton, Jamestown, and other outlying communities.
But who's to say that someone will hop in the car and drive 99.9 miles to do their regular shopping at these stores? Apparently, that's not the case. After a minor surge in business upon opening, the local "Big Box" establishments now sit largely empty, relying only on drastic sales to try to recruit those elusive prairie customers. Now they want out.
"We were duped by the numbers," said one store manager in an off-the-record phone conversation. "It's worse than the 'budget surplus' of the Clinton administration in the 1990s, counting on revenue that wasn't there. In this case, we're counting on people that just aren't coming." Another store employee I bumped into said, "We're not sure we'd have much business in building materials at all, except that the locals are tired of Menards selling 'curly lumber' all these years."
Local officials deny that there was any sort of "massaging the numbers" at play here, but instead cite gas prices and winter weather as causes for fewer customers coming to Bismarck from the surrounding area. At an emergency city meeting, the question was posed: "Look, if they'll just wait for Spring and Summer, we're sure this trend will turn around. What sense does it make to put up a million dollar building, then cry foul and go home?"
To make matters worse, this devastating news comes on the weekend of April Fool's Day, which means that by now you should have figured out that I'm pulling your chain. I had to make up a gripping April Fool's joke from somewhere. Now go out to Best Buy, Kohl's, Petsmart, Home Depot, or one of the other lovely new "Big Box" establishments and spend some money.
On a related note, if you feel the need to donate a Briggs & Stratton-powered pressure washer from Home Depot to the Bismarck-Mandan Blog, please contact me by email using the form at the upper right of this page. It will be greatly appreciated and immediately put to good use in a good home.
[ add comment ]
( 3 views ) |
permalink
|
Click a dot to rate this entry:





( 3 / 508 )
---
Mandan wants to be proactive in reviving its downtown area. They've got a little mini-poll on their website at
www.cityofmandan.com
asking what kind of business you'd be most likely to visit if it were built in downtown Mandan.
A few years ago there was an effort to revitalize downtown Mandan. There was even talk of wooden sidewalks to match the historic buildings that are now being razed left and right. So what's the plan now? I'm not sure anyone knows. I think it's a little too late.
The City and the property owners should have stuck to their guns and CRUCIFIED the railroad in court. The city is still swimming on a lake of diesel fuel, some of the people affected walked away from litigation with chump change, and now we're bulldozing buildings. Why would anyone buy property along Main Street if they expect they've got a genuine EPA disaster below their feet, with no recourse against those who caused it? That was an all-or-nothing deal.
I remember my uncle telling me about having coffee at the Red Fox cafe on Main Street. There were a bunch of railroad workers that had walked over from the fueling depot (behind the McDonalds, which wasn't built then) and were having coffee. My uncle saw diesel fuel spilling all over the place and went over to tell them about it. "We're on break," was their reply. How about that union labor, huh? Well, now the rest of the city is paying for that kind of work ethic. That's just one reason why I think labor unions are such a joke...except in this case, nobody's laughing.
I remember when we moved the police department from Collins and 1st over to the newly built Law Enforcement Center. We were astonished at how cool the new building was...until all of a sudden the fumes were overpowering. We weren't allowed to go downstairs. Later on, I believe there were some employees that sued because of permanent health problems they got from working in that building.
So how would that situation translate to a guy who's got a building floating on Main Street in Mandan? He can't sell it...he can't rent it. It's not worth the money to try to renovate it because of its uncertain future. So he's stuck. That's hardly a hospitable circumstance for economic development. So now they're falling prey to the wrecking ball. Maybe we can just plow the whole stretch of city blocks adjacent to Main Street, pave it eight lanes wide, and call it the Burlington Northern Memorial Expressway.
[ add comment ]
( 6 views ) |
permalink
|
Click a dot to rate this entry:





( 2.9 / 895 )
---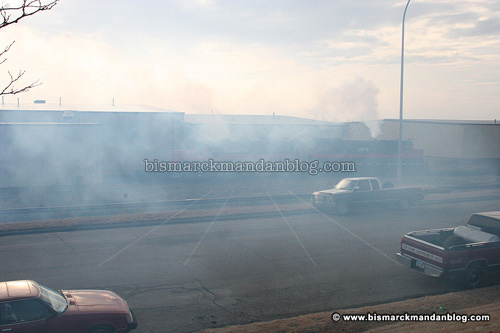 The DMVW railroad was warming up a couple of diesel-electric locomotives. There were actually two pairs but only this pair was smoking. I wonder who checked the oil? You could check it by sticking a finger in the air. It smelled like it was synthetic, too...that can't be cheap. Or environmentally friendly!
[ add comment ]
( 20 views ) |
permalink
|
Click a dot to rate this entry:





( 2.9 / 861 )
---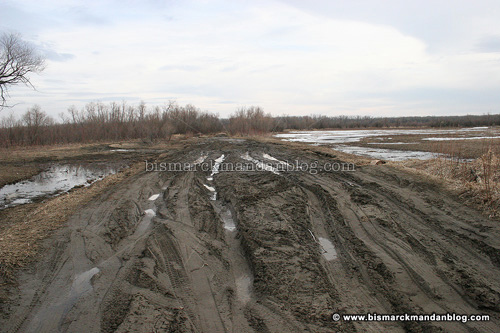 Despite a nearly
overwhelming
temptation to throw it into four wheel drive and give 'er the proverbial "onion," I backed off and called it a day. There's always the weekend...
* "Stymie" is an old Scottish colloquialism from the early days of the game of golf, meaning to obstruct a shot. For the definition of "colloquialism" please consult a dictionary or someone who's homeschooled.
[ add comment ]
( 6 views ) |
permalink
|
Click a dot to rate this entry:





( 2.9 / 727 )
---
<<First
<Back
| 323 | 324 | 325 | 326 | 327 | 328 | 329 | 330 | 331 | 332 |
Next>
Last>>