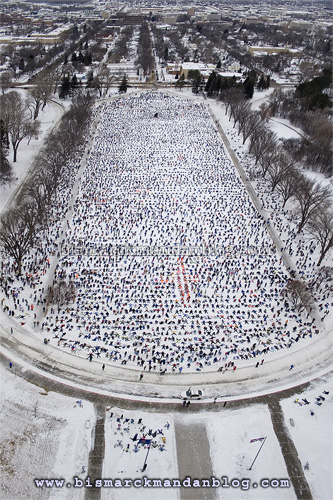 This is STILL the world record for single-site snow angels.
I found out today that Duluth tried,
quite unsuccessfully
, to top our record for the most snow angels made in a single location at a single event. Nice try, but North Dakota tops Minnesota in all the good ways. :)
You may remember a while back when I posted that Canadians had made over 15,000 snow angels for a new record - but
they were at multiple sites across a wide area
, so it is NOT the same record as ours.
Fear not, NoDaks...we're still undefeated.
[ add comment ]
|
permalink
|
Click a dot to rate this entry:





( 3 / 127 )
---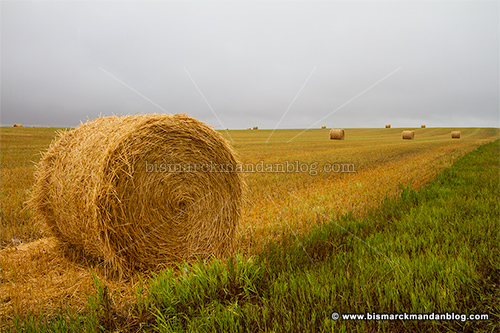 One of my favorite not-quite-funny road trip gags is to exclaim, "Hey!" when passing a field of hay bales. Of course someone in the car will rubberneck to see what I'm talking about, and hilarity ensues. At least for the first couple of times...after that it's likely to resemble an old fashioned game of Slug Bug more than anything else...but without the bug!
[ 2 comments ]
( 24 views ) |
permalink
|
Click a dot to rate this entry:





( 3.1 / 76 )
---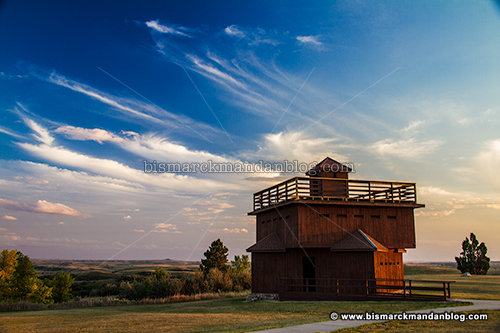 My little guys have really been looking forward to a trip to the blockhouses at Fort Lincoln lately, so last night I made that happen. One boy had his bike, one boy had his frisbees, and Daddy had his camera. The winds aloft were pushing all the nice clouds away to the southeast, but I was able to catch a few before they moved off. Then it was on to the fun.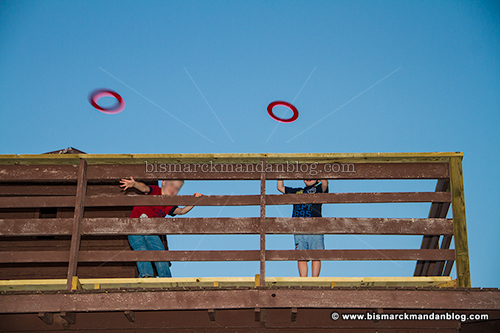 I fancy myself quite the proficient frisbee thrower and catcher. I don't do the frolf thing very often; my favorite frisbee pastime is to do lots of running, jumping, throwing, and catching on the capitol lawn. My latest favorite is throwing multiple frisbees simultaneously and seeing how many little guys can catch 'em! We took that show on the road last night as I threw frisbees up to the roof of the blockhouse and darted around as my fellas threw them back down. All the while trying not to spill camera gear.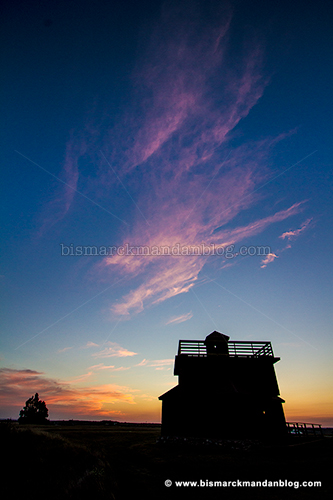 The evening came and went quickly, as the fleeting sun darted over the horizon with September velocity. At that point it was time to grab a couple shots of clouds reflecting a pinkish hue and bolt back to the truck for the long ride home. Not a bad little adventure for a weeknight, and since that pesky sun sets so early this time of year I think we all made it to bed on schedule!
[ add comment ]
( 5 views ) |
permalink
|
Click a dot to rate this entry:





( 3 / 99 )
---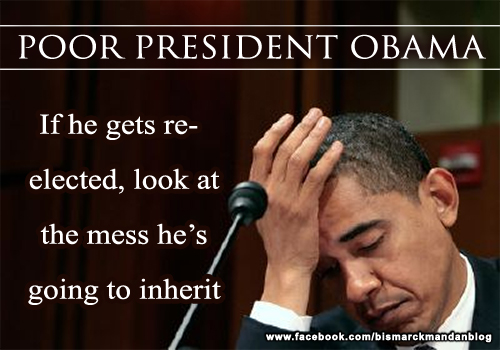 So I was practicing some work avoidance here at home the other night and fired up Photoshop as I'm prone to do... a few minutes later I'd made the above graphic. I posted a small version of it on
my blog's Facebook page
and didn't think much of it.
The next thing I know, my Facebook metrics are on the uptick: in almost no time at all I'd had thousands of people "talking about" the graphic - this means sharing, commenting, liking, whatever. At the moment it's at 7,288 with 2,385 direct shares. I guess I struck a chord somewhere.
One other diversion I came up with was this one for Heidi Heitkamp, who is on record as cheering the Obamacare debacle that this state dislikes at around a 70% rate. Send this one to your Catholic friends, particularly the ones who didn't know that they're now paying for all kinds of things their church calls anathema.
There's plenty of material out there...the next time I'm trying to avoid tidying up my home office I'll probably brainstorm a couple more.
[ 2 comments ]
( 40 views ) |
permalink
|
Click a dot to rate this entry:





( 3.3 / 86 )
---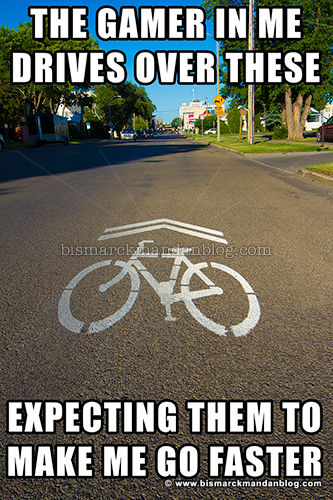 I was a "gamer" in the sense of the Atari 2600, Apple // and Commodore computers, a beta tester for a few Mac game companies, and begrudgingly even X-Box. While I don't own a modern game system or even have a clue about the major PC games out there these days, I do still have vintage game systems hooked up in the house and garage and a healthy collection of games on my iPod Touch. In that respect I guess I'm still a "gamer."
It must be a deeply rooted trait, since I had one instinct as soon as I saw these road markings denoting new "bike lanes" in certain parts of Bismarck. Okay, one instinct besides the apparent waste of money. While there are two or three different sets of markings, concerning in that they lack consistency, this particular set looks like a set of "boost arrows". These features, appearing in any number of driving games, cause wild acceleration once they're driven upon. Sounds right up my alley. Sadly, they are of no effect outside the virtual world.
Interesting side note: although these things are only weeks old, many of them are badly faded. It took a while to find one worth photographing. Perhaps the City Commission could have reviewed the bids more closely or something, because the paint clearly is not holding up in areas of significant traffic.
In any case, I figured I'd hop on board a common internet meme, select "Impact" as my font, and bang out a quick little graphic. Note the historic Provident Life Weather Beacon in the background. My contribution to "teh Intarwebz" this week is complete. Have a great weekend!
[ add comment ]
( 15 views ) |
permalink
|
Click a dot to rate this entry:





( 3.1 / 103 )
---
| 1 | 2 | 3 | 4 | 5 | 6 | 7 | 8 | 9 | 10 |
Next>
Last>>