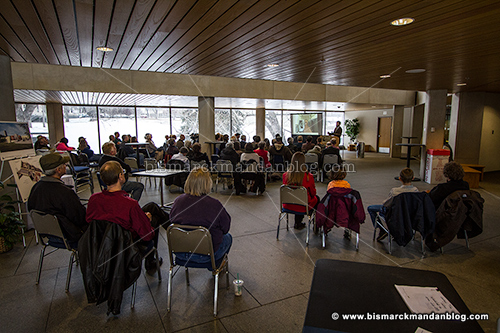 The most usable space in the Heritage Center was the setting for a very interesting presentation this weekend: the effect of the Cold War and military infrastructure on the landscape and culture of North Dakota. It was an extremely well-attended session, to say the least...one of three sessions planned to highlight North Dakota historic sites and their importance.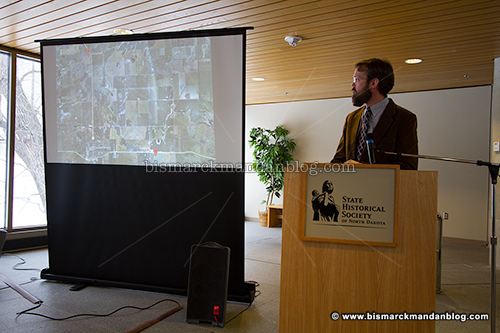 Site director Mark Sundlov, a former member of a Minot Air Force base missile crew himself, was the presenter. He has a unique perspective on this subject and is determined to help preserve this important part of North Dakota's (and our nation's) history. Right now it's ripe for the picking, as there are many anecdotes to record. The audience had plenty of their own. The interest in this subject as well as the gold mine of information and firsthand accounts was a strong affirmation of just how spot-on Mr. Sundlov is about the impact of the military and this period of history on the culture of North Dakota and the everyday lifestyle of its citizens.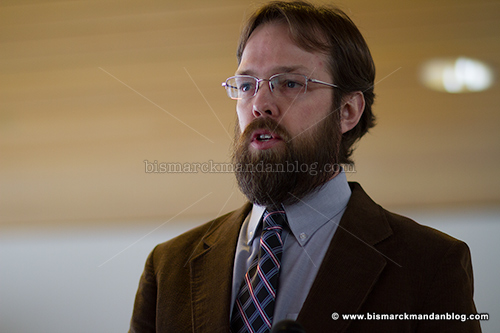 I strongly recommend
clicking on this link
to listen to a podcast interview with Mr. Sundlov from a while back, before the Ronald Reagan Minuteman Missile Historic Site was even a reality. In it he talks about life on a missile crew, something that wasn't really part of the focus of Sunday's presentation.
If you want to read more about the Cold War remnants around our state from this photographer's perspective, try some of these links, which will each open in a new window:
Cold War Mancation, Part One: Minuteman Missile Site
Cold War Mancation, Part Two: Nekoma Missile Base (Mickelsen Safeguard Complex)
Cold War Mancation, Part Three: Former OMEGA Station LaMoure
Cold War Mancation, Part Four: Cavalier Air Force Station
Cold War Mancation, Part Five: Minot
[ add comment ]
|
permalink
|
Click a dot to rate this entry:





( 3.1 / 141 )
---
Looking back at one of the most memorable Memorial Day addresses I've heard UPDATE: Now with text of his address available for download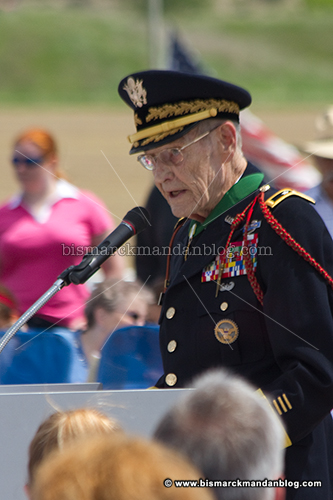 Let's not forget that Memorial Day is about one thing: honoring fallen heroes who died defending our freedom. I typically attend the ceremony held for such purpose at the Veterans' Memorial Cemetery each year, the most memorable of which was in 2010. It was during that ceremony that I witnessed a stirring address by C. Emerson Murry, former Major General of the ND National Guard. He was the keynote speaker of the event, and a very memorable one at that.
The words that struck me the most from his keynote address are best paraphrased as follows: "To be born free is an accident. To live free is a responsibility. To die free is an absolute obligation." That made me set my camera in the grass and hastily type it into my phone so I wouldn't forget it. Maj Gen Murry fulfilled that obligation, and it's due to such men and women of our armed forces that we enjoy the freedoms we take for granted.
The National Guard provided me with the text of his remarks in PDF format from an issue of the Guardian magazine, and I'm pleased to be able to provide you a link to that PDF:
(Click Here)
It was the last chance I had to hear him speak; Maj Gen Murry passed away in September of that year. You ought to take the time to read about the life of this remarkable man
by clicking here
.
[ add comment ]
( 2 views ) |
permalink
|
Click a dot to rate this entry:





( 3 / 119 )
---
This post is bumped from last year - I'm lining up a video project for today and don't think I'll be able to make it to the Veterans Memorial at the state capitol this year, but I wanted to share a little account of last year. God Bless our Veterans!

Clint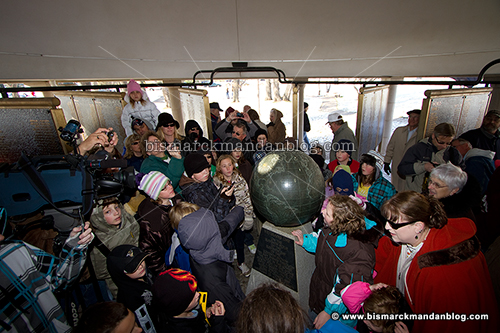 I didn't think I'd make it to the memorial at the capitol today, but I did. I had plenty of company. Showing up twenty minutes early turned out to be a pretty good plan, as it really packed in with people (including a LOT of kids) waiting to see the phenomenon!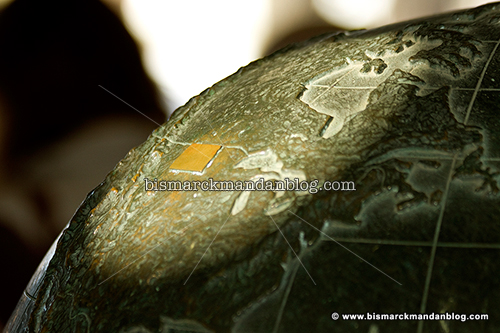 This is the circular beam of light which is cast by the sun thanks to a tube in the side of the memorial
(see this post for more details)
. At 11:00 it is centered on North Dakota, which is a raised and somewhat polished portion of brass on the globe in the monument's center.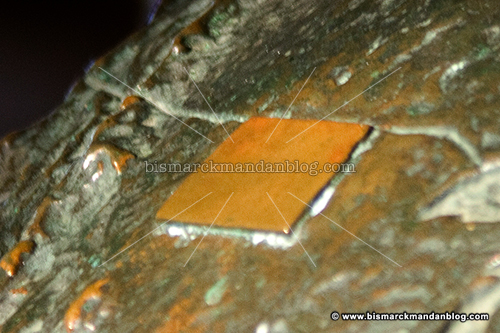 The globe itself has seen better days. The brass North Dakota is tarnished and needs to be polished & coated. There are also bird droppings on it, something I figured would be corrected before Veterans' Day arrived. I figured wrong. If a volunteer is needed, I'll put my name on the list.
This was a neat event, but let's not forget that today is about the nation's soldiers. Thank every veteran and soldier you encounter today!
[ add comment ]
( 9 views ) |
permalink
|
Click a dot to rate this entry:





( 3 / 208 )
---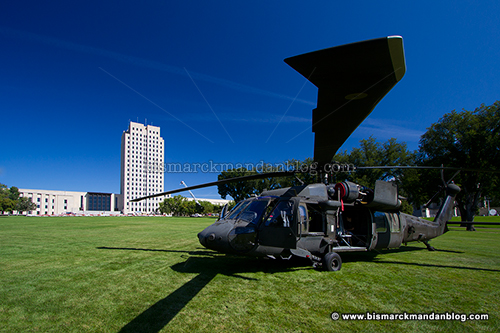 I spent the afternoon at the commemorative ceremony at the capitol Sunday. It was an appropriate memorial of the terrorist attack on our nation (not just a "tragic event" as some say) and focused on honoring our nation as well as those who have died in its service. Here's a brief photo narrative of the day: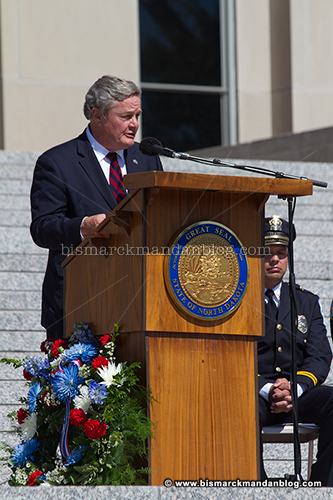 Governor Jack Dalrymple and his wife Betsy hosted the event.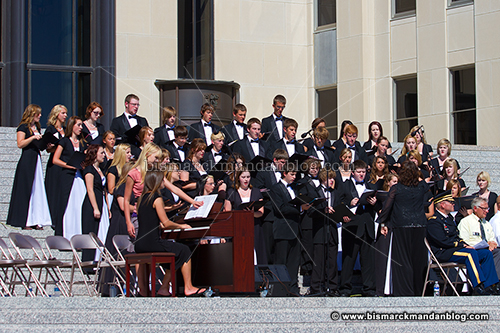 The Mandan High School Concert Choir provided stirring music, with my friend Becca at the piano.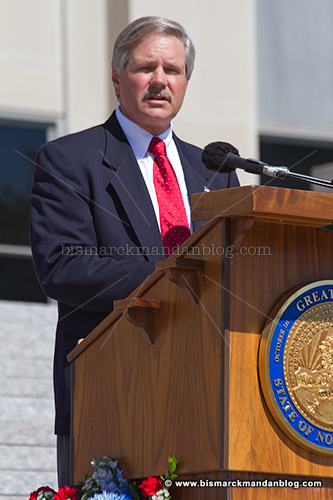 US Senator John Hoeven gave his remarks.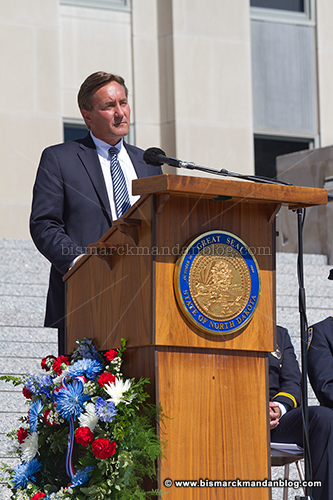 US Congressman Rick Berg also spoke.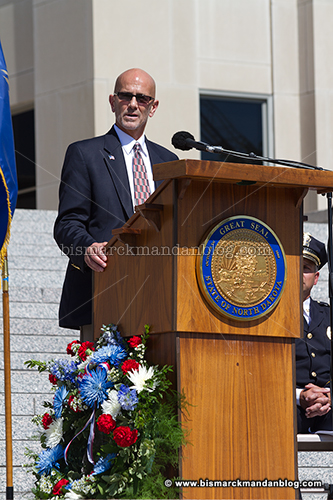 Bismarck City Commissioner Mike Seminary represented the City of Bismarck.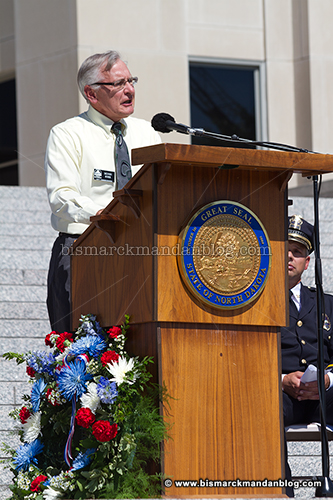 Mandan City Commissioner Dennis Rohr. Of course, I'll always know him as Chief.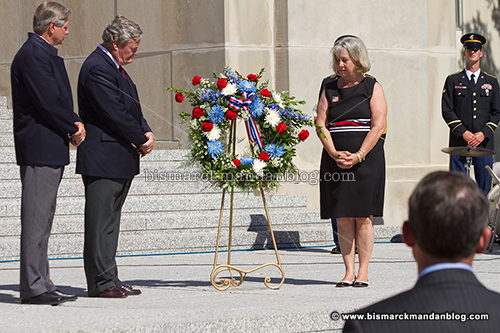 The Governor and First Lady stand with Senator Hoeven during the presentation of a wreath to commemorate the day. Lt. Governor Drew Wrigley is looking on in the foreground.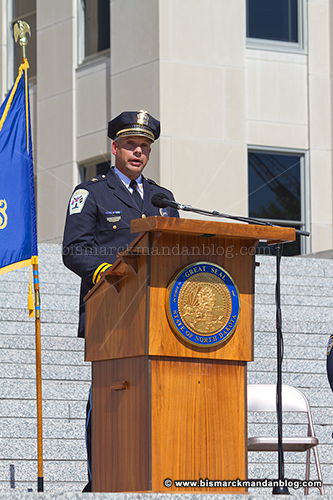 Bismarck Police Chief Keith Witt spoke on behalf of first responders.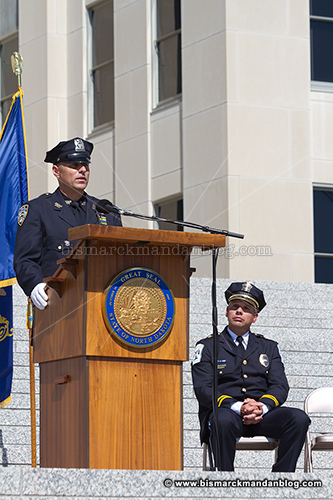 Lincoln Police Officer Marcel Sim gave an account of that day,
when he was working at Ground Zero for the NYPD.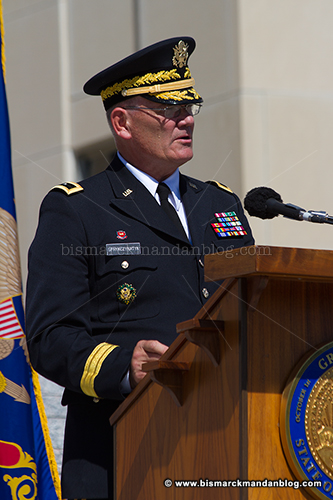 Maj. General Spry has thousands of soldiers fighting not only the Global War on Terrorism
but also natural disasters here at home.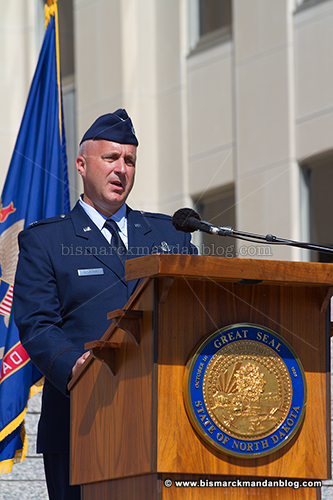 Lt. Colonel Dean Eckmann described going to battle stations and flying CAP sorties
over Washington DC that day with the NDNG Happy Hooligans.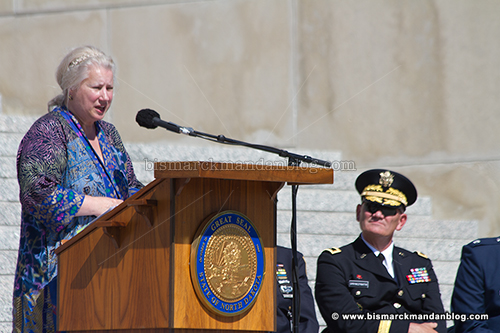 Jenette Nelson spoke of the loss of her daughter and how her memory lives on.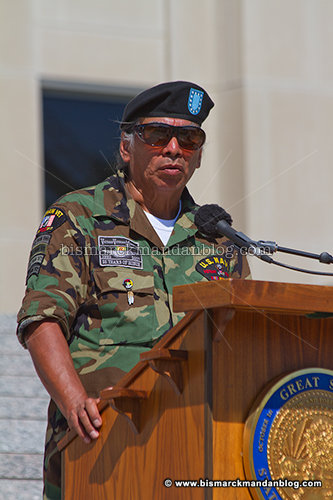 Paul Goodiron gave perhaps the most stirring speech of the day, honoring not only those who serve
but also the families who serve with them and endure their loss.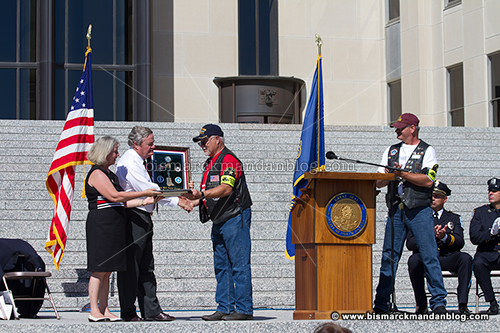 The Patriot Guard Riders had a presentation of their own to the office of the Governor.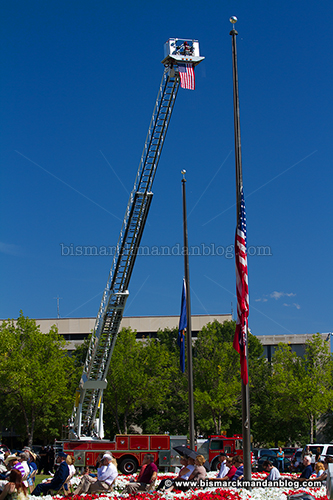 First responders from fire, ambulance, and local law enforcement were in attendance to commemorate the day as well. I got to hang out with one of my favorite law enforcement friends and take photos.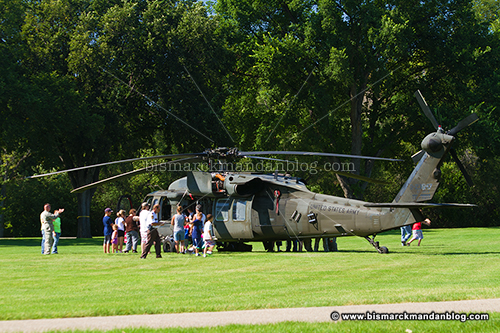 One popular part of the day was a Blackhawk helicopter on the capitol mall, available for all to see.
Its crew were on hand to answer questions and explain the operation of the aircraft.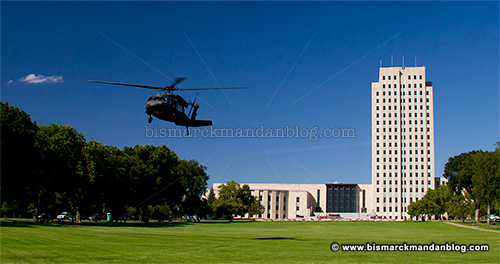 Then it was time to go home, tribute given and memories shared.
[ 1 comment ]
( 44 views ) |
permalink
|
Click a dot to rate this entry:





( 3.2 / 203 )
---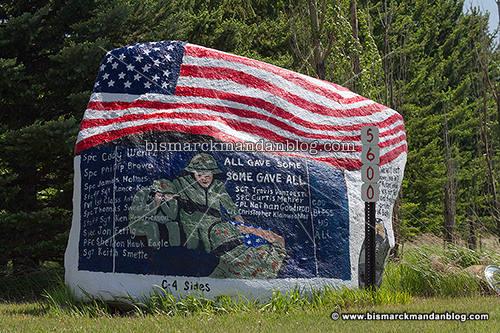 On a day when America is celebrating the fact that Osama bin Laden has achieved room temperature, I thought I'd re-post some photos of one of my favorite local patriotic landmarks. This enormous rock, about five feet tall and parked in a very remote location outside of Bismarck, has more patriotism than the American left. The owner of the land on which it sits, I presume, has adorned it with an American flag, the names of some North Dakota soldiers killed in the global war on terrorism, and the following quote from our President:
"We will not waver; we will not falter; and we will not fail.
Peace and freedom will prevail." President George W Bush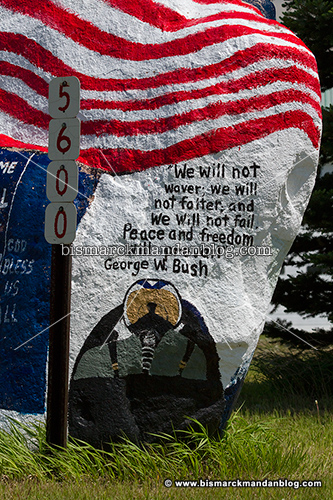 It's just a shame that very few people will ever see this rock; I stumbled upon it by accident while out getting the truck dirty. Can you imagine the heartfelt pride in our soldiers the artist must have felt as they painted this tribute to their sacrifice? It's very moving and I had to tell you about it. At the bottom of this post I'll give you directions on how to find it; it's not that hard, really.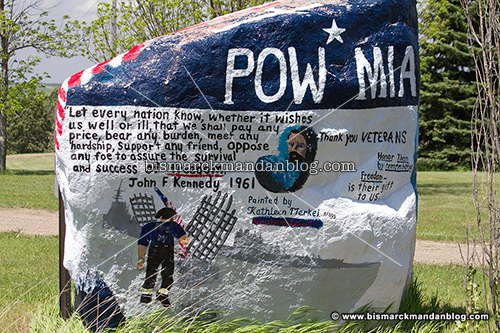 To visit this rock, something that might be especially appropriate this Memorial Day, simply take Expressway north from where it intersects with Century Avenue. When you reach 57th Avenue, take a right and head east. It's at the end of the road a short while later with a little cul de sac where you can park and/or turn around. Here's a little map I put together:

View Bismarck-Mandan Blog in a larger map
Today is a day of great pride in our nation and its armed forces, but we shouldn't let that pride wane on any other day. Landmarks like this one are a great reminder of that. Pay it a visit!
[ add comment ]
( 23 views ) |
permalink
|
Click a dot to rate this entry:





( 3 / 282 )
---
| 1 | 2 | 3 | 4 | 5 | 6 | 7 | 8 | 9 | 10 |
Next>
Last>>