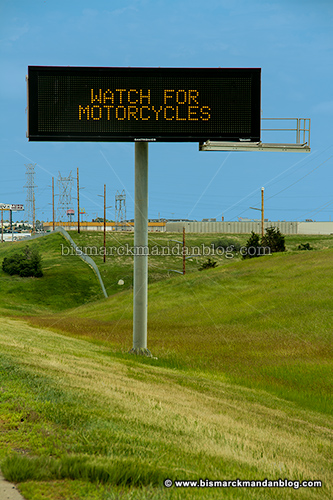 As a motorcycling advocate I was pleased to see this sign on I-94 this weekend. During the pleasant riding months we have a lot of motorcyclists in the area, and I'm sure attractions like Buggies 'n' Blues (photos forthcoming) and the ABATE Menoken Rally brought a measurable increase in numbers of two-wheeled motorists this weekend. Whenever I hit an unmarked section of chip-seal gravel around Bismarck I tend to think that we bikers are forgotten...but not by the DOT this weekend!
[ add comment ]
( 6 views ) |
permalink
|
Click a dot to rate this entry:





( 3 / 131 )
---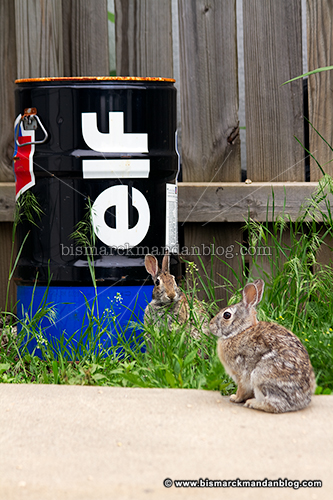 I've always been of the opinion that an empty (or mostly-empty) fuel tank or can is a far greater hazard than a full one, so it was time to set this fuel can outside the Garage Majal. I can't say with any certainty that it's responsible for the bunnies hanging out nearby, but it probably can't hurt.
This stuff smells so AMAZING in the tank or after it exits your exhaust pipe, I've always described it as high speed perfume. Spendy, too - I got this drum from the factory Kawasaki team but I don't know how to import it. I'm of the understanding that at the time it was about several times as expensive as pump gas or even the Turbo Blue race fuel I buy here in town at Racer Performance Center. I guess the local rabbits have distinguished noses!
As you can tell from the lush green foliage, this photo was from a couple of years ago and I just ran across it while looking for something else. I was able to get the can back in the garage before any little hasenpfeffers were able to huff or siphon it. Sadly, I no longer have need for race fuel, although I wouldn't mind roadracing again someday... *sigh*
[ add comment ]
( 11 views ) |
permalink
|
Click a dot to rate this entry:





( 2.9 / 239 )
---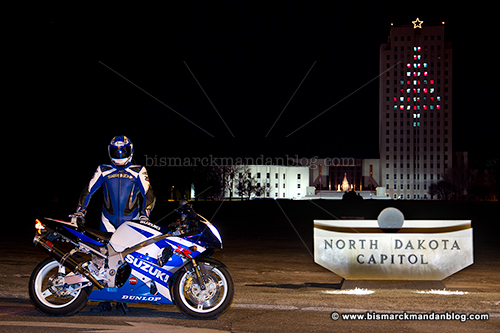 With a night ride, of course! The last time I got to do this was in 2006. It was a beautiful evening, aside from my visor fogging up, but I kept the ride short so I could get some things done at home. Merry Christmas and Happy New Year!
[ 2 comments ]
( 25 views ) |
permalink
|
Click a dot to rate this entry:





( 3 / 257 )
---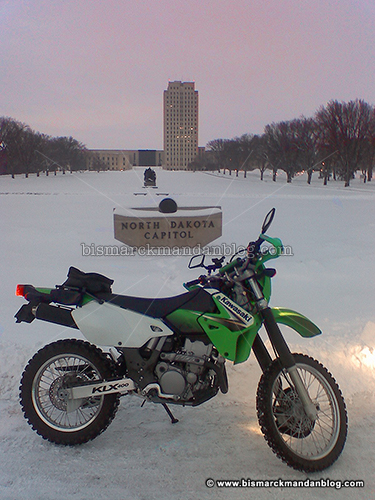 After hours of clearing sidewalks around my neighborhood, I couldn't resist. I went for a brief ride, just long enough to run down to the Capitol and pose for a quick shot.
Yes, I got a lot of surprised stares and double-takes from people in their cars. I'm actually not the most hardcore winter motorcyclist out there; this was a novelty trip for me. I've seen other people out over the winter with studded tires on their bikes, clearly running errands or going to work. Now THAT is hardcore.
Knobby tires don't give much traction in the really messy snow found on roads that aren't plowed. Most of the roads I took, however, had been plowed and offered sufficient traction. After taking my little joy ride and snapping a couple of pictures with my cell phone, I figured I'd been fortunate enough and skated back to the safety of my nice, warm Garage Majal.
[ add comment ]
( 7 views ) |
permalink
|
Click a dot to rate this entry:





( 3 / 370 )
---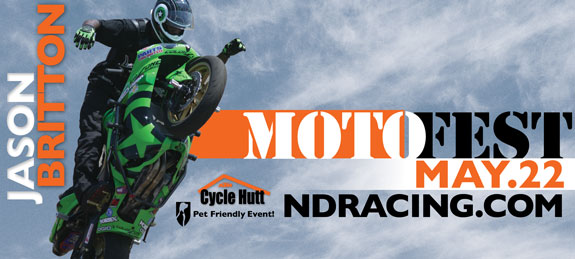 The official press release says it as well as I can:
----------------------------------------
Appearing at KTM Cycle Hutt on the Strip in Mandan on May 22, 2010 will be Speed TV's Jason Britton and Motorcycle Stunt Team No Limit. Also appearing will be the Christian Freestyle Motocross riders of Team Faith starring Cowboy Kenny Bartram from the X Games.
Speed TV's Jason Britton and his motorcycle stunters, Team No Limit will be back at KTM Cycle Hutt on the Strip to wow the crowds with jaw dropping motorcycle street bike stunts. Jason appeared at KTM Cycle Hutt July 4th 2008 and mystified the audiences with his motorcycle headstands and wheelies. Also appearing on May 22nd will be the Freestyle Motocross riders of Team Faith staring Cowboy Kenny Bartram from the X Games. Kenny Bartram is a 10 time X Games medalist. Other Team Faith riders include Terry Russell, Tim Wilson and Kevin Johnson. Team Faith will be performing stunts such as the "Variable Back Flips," "Superman Seat Grabs," "Nac Nacs" and more.
All this will take place on Saturday, May 22 at KTM Cycle Hutt's parking lot located at 3700 Memorial Highway in Mandan on the Strip. Shows start at 11 am, 1 pm, 2 pm and 3 pm. There will be live music from the local bands Devious You and Dakota Drive throughout the day. KTM Cycle Hutt employees will be collecting donations for the Central Dakota Humane Society in between the shows, bring some extra change. Cost is $5 per person, free for children under 6 with a paying adult. Open seating, come early. Food and drink will be available for purchase.
On Sunday, May 23rd from 9 am to 2 pm the MotoFest Swap Meet will be held at the KTM Cycle Hutt parking lot to benefit the Central Dakota Humane Society, all proceeds from vendor booth registration fees will go to the Central Dakota Humane Society. This swap meet will be for anything with an engine (Motorcycles, Snowmobiles, Cars, Lawn mowers etc.) $10 gets you a booth so clean out the garage and come on over!
For more information visit
www.ndracing.com
or call KTM Cycle Hutt 701-223-4888.
----------------------------------------
If you're unfamiliar with this sort of thing, here are some of the things I've written and photographed with Jason and the streetbike stunt team. This is the first time Freestyle Motocross is coming to Cycle Hutt, so I don't have any photos of that...yet.
Jason Britton joins Cycle Hutt for July 4th
Photo galleries from the Cycle Hutt July 4th events
SPEED Channel program "Super Bikes" features Cycle Hutt July 4th celebration
Links open in a new window. Check it out, attend this weekend's festivities and support a good cause, and
invite your friends!
[ add comment ]
( 13 views ) |
permalink
|
Click a dot to rate this entry:





( 3 / 418 )
---
| 1 | 2 | 3 | 4 | 5 | 6 | 7 | 8 | 9 | 10 |
Next>
Last>>