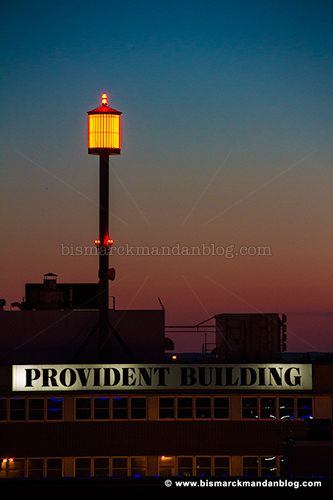 As a would-be photographer, I've got a list of certain things on a photographic "bucket list" I keep in my head. Last night I was able to get one: a perfectly straight-on shot of the Provident Life Weather Beacon.
One of the reasons I got into photography in the first place is that my video work takes me to places and shows me things that are so amazing that I wanted to be able to share them with others. One of the others is a love of North Dakota, particularly my home town area of Bismarck-Mandan. As a result, our local landmarks hold special significance for me.
While wrapping up a helipad photo shoot last night I noticed something that had almost escaped me: a perfect vantage point for photographing the Beacon! Naturally I took a few seconds to spring into action and grab a couple of quick shots. Since what I'd been seeking is a simple, direct, squared-up shot, I didn't need to squander any time trying to brainstorm something funky. A few clicks later I had some different shots of one of my favorite local landmarks, just as I'd always hoped.
Here's a refresher on my long relationship with the Weather Beacon:
It was fun to joke about the Beacon, as if it actually
made
the weather, during my KFYR days. The TV station control operator (me, five nights a week) was in charge of changing the weather beacon to reflect the updated forecast throughout the broadcast day. On our program log in the control room, in between entries for commercials and programs, were occasional reminders to update the weather beacon.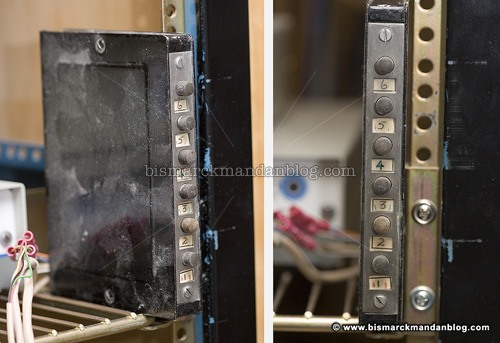 There was a panel in the weather room with six buttons on it: red, white, green, flashing red, flashing white, and flashing green. These switches are still in a rack at the TV station, even though they are have not been connected to the Beacon for quite some time. Last I remember, the KFYR Radio control guys switched it by dialing a phone number (no, I'm not posting that here).
The poor Beacon almost faded into history in 1997. It was showing its wear, and the cost of modernizing it was prohibitive. That was, however, until KFYR Radio rode to the rescue. Phil Parker and Mark Armstrong headed an effort to Save the Beacon!
At this time, Meyer Broadcasting was still intact. While I was hard at work on the TV side of the building, I also freelanced the website for KFYR-AM Radio. As part of the campaign to save the Weather Beacon, we had a couple of pages on the website urging people to help donate.
You can click here to see the original Save the Beacon page from my archives.
Yeah, the Web has come a long way.
The campaign was a success in that it raised money toward the Beacon's restoration, increased public awareness of its plight, and served as a rallying cry to its rescue. While the entire cost of the Beacon's renovation was not raised, its importance to the community was indisputably proven. Through a matching grant from local government and plenty of donations, the project was underway.
As part of the KFYR website, we were happy to post that the Beacon would be saved. Cliff Naylor did a report on the Beacon that aired as part of a live telecast from the roof of the Provident Building, atop which the Beacon still sits.
You can click here to see the post-campaign page from my archives and watch the video.
As I recall, and the details in my head are quite murky, the Beacon was restored but still had some gremlins. I believe it was then refitted one more time and has functioned ever since. None of it would have been possible without Phil and Mark. To this day, the controls reside with KFYR Radio instead of the television station. In fact, why don't you call the
PH Phactor on KFYR 550 AM
and ask Phil about it?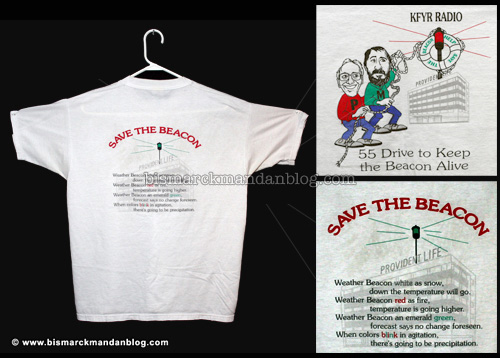 Oh yeah...the t-shirt. We had t-shirts made, and I still have mine. It has caricatures of Phil Parker and Mark Armstrong on the front, and a key to understanding the Beacon on the back:

Weather Beacon white as snow, down the temperature will go.
Weather Beacon red as fire, temperature is going higher.
Weather Beacon an emerald green, no change forseen.
When colors blink in agitation, there's going to be precipitation.

Provident Life used to sponsor TV spots featuring the Beacon and its rhymes. Since they're no longer doing business there, the ads don't run. That means that the weather beacon itself is somewhat obscure now, with newer Bismarck-Mandan residents unaware of its history. For those of us who have lived here a long time, it's good to see the weather beacon standing tall. No matter what the forecast, there's something great about seeing it red in the spring, green when things are just right, and white when Thanksgiving and Christmas approach. Thanks to everyone who helped keep it up and running!
[ 1 comment ]
( 9 views ) |
permalink
|
Click a dot to rate this entry:





( 2.9 / 46 )
---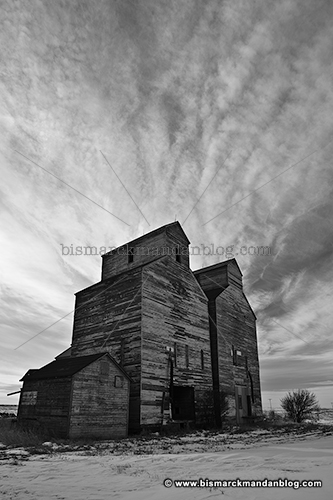 No, I wasn't listening to U2 when I began posting this...although now I have that song stuck in my head. No, this is simply a photo I chose to convert to black and white while playing in Photoshop. I haven't had much time to play with either my camera or my image editing software lately, so this was a nice diversion. With spring right around the corner, hopefully many outdoor photography days lie in store!
[ add comment ]
|
permalink
|
Click a dot to rate this entry:





( 3.1 / 106 )
---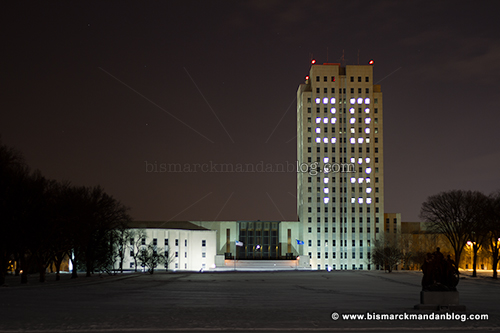 Since 2006 I've been doing this...in fact, the first post ever on this blog is from January 1, 2006. In 2013 I almost missed the boat.
We spent New Year's Eve at a friend's house with a ton of folks from church, then came home to put the little ones to bed before midnight. I figured I'd just snap my capitol shots after dark on New Year's Day. That didn't go entirely as planned, however.
First it was snowing, which on a long exposure can ruin a shot. Then, once the snowfall tapered off and I ventured out, the wind picked up. Again, that's devastating to a long exposure. I did finally catch a brief window of calm to get my rather generic 2013 shot.
I wanted to be all creative...after all, I've been discovering new angles all around the capitol grounds lately, but the cold and wind shut me down. I'll try to brainstorm something for 2014 instead...and take the first opportunity to photograph it, not the last.
Now the windows will return to normal until Independence Day!
[ add comment ]
( 1 view ) |
permalink
|
Click a dot to rate this entry:





( 3 / 191 )
---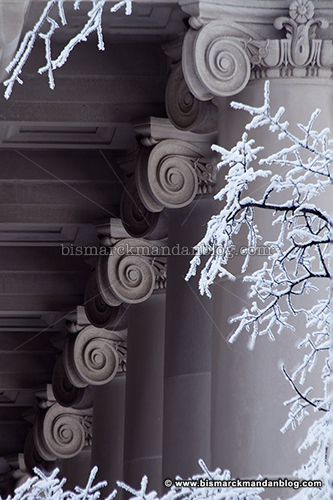 "Originality is simply a pair of fresh eyes." - Thomas Wentworth Higginson
A friend from our photo club posted a picture earlier this year that caught my eye. Not only was it very aesthetically pleasing, but it also drove me nuts wondering where it was. I knew that the venue of the photo walk that weekend was the capitol grounds, an area with which I'm intimately familiar. That's what was so maddening. Where was it?
I finally recognized it as the scrolls of the capital of the pillars of the Liberty Memorial building, the home of the state library. I simply could not figure out the perspective of the original photo, however. No matter which angle I tried, it just didn't work. That's when I realized it wasn't the outer scrolls I was looking at - it was the inner ones, facing the building rather than the capitol mall. Well, that was a game changer.
Due to growth of a few small branches over the summer, I wasn't able to get a completely unobstructed shot; however, with the frost and snow we've experienced over the past couple of days, I think those pesky branches provide an excellent visual garnish to the photo. They make achieving the perspective of the original photo impossible, however.
While I will never be able to duplicate the original photo, that wasn't my intent; rather, it was to figure out
how
that original photo was achieved. I consider that question answered, and was able to capture and present my own take on a brilliantly concieved photo.
One of the things about photography that appeals to me is the sensation of being in the right place at the right time. That's how the original photo came about, and that's how I was able to capture this one as well. The sun had started to poke through the haze enough to provide sufficient light, but had not begun to melt the snow and frost off the branches. Thus my photo is as unique as the original. How I found it is a matter of inspiration and even derivation, but from there I think I was able to take the idea and make it my own.
[ add comment ]
( 1 view ) |
permalink
|
Click a dot to rate this entry:





( 3.1 / 123 )
---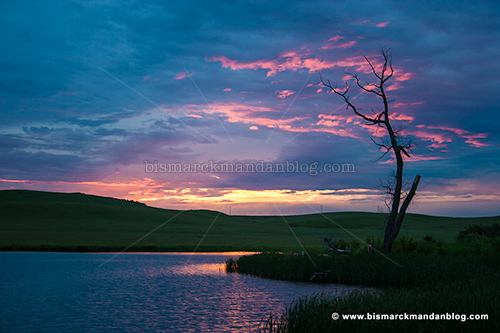 The past few gloomy days and some time spent working in soggy conditions took the wind out of my sails, so I came home from work early to sleep off a headache and head off a cold before it could get the better of me. When I woke up my little boys were excited to show me that the skies were looking bright red and pink on the western horizon!
I was in no position to get the shot, but it gave me the idea of going back into the archives to grab one of my favorite pink sunsets along Highway 25. Much like the fallen farms which only exist for a while, this tree has been whittled down a lot since I took this series of photos. Most of the branches are gone, making this a photo I can never really duplicate.
One of the greatest appeals of photography to me is that it's about capturing a specific fleeting moment in time, one that may never come around again. The merging of proper technique and simply being in the right place at the right time is thrilling and addicting, just like nailing a corner just right while leaning over on my knee at triple-digit speed. The nice thing about the photo is that it lasts longer!
[ add comment ]
( 1 view ) |
permalink
|
Click a dot to rate this entry:





( 2.9 / 119 )
---
| 1 | 2 | 3 | 4 | 5 | 6 | 7 | 8 | 9 | 10 |
Next>
Last>>